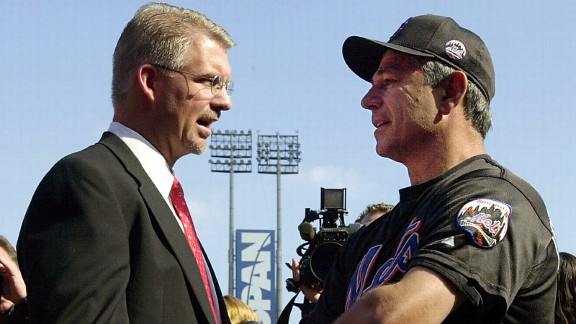 Henny Ray Abrams/Getty Images
Steve Phillips and Bobby Valentine, circa their tumultuous Mets days in 2000.
A gracious Steve Phillips took partial responsibility for his sometimes-stormy relationship with Bobby Valentine during their shared Mets days. Phillips added that Valentine would be a stellar choice as Boston Red Sox manager.
"He and I, people always want to point to our relationship," Phillips, now a morning host on Sirius/XM's Mad Dog Radio, told ESPNNewYork.com. "There were times when it was really good. We had a lot of success together. At times our relationship wasn't always the greatest, but I will say: Forever I kind of always blamed Bobby for that. And I recognize now that a big part of that relationship, I damaged with my stuff that got in the way of it. Forever I thought it was Bobby's stuff. He brought whatever he did to the relationship, but part of the reason it wasn't a good one all the time was my fault and I want to acknowledge that. I wasn't the best manager for him sometimes."
Read more of Phillips' comments, as well as comments on Valentine's candidacy from old friends Jim Duquette, Joe McEwing and Steve Trachsel, in the full story here.