Eliot J. Schechter/MLB Photos
Bartolo Colon is scheduled to make his Mets debut at 1:10 p.m. Monday against the Marlins.PORT ST. LUCIE, Fla.
FIRST PITCH: The Mets play a doubleheader of sorts Monday.
At 9:30 a.m., Dillon Gee kicks off a "B" game against the Miami Marlins in Port St. Lucie. Also due to pitch in that game: Erik Goeddel, Cory Mazzoni and Jenrry Mejia.
The official Grapefruit League game begins at 1:10 p.m. at Tradition Field (SNY).
Bartolo Colon, slowed early in camp by a calf issue, makes his Mets debut. Vic Black, John Church, Jeurys Familia, Jack Leathersich, Scott Rice and Jeff Walters also are due to pitch.
Left-hander Brad Hand starts the Grapefruit League game for the Marlins.
Monday's news reports:
• Sandy Alderson, in his clearest statement yet about when Matt Harvey might return, told columnist Kevin Kernan in the Post: "We're looking to have him ready to go for 2015. There is no looking to have him ready for '14." Alderson's official position remains not to close the door entirely on this season, but to paint it as highly improbable. Kernan also notes the Mets have greatly restricted Harvey's ability to speak with the media, even when he is amenable.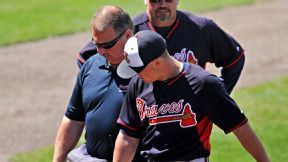 Brad Barr/USA TODAY Sports
Braves starter Kris Medlen was forced from Sunday's game with a right forearm strain. He will be further examined Monday.
• Despite dissatisfaction with his performance, Zack Wheeler contributed three scoreless innings against the Braves on Sunday. The Mets went on to beat Atlanta, 8-2, thanks to seven unearned runs in the eighth. Braves starter Kris Medlen was forced to leave the game in the fourth inning with a strained right forearm, raising serious concerns for the former Tommy John surgery recipient.
Read game recaps in the Daily News and MLB.com.
• Closer Bobby Parnell had his first game appearance since last July 30. He had been eager to ramp up activity to test his recovery from Sept. 10 surgery that repaired a herniated disk in his neck. Read more in the Post, Daily News, Star-Ledger, Record, Newsday and MLB.com.
• Juan Lagares, who had a franchise-rookie-record 15 outfield assists last season, had another one Sunday. And Mets brass will have a serious decision to make within three weeks about whether Lagares or Eric Young Jr. merits the bulk of the playing time early in the season. That decision also will determine whether EY Jr. or Chris Young leads off.
Columnist John Harper in the Daily News sides with Lagares in the playing-time debate, and notes Sunday's gunning out of Andrelton Simmons at third base only reinforces Lagares being the correct choice for center field. Writes Harper:
Above all, the play was a rather stunning reminder of how valuable Lagares' defense in center field was last year -- and what a mistake it would be if the Mets decide he's the odd man out in the outfield in 2014.
That's a very real possibility, however. Terry Collins' assessment of the outfield situation on Sunday sounded a bit ominous for Lagares.
"It's going to be a tough call," the manager said. "We know what Juan is defensively -- he's as good a center fielder as there is. But we've gotta take a look at both sides of the baseball. We've gotta make sure we can do something about producing some runs. We can't have a lot of holes [in the lineup]."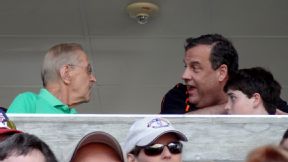 Adam Rubin
New Jersey Gov. Chris Christie, a Mets fan, watches Sunday's Mets-Braves game with Fred Wilpon.
• New Jersey governor Chris Christie attended Sunday's game, wearing a Princeton University shirt and sitting in a suite with Fred Wilpon. Christie visited the clubhouse afterward with Wilpon. The stop included a lengthy chat with David Wright, then a meeting with Terry Collins. The governor later ended up at a nearby bowling alley, a tourist named Tim Byrdak tweeted. Read more in the Star-Ledger.
• Daniel Murphy did not play in Sunday's Grapefruit League game. Nor did he participate in pregame drills with teammates. That is because Friday's right-shin issue is more severe than initially portrayed. Still, Murphy should return shortly, Collins predicted. The same may not be true for Ike Davis, whose right-calf strain has not improved as hoped. Read more in the Post and Record.
• Jonathon Niese, who pitched in Thursday's intrasquad game, is ready to make his 2014 Grapefruit League debut Tuesday, he told ESPNNewYork.com. The southpaw, who is expected to start on Opening Day, had been dispatched to New York two weeks ago for an MRI of his pitching shoulder. Read more in the Star-Ledger.
• Tim Rohan in the Times portrays Ruben Tejada as the shortstop by default.
• Mike Vorkunov in the Star-Ledger reveals Noah Syndergaard's (minimal) New Jersey roots. Spoiler: Syndergaard's mother was born on a Toms River naval base while his grandfather briefly was stationed there.
• Dillon Gee tells Anthony Rieber in Newsday he is enthusiastic about being named to the advisory board of the Taylor Hooton Foundation, which tries to steer youths away from performance-enhancing drugs.
• From the bloggers … Rising Apple notes that if the Mets acquire a shortstop, it also could solve the leadoff debate. … NY Mets Life examines Johan Santana's career with the club.
BIRTHDAYS: Former Mets outfielder John Cangelosi was born in Brooklyn on this date in 1963.
TWEET OF THE DAY:
Amazing how true love works. Mom just passed away, less than a month after Dad. 64 years together, now eternity! Thanks for everything Mom!!

— Frank J. Viola, Jr. (@FrankViola16) March 10, 2014
YOU'RE UP: Are the Mets a better team with Eric Young Jr. regularly in the leadoff spot or Juan Lagares regularly in center field?