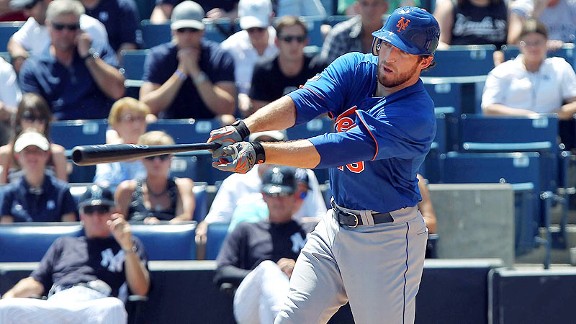 Kim Klement/US Presswire
Ike Davis belted a three-run homer in the third inning against Freddy Garcia on Wednesday.
Ike Davis homered for a second straight day against the Yankees -- this time a three-run shot off Freddy Garcia at George M. Steinbrenner Field -- but the Mets lost the lead late while using minor leaguers and finished spring training with an 8-3 loss Wednesday afternoon.
The Mets finished Grapefruit League play at 9-20-2. The loss total was one shy of the franchise-worst 12-21-1 record the Mets produced in 2007.
"I think our guys are ready to get out of here," Terry Collins said before leaving the ballpark, bound for the team's charter flight to New York. "They've had a ton of work. They're tired. But they got themselves ready. And that's what we asked for the other day, to go out there and get yourself locked in, because it's time to get ready."
Collins said one positive is having no integral players on the disabled list for Thursday's matinee against Tommy Hanson and the Atlanta Braves. Pedro Beato (shoulder) and D.J. Carrasco (ankle) will open the season on the DL, but Johan Santana is on the mound Thursday and Andres Torres (calf), Frank Francisco (knee) and Tim Byrdak (knee) all made advancements in the final days of camp and are active.
Collins said Santana will be capped at 85 to 90 pitches in his first major league game since Sept. 2, 2010 -- 12 days before surgery to repair a torn anterior capsule in his left shoulder.
The manager said he will use Francisco to close on Opening Day if the need arises, even though the former Blue Jay received a cortisone shot in his left knee Sunday and has residual inflammation.
"It's certainly not the ideal situation going in, but we got a lot of at-bats for a lot of guys late," Collins said. "Andres looks ready to go. Certainly it's good to get David [Wright] back in the lineup. We're as ready as we could possibly be right now."
• Davis had launched a walk-off homer Tuesday against Yankees farmhand Mark Montgomery. He actually has homered in three straight games he has played, having also gone deep Sunday against Detroit's Thad Weber.
Davis finished with four homers, tied for the team lead with Lucas Duda. The Mets mustered only 17 homers overall, better than only the Miami Marlins' 16 among National League teams.
"It really doesn't matter," Davis said about his late homer streak. "I mean, it's nice to hit a ball like that, but it doesn't count. I hit one to left, to center, and now I pulled one. It's nice. The swing is feeling good. I've hit a couple of balls hard, and am ready for this thing to start."
Davis arrived at camp amid curiosity about how the left ankle injury that sidelined him after May 10 last season would hold up. He insisted it has been a nonissue, as has been the suspected-but so-far-latent case of valley fever. Davis said he will see a doctor in New York for a lung examination as a follow-up to ensure nothing alarming is going on internally with respect to the latter issue, which is prevalent in the Southwest and can seriously sap energy.
"I'm going to do a follow-up on the lung thing and see what happens," Davis said. "I feel good. I'm not coughing up blood. I'm not doing anything crazy. So until something like that happens, I'm not going to worry about it."
As for the ankle, he said: "All offseason -- not all of it, but the majority of the offseason -- I was pain-free and had no problems. I was expecting the same."
• Francisco Cervelli's two-run homer in the seventh off Eric Beaulac, a ninth-round pick in 2009 out of LeMoyne College in Syracuse, evened the score at 3. The Yanks then produced five runs in the eighth against Angel Cuan and John Church, which was aided by errors by shortstop Danny Muno and third baseman Rylan Sandoval.
• Mets position players departed the game after 3½ innings. That meant Jason Bay finished 9-for-46 (.196) with no RBIs in Grapefruit League play. He had 11 walks and 15 strikeouts.
"What you hit down here has no bearing on anything," Bay said. "I really had no focus on it."
Said Collins: "I thought he's actually swung the bat very well in the last couple of days. His at-bats have been good. He's worked the count. He's laid off balls he was swinging at earlier in the spring. You know, the bright lights come on tomorrow, so we'll see what happens."
• Bay and Duda will have among the more interesting days Thursday, because they will get to see up close how the dimension changes impact corner outfielders.
Because they played Wednesday's exhibition game against the Yankees, Mets players did not get to work out at Citi Field ahead of Thursday's game to test how the wall plays with the new configuration.
The Mets had one back field in Port St. Lucie -- Field 7 -- that matches the new dimensions, but that cannot fully prepare someone for the new Citi Field look, Bay noted.
"It's not ideal, but it's not like we have an option. It is what it is," Bay said. "The other thing, I think as much as you want to say you can go out on Field 7 and get a feel for the dimensions, it's apples to oranges a little bit. Yeah, it's the same [dimensions]. But, I mean, you're in Florida. Chain-link fence. Wind. I guess for everyone it's kind of learning on the fly. One day wasn't going to make a huge difference. It would have helped, but we'll manage."
• Dillon Gee limited the Yankees to one run in five innings in his final prep work for Game 5 of the season, Tuesday against the Washington Nationals. Brett Gardner singled to open the third inning, stole second and scored on an error by David Wright on Derek Jeter's grounder.
"I feel like I got stronger today as the game went on -- kind of figured some stuff out on the fly out there," said Gee, who completed Grapefruit League play with a 3.51 ERA. "Overall I'm really happy with this spring and the way it's going into this season. I set out to accomplish two things in particular -- throw the curveball for a strike and limit the walks. And I've done that.
"This is actually my first spring training where I started this many times and pitched this much in spring. A lot of times I was coming out of the bullpen for two innings at a time. So this is still a new year for me. The full spring training as a starter is new to me. I think I'm understanding myself a little bit better. I know what to expect. I know what it's going to take to go a full season. As long as I can keep making adjustments, I should be all right."
Gee, by the way, said he is keeping the massive goatee he had during spring training. For now.
"If it's gone this far, I might as well open up with it," Gee said.
• Andy Pettitte, making his return from retirement, took the mound for the sixth inning against the Mets. Cory Vaughn, former major leaguer Greg Vaughn's son, welcomed the southpaw by bouncing a single through the right side of the infield after fouling off two full-count pitches. Vaughn was caught stealing and Pettitte did not allow another baserunner in a scoreless frame.
• Now, it's on to New York. The Mets are 32-18 all time on Opening Day -- a particular feat since the Mets did not win their first opener until 1970, in the franchise's nine season of existence. Last year's 6-2 loss to the Marlins snapped a five-game winning streak.