ATLANTA -- Asked to perform a five-out save after inheriting a two-run lead with two runners on base, Bobby Parnell suffered a blown save in the eighth. The Braves scored three runs and beat the Mets, 8-7, Saturday at Turner Field.
Looking to avoid getting swept, Johan Santana pitches in today's at 1:35 p.m. game for the first time since twisting his right ankle in his final first-half start while manning first base. Santana opposes ex-Brewer Ben Sheets, who will make his first major league appearance since July 19, 2010.
Sunday's news reports:
• Matt Harvey will audition Monday with Triple-A Buffalo against Toledo for the rotation spot vacated by Dillon Gee, who underwent potentially season-ending surgery Friday in St. Louis to repair a damaged artery in his pitching shoulder. Terry Collins said a bevy of front-office executives will watch Harvey's International League start to gauge his readiness to face the Los Angeles Dodgers on Saturday at Citi Field. Collins said the decision for Gee's replacement essentially is down to Harvey and Miguel Batista. Zack Wheeler undoubtedly will be a consideration for a promotion soon as well, but not now, according to Collins. Read more in the Star-Ledger, Post, Record, Daily News and Newsday.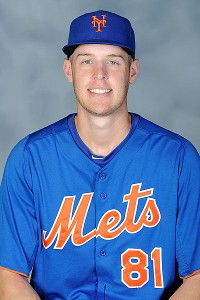 Courtesy of New York Mets
Zack Wheeler
• Wheeler tossed his first professional complete-game shutout and Reese Havens homered in Binghamton's 1-0 win against Erie. Read Saturday's full minor league recap here.
• Columnist Joel Sherman in the Post advocates promoting Harvey. Writes Sherman:
I agree with the conservative approach Sandy Alderson has brought to handling his high-end youngsters. He was hired to create a feeder system that would foster contention for years and reject knee-jerk maneuvers to briefly satiate fans or ownership. It would be an all-too-familiar stupid Met trick to start Harvey on Saturday just to fill Citi Field. But if the Mets' officials deem Harvey and ultimately Wheeler are ready and not at undo risk to injure themselves, then there should be no restraint in summoning them.
At worst, two key future pieces will get New York and playoff-chase experience. At best, they will give youthful energy to a whole roster trying to make a long-shot run to the postseason. Those odds have gotten longer the past two days as Young and R.A. Dickey managed just eight total innings in two Mets losses to Atlanta, including an 8-7 bullpen collapse yesterday.
• Jason Bay's rehab assignment moved to Buffalo on Saturday after two games with Class A St. Lucie. He went 1-for-4 with a walk and two strikeouts as the DH. Collins said it's realistic for Bay to return Tuesday, when the Mets open a series against the Nationals. Mike Baxter, meanwhile, is due to begin a rehab assignment today with St. Lucie. It will be Baxter's first game since dislocating his right collarbone on the June 1 catch that preserved Santana's no-hitter.
• Lucas Duda will be out of the starting lineup through the weekend with a barking left hamstring, which did not calm down during the All-Star break. Duda did pinch hit in the ninth Saturday, and said that action did not adversely affect his recovery. Once Bay returns, the slumping Duda's playing time could diminish anyway, particularly against left-handed pitching, when Scott Hairston should often be assigned to right field. Read more in the Post and Newsday.
• Collins was ejected arguing a reversed call on an attempted catch by Jordany Valdespin in left field, although the manager postgame suggested the umps got it right. Read more in Newsday.
• David Lennon in Newsday looks at the issue of instant replay. Commissioner Bud Selig suggested in Kansas City last week that the baseball community has very little desire to increase video-review usage. "Baseball is a game of pace," Selig told reporters at the All-Star Game. "You can't compare it to other things. So we've got to be very sensitive and careful how we proceed. I can tell you the appetite for more instant replay in the sport is very low. There are some people who think maybe we've gone too far already."
• R.A. Dickey surrendered five runs in five innings but received a no-decision. David Wright struck out four times. Read game recaps in the Times, Newsday, Star-Ledger, Post and Daily News.
• The Braves acquired shortstop Paul Janish from Cincinnati on Saturday for right-hander Todd Redmond. The move became necessary after rookie phenom Andrelton Simmons broke his pinkie in the first-half finale. Read more in the Atlanta Journal-Constitution.
• Peter Gammons reiterated a Post report that if the Mets are unsuccessful landing catcher Ramon Hernandez from the Rockies, they could turn to Boston's Kelly Shoppach, according to Cody Deresprina in Newsday. Sherman lists Miguel Olivo and Oakland's Kurt Suzuki as other catching options, although he notes the $7.1 million owed to Suzuki even after this season is an obstacle. Adds Sherman:
They also continue to hunt a righty reliever, but keep being underwhelmed by options such as Milwaukee's Francisco Rodriguez and Houston's Brandon Lyon. They have talked to Minnesota about Matt Capps.
TRIVIA: Name the three Mets players to be ejected this season.
Saturday's answer: The players to finish ahead of seventh-place Ike Davis in the 2010 NL Rookie of the Year balloting: winner Buster Posey, runner-up Jason Heyward as well as Jaime Garcia, Gaby Sanchez, Starlin Castro and Neil Walker.