Frank Francisco insisted all of the pitches he threw to John Buck during a ninth-inning walk were strikes. And the combination of not getting those calls, and plate umpire Todd Tichenor not responding to his inquiries about why they were ruled balls, set off the reliever.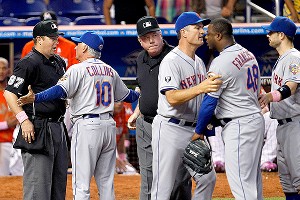 Sarah Glenn/Getty Images
Terry Collins takes up the argument on Frank Francisco's behalf after the closer fumes over ball calls from plate ump Todd Tichenor.
Francisco, after subsequently surrendering a single to Greg Dobbs that pulled the Marlins within a run and resulted in Terry Collins removing him from the game, proceeded toward the plate to jaw with Tichenor. The ump ejected Francisco, even though Collins already had removed him and inserted Manny Acosta to close out the eventual 8-4 loss.
"All strikes," Francisco maintained. "I threw one a little high[er], because he didn't call one at the knees. I threw a straight fastball right there. He didn't call anything. And then I went a little higher to see. And he didn't call the higher one. There's nothing you can do about that. It's their call. I feel like I should say something."
Francisco said he legitimately originally wanted a response from Tichenor about why the pitches were ruled balls. He said the ump was stoic and unresponsive.
"He didn't say anything," Francisco said. "He didn't say anything. I asked him where were those pitches, and he didn't say anything. I expected him to say something -- probably 'low,' 'away,' or something. Give me a reason. Nothing."
Francisco acknowledged the lack of a response got him more upset.
"Yeah," Francisco said. "I was asking a simple question."
Francisco and Terry Collins noted the exchange with Tichenor was only verbal. Therefore, neither was expecting a suspension.
"I don't think he got him. He didn't touch him," Collins said. "If he touched him, that would have been an issue. All he ever did was had a few things to say. That was all."
Said Francisco: "They've got to do whatever they've got to do. I don't think I should get a suspension for that, because I've got to express my feeling. I'm asking a question, and he didn't answer."
Francisco may have had a point in being upset -- even if being so demonstrative was ill-advised. ESPN Stats & Information's Mark Simon notes the Pitch F/X tracking system installed in every major league ballpark, including Marlins Park, had the first two pitches to Buck in the strike zone. Both were ruled balls. The third pitch then was a called strike, before two more balls.
"Trust me, I was hacking with 'Boni' [Emilio Bonifacio] at third," Buck said, disputing the suggestion they were strikes. "We all know I love to swing. But if I could have, I would have put some wood on them. So there was probably one pitch that was questionable. But, other than that, I felt they were all [balls]."