Binghamton Mets manager Wally Backman joined the organization last year, after Juan Lagares already had moved from shortstop to outfield. And Backman said it is undetectable that Lagares really is a relative novice experience-wise in the new position.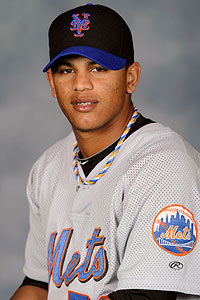 Courtesy of New York Mets
Juan Lagares
"I couldn't tell a bit," Backman said. "He can play in the outfield in the big leagues. I mean, defensively his skills are good enough to play in the big leagues.
"He's a 22-year-old kid who can play all three outfield positions. He's got speed. He's a good outfielder. He throws to the right bases. And he can swing the bat a little bit."
Lagares was leading the Florida State League in batting with a .339 average when he was promoted to the Double-A B-Mets on July 23. In 20 Eastern League games, he is hitting .414 with two homers and 15 RBIs.
One scout who recently watched Lagares compared him body-type-wise to Raul Mondesi.
"Compact," the scout said. "Short, hitter's legs."
Backman said there's a smoothness to Lagares at the plate.
"He has a very 'quiet' approach," the manager said. "He has a knack for getting the barrel on the ball. He looks like he's a real good hitter. I mean, if you just watch him, you say, 'This kid is going to be able to hit.' He's got a lot of infield hits, which is why he's up to .400 right now. But so be it. He's driven in some big runs. My impression of him, having him for a couple of weeks, is I like him. I like what I've seen so far."
Signed in 2006 out of the Dominican Republic, Lagares committed 40 errors in 82 games at shortstop the following season with Savannah, and had a .911 fielding percentage.
"My first year it's a lot of errors," Lagares said. "After that, I felt good."
Still, in 2009, the organization moved him to the outfield, where he has shown an aptitude. Lagares said line drives were initially challenging, but the transition was relatively smooth.
"In the beginning, it was not that easy," Lagares said. "But with time I learned how to play outfield comfortably."
Injuries really have slowed Lagares more than anything in his career. He suffered a broken right ankle on July 28, 2010 while playing for St. Lucie, but did not require surgery. Lagares actually played two weeks in pain after initially getting hurt holding up at third base on a teammate's hit. He eventually had to be shut down after he ran in pain to first base on a strikeout that eluded the catcher.
The previous season, Lagares was limited to 47 games by a wrist injury. In 2008, the start to his season was delayed by an arm issue.
A team official recently said Lagares' 2010 ankle issue might not be completely healed yet and might be suppressing his steal totals -- 10 this season between the two levels, compared with 25 a year ago before being shut down.
But, Lagares said: "It's over. I feel 100 percent."
Organization leaders
Average: Juan Lagares, Binghamton, .355; Danny Muno, Brooklyn, .341; Josh Satin, Buffalo, .331; Greg Pron, Kingsport, .328; Julio Concepcion, Kingsport, .320; Dustin Lawley, Kingsport, .317; Pedro Zapata, St. Lucie, .312; Richard Lucas, Brooklyn, .309; Travis Taijeron, Brooklyn, .303; Cam Maron, Kingsport, .302.
Homers: Brahiam Maldonado, Binghamton, 22; Valentino Pascucci, Buffalo, 18; Jordany Valdespin, Buffalo, 15; Allan Dykstra, Binghamton, 15; Stefan Welch, St. Lucie, 15.
RBI: Valentino Pascucci, Buffalo, 82; Wilmer Flores, St. Lucie, 75; Josh Satin, Buffalo, 72; Aderlin Rodriguez, Savannah, 68; Juan Lagares, Binghamton, 64.
Steals: Jordany Valdespin, Buffalo, 33; Pedro Zapata, St. Lucie, 30; Matt den Dekker, Binghamton, 21; Darrell Ceciliani, Savannah, 19; Rafael Fernandez, Savannah, 17.
ERA: Darin Gorski, St. Lucie, 2.27; Todd Weldon, Brooklyn, 2.56; Taylor Whitenton, Savannah, 2.81; Jeurys Familia, Binghamton, 2.97; Angel Cuan, Savannah, 3.08; Gabriel Ynoa, GCL Mets, 3.13; Matt Harvey, Binghamton, 3.36; Greg Peavey, St. Lucie, 3.37; Marcos Camarena, Brooklyn, 3.40; Ryan Fraser, Savannah, 3.43.
Wins: Greg Peavey, St. Lucie, 11; Darin Gorski, St. Lucie, 11; Matt Harvey, Binghamton, 11; Angel Cuan, Savannah, 10; Brandon Moore, Binghamton, 9.
Saves: Josh Edgin, St. Lucie, 24; Dale Thayer, Buffalo, 16; Hamilton Bennett, Savannah, 12; Jeffrey Kaplan, St. Lucie, 10.
Strikeouts: Matt Harvey, Binghamton, 146; Darin Gorski, St. Lucie, 125; Chris Schwinden, Buffalo, 118; Collin McHugh, Binghamton, 114; Jeurys Familia, Binghamton, 113.
Short hops
• Oft-injured outfielder Fernando Martinez landed on the disabled Tuesday with Triple-A Buffalo with a left wrist strain. It is the third time Martinez has landed on the disabled list this season. He also had stints for a left hip flexor strain (July 16-30) and right hamstring strain (April 13-23). Scouts say the 22-year-old Martinez typically labors when running, the result of an arthritic knee and other nagging ailments. Martinez does have a minor league option remaining, meaning he can be sent to Buffalo again in 2012 without being exposed to waivers provided the organization decides to keep him on the 40-man roster and he does not make the Opening Day roster.
• Binghamton will play at Fenway Park at 1:05 p.m. ET on Saturday against Portland, the Double-A affiliate of the Boston Red Sox. It is part of a Sox affiliate doubleheader in which Triple-A Pawtucket and Syracuse also meet. Right-hander Collin McHugh starts at the classic ballpark for the B-Mets opposite Portland knuckleballer Charlie Haeger, who has appeared in 34 major league games (10 starts). Haeger's MLB experience includes an April 27, 2010 start for the Los Angeles Dodgers against the Mets at Citi Field, during which Haeger allowed five runs in four innings.
• The Mets signed Odessa, Texas, prep shortstop/wide receiver Bradley Marquez -- their 16th-round pick -- for a reported $325,000 … and with a catch. Marquez also will play college football at Texas Tech. Mets VP Paul DePodesta explains: "He'll play football this fall and then report to us when the school year is over. And he'll likely play football again in the fall of 2012. After that it's a little more fluid in terms of how much time he spends with us versus football."
• Through one week in Triple-A, middle infielder Jordany Valdespin is hitting .179 (5-for-28) with one RBI, two caught stealings and three errors. He has started five games at shortstop and two games at second base. Valdespin is 1-for-his-last-18.
• In his last 10 games, Buffalo reliever John Lujan is 2-1 with a save and 0.73 ERA. He has tossed 10 2/3 straight scoreless innings.
• Brooklyn's representatives in the New York-Penn League All-Star Game on Tuesday in Lowell, Mass., came out on the winning side as the National League beat the American League, 7-3. Cyclones shortstop Danny Muno came off the bench to go 1-for-2 with a double and two RBIs. Third baseman Richard Lucas was 0-for-2 and right fielder Charley Thurber went 0-for-4 with a run scored. T.J. Chism and Todd Weldon combined to record the final four outs for the NL, striking out three without allowing any baserunners. Travis Taijeron, who was selected, went unused.
• Rylan Sandoval, who was signed by the Mets last year after going undrafted out of Long Beach State, has been named Florida State League player of the week. Sandoval hit .524 (11-for-21) with three homers, 11 RBIs and five walks from Aug. 8-14. Sandoval, who turned 24 last Wednesday, actually was drafted by the Mets in the 30th round in 2007, but did not sign.
• St. Lucie outfielder Cory Vaughn returned to the lineup Tuesday after missing five days with a bruised heel. Vaughn is hitting .130 in August. His average has dipped to .234 in 44 games since a promotion from Savannah to the Florida State League.
• Buffalo corner infielder Zach Lutz is hitting .314 with three homers in 10 games since returning from the disabled list for a second concussion. Lutz is a probable September call-up.
• Right fielder Raul Reyes, who may have been on the brink of getting released earlier this season, is on a tear with Binghamton. Reyes was hitting .165 entering June. Since July 31, he is hitting .477 (21-for-44) with four homers and 12 RBIs. Reyes also has 11 outfield assists this season, three shy of teammate Brahiam Maldonado's team-high total.
• Maldonado produced his 22nd homer Sunday against Richmond, establishing a new career high. Maldonado combined to go deep 21 times last season between St. Lucie and Binghamton.
• The Mets are thin in terms of catching prospects in the minors, but Savannah's Albert Cordero is opening eyes. Cordero, a 21-year-old Venezuelan, has a strong throwing arm. He also is hitting .426 with two homers and 10 RBIs in 14 games this month. One talent evaluator also believes St. Lucie backup Juan Centeno has potential.
• First-round pick Brandon Nimmo is expected to make his professional debut later this week in the Gulf Coast League.
Adam Rubin's farm report appears Wednesdays during the regular season