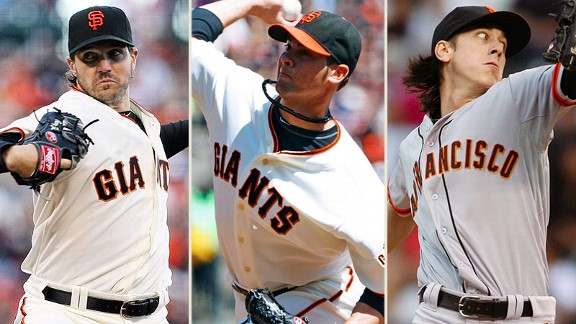 US Presswire
The Mets face (l to r) Barry Zito, Ryan Vogelsong and Tim Lincecum in the opening three games of the series.
METS (7-5, second place/NL East) vs. SAN FRANCISCO GIANTS (6-6, third place/NL West)
Friday: LHP Jon Niese (2-0, 2.13) vs. LHP Barry Zito (1-0, 1.13), 7:10 p.m. ET
Saturday: RHP Mike Pelfrey (0-0, 3.09) vs. RHP Ryan Vogelsong (0-1, 2.84), 1:10 p.m. ET
Sunday: RHP Dillon Gee (1-1, 2.92) vs. RHP Tim Lincecum (0-2, 10.54), 1:10 p.m. ET
Monday: LHP Johan Santana (0-2, 3.97) vs. LHP Madison Bumgarner (2-1, 3.63), 7:10 p.m. ET
Giants short hops
• After a 3-for-27 start to his Giants career, center fielder Angel Pagan had three multi-hit games -- and three triples -- in a four-game span through Tuesday. He looked particularly good facing Phillies ace Roy Halladay. Pagan, known for his lapses in the field and on the bases, has been mostly sound in that respect -- albeit with one costly miscue. Playing center field behind Tim Lincecum on Monday in the first inning with one out and none on, Pagan did not take charge on a fly ball by Philadelphia's Placido Polanco to right-center. He and right fielder Melky Cabrera both pulled off and the ball fell for a double that started a four-run rally. Pagan has batted leadoff in all but one of his starts this season. He was traded to San Francisco at the winter meetings in December for Andres Torres and Ramon Ramirez.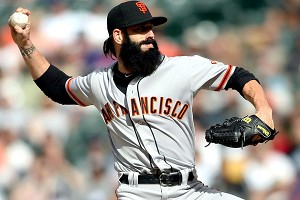 Chris Humphreys/US Presswire
Brian Wilson is expected to undergo Tommy John surgery and miss the remainder of the season.
• Closer Brian Wilson's season appears to have ended after an April 12 appearance in Denver because of a right elbow injury that is expected to require Tommy John surgery. Wilson has a second-degree sprain of the UCL, which has not completely torn off the bone. Still, he was expected to opt for the procedure. Wilson has sought opinions from Dr. Lewis Yocum in Los Angeles and then Dr. James Andrews in Birmingham, Ala., on Wednesday. Santiago Casilla handled the first closing opportunity and should get the bulk of the chances in Wilson's absence. Last season, when Wilson did not pitch over the final six weeks except for two appearances, the Giants were 9-for-9 in save conversions. Casilla recorded six. Ramirez, now with the Mets, handled the other three.
• Barry Zito tossed a four-hit shutout at Colorado in his first start of the season, then limited the Pittsburgh Pirates to three runs (two earned) in seven innings in his second start. Zito changed radically changed his delivery over winter while working with former major league pitcher Tom House. The mechanical changes involve more drive with Zito's legs as well as increased follow through.
Zito and Matt Cain, incidentally, attended a Sunday concert by Bay Area-spawned Train and were invited on stage, where they participated in performing "Save Me, San Francisco" and "Don't Stop Believin'."
• The Giants followed the major league trend of locking up young left-handed starting pitching, announcing this week the signing of Madison Bumgarner to a five-year extension, though 2017, with options for the following two seasons. Potentially worth as much as $70.5 million, it is the biggest contract ever given to a player with only one-plus years of major league service time. Bumgarner, 22, would not have been eligible for free agency until after the '16 season.
The Texas Rangers similarly locked up left-hander Derek Holland and the Mets signed Jon Niese -- both for five guaranteed years -- during spring training.
Two starts ago, Bumgarner took a no-hit bid into the sixth inning against the Rockies. The southpaw matched up against Jamie Moyer that start -- marking the third-largest age disparity between starting pitchers in MLB history, according to the Elias Sports Bureau.
Bumgarner's deal came two weeks after the signing of Cain by the Giants to an additional five years at $112.5 million on top of the right-hander's existing deal. After the two signings, the Giants made courtesy calls to representatives for Lincecum and catcher Buster Posey to say they are interested in extension discussions as well … after the season.
• Cain and Philadelphia's Cliff Lee had a scoreless duel into extra innings Wednesday. Lee logged 10 scoreless innings; Cain logged nine. San Francisco won, 1-0, in 11 innings on Melky Cabrera's RBI single against Antonio Bastardo.
• Posey, whose 2011 season ended with broken left leg suffered in a May 25 plate collision with the Marlins' Scott Cousins, now is playing through shingles on his left arm.
• Lincecum is not eligible for free agency until after the 2013 season. The team wanted a longer deal with him, but he only agreed to a two-year, $40.5 million contract. Lincecum has allowed more first-inning runs this season (nine) than he did during all of his 2011 starts (eight). He has allowed at least five earned runs in each of his three starts this season. Since his first start, Lincecum has reincorporated a slider that he had hoped to shelve because it taxes his arm. Lincecum's fastball velocity averaged only 90 mph in his third start, Monday opposite Halladay. His second outing, when he lasted only 2 1/3 innings at Colorado, was the shortest start of his career.
• Second baseman Freddy Sanchez was due to begin a rehab assignment, but his return from August surgery to repair a dislocated shoulder now will wait until next month. Sanchez originally was supposed to be ready for Opening Day, but he had a pair of spring-training setbacks -- one with his back, one with the surgically repaired shoulder. Switch-hitting Emmanuel Burriss primarily has manned second base, with righty-hitting Ryan Theriot also seeing action. Burris is 0-for-5 against lefties this season, and 1-for-23 since last season.
• Brett Pill, who started his second game this season at first base on Wednesday, is a former teammate of Justin Turner at Cal State Fullerton and is the older brother of Mets minor league pitcher Tyler Pill. The Mets farmhand was selected in the fourth round last July, also out of CSF. He tossed 12 scoreless innings in his first two starts for Savannah this season. The Giants' Pill homered in his first major league at-bat last year, in his debut Sept. 6 off San Diego's Wade LeBlanc. He also homered in his first at-bat this season. With the Mets starting a pair of southpaws, Niese and Johan Santana, Pill should see some action at first base in the four-game series.
• Pill's first start came during a five-game stretch when Brandon Belt did not start at first base. Belt, projected to be the regular at the position, had a woeful 1-for-10 opening series against Arizona that included five strikeouts. With the Giants 0-3, manager Bruce Bochy shook up the lineup looking for offense, with Belt among the casualties. Belt returned to the lineup Sunday and has looked better in two starts this week.
• Belt, Aubrey Huff and Nate Schierholtz essentially are fighting for two starting spots every day. Schierholtz had terrible spring training, but all of a sudden is on a surge and has been rewarded with playing time.
• The Giants have a major-league high 17 errors, with third baseman Pablo Sandoval and shortstop Brandon Crawford having committed four apiece. Sandoval, though, has hit safely in all 12 of his games this season. Willie Mays has the franchise-record hitting streak to open a season -- 16 games in 1960.
• The Giants and A's are engaged in a battle for San Jose territorial rights, which is holding up the A's relocating there. The Giants argue that as a condition of self-funding their stadium, they were assured exclusive rights to Santa Clara County, which includes San Jose. An MLB committee has been studying the issue for three years. Frustrated A's ownership is trying to force the issue onto the agenda for the next owners' meetings, slated for New York, and get an up or down vote and resolution.
Matchups
Niese vs. Giants (career: 0-1, 3.68 ERA)
Aubrey Huff 1.000, 1 BB, 3 PA
Nate Schierholtz 1.000, 1 PA
Melky Cabrera .429, 1 RBI, 1 BB, 2 K, 8 PA
Ryan Theriot .333, 2 BB, 2 K, 5 PA
Buster Posey .333, 3 PA
Gregor Blanco .250, 4 PA
Pablo Sandoval .250, 1 K, 4 PA
Pelfrey vs. Giants (career: 2-2, 2.18 ERA)
Gregor Blanco .364, 1 RBI, 1 BB, 3 K, 12 PA
Aubrey Huff .333, 1 K, 12 PA
Brandon Crawford .333, 3 PA
Melky Cabrera .250, 1 BB, 1 K, 14 PA
Nate Schierholtz .250, 1 RBI, 1 BB, 1 K, 13 PA
Emmanuel Burriss .250, 1 K, 4 PA
Pablo Sandoval .231, 1 RBI, 3 K, 13 PA
Gee vs. Giants (career: 0-0, 0.00 ERA)
Buster Posey .500, 2 PA
Ryan Theriot .000, 3 PA
Aubrey Huff .000, 1 PA
Nate Schierholtz 1 BB, 1 PA
Santana vs. Giants (career: 2-0, 3.38 ERA)
Pablo Sandoval .583, 1 HR, 3 RBI, 2 BB, 1 K, 15 PA
Nate Schierholtz .500, 4 PA
Emmanuel Burriss .333, 6 PA
Buster Posey .333, 1 RBI, 1 K, 4 PA
Ryan Theriot .333, 1 K, 3 PA
Aubrey Huff .296, 2 HR, 7 RBI, 1 BB, 5 K, 29 PA
Melky Cabrera .250, 3 BB, 1 K, 19 PA
Zito vs. Mets (career: 3-2, 3.31 ERA)
Ronny Cedeno .500, 1 RBI, 1 BB, 5 PA
Ruben Tejada .333, 1 K, 3 PA
David Wright .286, 1 RBI, 3 BB, 3 K, 18 PA
Scott Hairston .259, 1 HR, 2 RBI, 6 BB, 3 K, 33 PA
Jason Bay .250, 3 K, 8 PA
Ike Davis .000, 2 K, 3 PA
Justin Turner 1 BB, 1 PA
Vogelsong vs. Mets (career: 1-0, 3.60 ERA)
Scott Hairston .667, 1 K, 3 PA
Josh Thole .500, 1 BB, 5 PA
Ruben Tejada .500, 1 BB, 3 PA
Ike Davis .500, 1 HR, 2 RBI, 2 PA
Daniel Murphy .400, 1 BB, 7 PA
David Wright .286, 1 BB, 1 K, 8 PA
Lucas Duda .000, 1 BB, 3 K, 5 PA
Justin Turner .000, 4 PA
Jason Bay .000, 2 BB, 4 PA
Ronny Cedeno .000, 2 PA
Lincecum vs. Mets (career: 3-1, 2.87 ERA)
Josh Thole .400, 1 BB, 1 K, 6 PA
Daniel Murphy .375, 2 RBI, 2 K, 8 PA
Ike Davis .333, 1 RBI, 1 BB, 3 K, 10 PA
Justin Turner .333, 3 PA
Jason Bay .200, 2 BB, 5 K, 12 PA
Ruben Tejada .200, 1 BB, 1 K, 6 PA
David Wright .118, 1 RBI, 2 BB, 11 K, 19 PA
Scott Hairston .111, 2 BB, 4 K, 11 PA
Ronny Cedeno .000, 1 K, 3 PA
Lucas Duda .000, 1 K, 3 PA
Mike Baxter .000, 1 PA
Bumgarner vs. Mets (career: never faced)
Ronny Cedeno .333, 2 K, 3 PA
Scott Hairston .000, 1 BB, 4 PA
Last series results
Giants won, 2-1, at AT&T Park, July 8-10 (AP game recaps)
Mets 5, Braves 2: Pinch-hitter Scott Hairston hit a tiebreaking home run off All-Star closer Brian Wilson in the ninth inning, lifting New York. Hairston opened the ninth by sending a full-count pitch from Wilson (6-2) over the wall in left field. Carlos Beltran and Nick Evans added RBIs in the inning to help the Mets to their fifth victory in six games. Mets reliever Pedro Beato (2-1) earned the win. Francisco Rodriguez pitched a scoreless ninth for his 23rd save.
Giants 3, Mets 1: Tim Lincecum labored through six innings to win for the second time in his past eight starts and Pablo Sandoval had two hits to extend his hitting streak to 20 games. Nate Schierholtz and Aubrey Huff drove in runs in the first inning off Chris Capuano (8-8) to help assure that the Giants would go into the All-Star break in sole possession of first place in the NL West for the first time since 2003. The win also assures that Lincecum (7-7) will head to the All-Star game without a losing record.
Giants 4, Mets 2: Pablo Sandoval celebrated his first All-Star game selection by hitting an RBI double to extend his hitting streak to 21 games and fellow All-Star Matt Cain pitched six scoreless innings. Nate Schierholtz added four hits and an RBI after being moved up to the cleanup spot for the Giants. This is the first time since 2003 that San Francisco enters the break in first place. Cain (8-5) allowed five hits and three walks, lowering his ERA to 2.06 over his past eight starts. Brian Wilson allowed an RBI double to Justin Turner in the ninth before recording his 26th save in 30 chances. Mike Pelfrey (5-8) allowed eight hits and two walks. Nick Evans also hit a pinch-hit homer for the Mets.