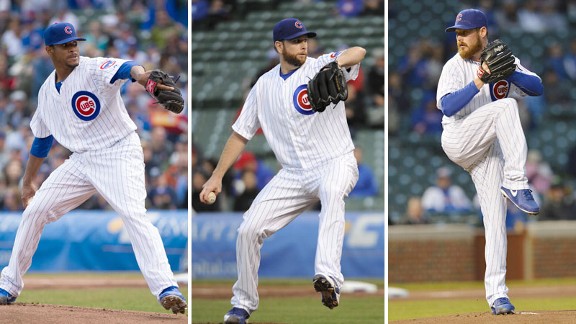 Getty Images
The Mets face (l to r) Edwin Jackson, Scott Feldman and Travis Wood this weekend at Wrigley Field.
METS (15-23, fourth place/NL East) vs. CHICAGO CUBS (17-23, fourth place/NL Central)
Friday: RHP Matt Harvey (4-0, 1.44) vs. RHP Edwin Jackson (1-5, 6.02), 2:20 p.m. ET
Saturday: RHP Jeremy Hefner (0-4, 4.61) vs. RHP Scott Feldman (3-3, 2.53), 1:05 p.m. ET
Sunday: RHP Dillon Gee (2-5, 6.13) vs. LHP Travis Wood (4-2, 2.03), 2:20 p.m. ET
Cubs short hops
• Scott Hairston (.125, 3 HR in 48 ABs), whom the Mets failed to sign because they suggested he was interested in guaranteed playing time, is off to a slow start as a Cub. Hairston signed a two-year, $5 million deal with Chicago.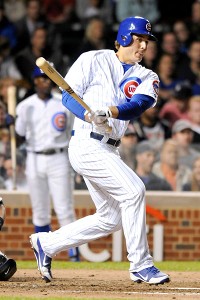 Reid Comptom/USA TODAY Sports
First baseman Anthony Rizzo signed a seven-year, $41 million contract this week.
• First baseman Anthony Rizzo, 23, signed a seven-year, $41 million deal this week that includes team options for 2020 and 2021. The guaranteed portion covers one year Rizzo otherwise would have been eligible for free agency.
• Darwin Barney (.191, 2 HR in 89 at-bats) has started off miserably at the plate, but GM Jed Hoyer recently said publicly that the second baseman is not in danger of a demotion. Barney, who won the 2012 NL Gold Glove, did have a three-hit game Tuesday. He opened the season on the DL after cutting a kneecap in the Cubs' final spring-training game.
• Starlin Castro was installed as the leadoff hitter against lefties a week ago. Center fielder Dave Sappelt (.178) had handled that responsibility until a demotion. David DeJesus leads off against righties. Castro signed a seven-year, $60 million deal last August.
• Dale Sveum indicated he might entertain a six-man rotation when Matt Garza is activated from the DL, likely next week. More likely, Carlos Villanueva or Scott Feldman -- probably Villanueva -- will lose his rotation spot. Garza has been out since Feb. 17 with a lat strain and was expected to make his final rehab start Thursday, with Triple-A Iowa. Villanueva, who originally was signed as a longer reliever, allowed seven runs in five innings Tuesday against the Colorado Rockies.
• Third baseman Luis Valbuena returned to the lineup Wednesday after missing three games with a sprained right pinkie, which he injured sliding into third base. Valbuena was not the intended third baseman this season, but Ian Stewart has been injury-prone after re-signing for one year at $1.5 million.
• Left-hander Travis Wood is coming off an outing in which he tossed seven scoreless innings against the Rockies, which shaved his ERA to 2.03. Wood has an MLB-leading eight quality starts to open the season, matching a Cubs record set in 1919 by Hippo Vaughn in the process.
• Carlos Marmol, whose three-year, $20 millon contract expires after the season, has been deposed as closer for a second straight year. Kevin Gregg, who was signed last month after being released by the Los Angeles Dodgers, began handling the role full time last Wednesday.
Marmol recently denied an internet report that he was overheard talking about wanting to get traded. "That is just not true," he said, according to ESPNChicago.com. "I am very happy here. I always talk about how I love Chicago and I love being here. I love my teammates and everyone here. I feel bad because those words never came out of my mouth."
Chicago reportedly could have traded Marmol to the Los Angeles Angels in November for Dan Haren, but declined the swap after getting spooked by Haren's medical report.
Marmol actually is now third on the late-game depth chart, also behind Kyuji Fujikawa. Fujikawa, who spent the previous eight seasons as a reliever with Hanshin in Japan, was activated from the DL last week after missing nearly a month with a forearm strain.
• Alfonso Soriano had a dreadful April with only two RBIs, but has been much better this month (12 RBIs in 12 games). Soriano's $136 million contract runs through 2014. He is a trade candidate this summer. "I would like to be a part of this group, but I am a little old," the 37-year-old Soriano told ESPNChicago.com. "I will try to have a good time playing with them now. I hope after I retire that they continue to work hard and get better."
• The Cubs have won six of their past nine games to move out of last place. They are coming off of their first home series win since Aug. 24-26, 2012.
• Owner Tom Ricketts earlier this month threatened to move the Cubs from Wrigley Field if city does not approve changes, including outfield signs at the landmark. Rooftop clubs that look into the historic ballpark object to the potential obstruction to their views from advertising and a planned video board. A $500 million renovation of the stadium and surrounding area is planned.