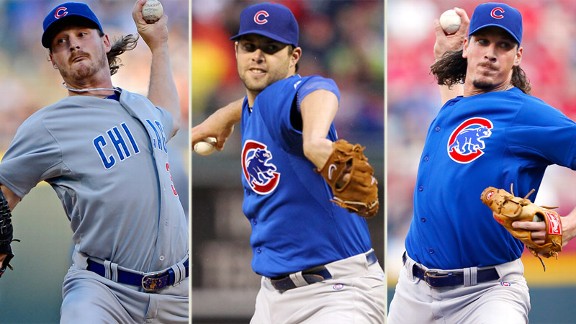 Getty Images
The Mets face (l to r) Travis Wood, Randy Wells and Jeff Samardzija at Wrigley Field.
METS (39-34, second place/NL East) vs. CHICAGO CUBS (24-48, sixth place/NL East)
Monday: LHP Johan Santana (5-3, 3.00) vs. LHP Travis Wood (1-3, 4.14), 8:05 p.m. ET
Tuesday: RHP Dillon Gee (5-5, 4.27) vs. RHP Randy Wells (1-2, 4.91), 8:05 p.m. ET
Wednesday: LHP Jon Niese (5-3, 3.75) vs. RHP Jeff Samardzija (5-6, 4.34), 2:20 p.m. ET
Cubs short hops
• Right-hander Matt Garza (3-6, 4.06 ERA in 14 starts) is among the most likely Cubs to be traded. Garza, 28, is earning $9.5 million this season and is under control via arbitration through 2013 before being eligible for free agency. The Boston Globe's Nick Cafardo lists the Braves, Tigers, Cardinals, Red Sox, Blue Jays and Royals as potential landing spots.
• Left fielder Alfonso Soriano (.269, 14 HR, 44 RBIs) had 12 long balls in a 26-day stretch beginning May 15, but still has been the subject of fan booing. Soriano was caught standing at the plate when Boston Red Sox third baseman Will Middlebrooks dropped his screaming line drive in a June 16 game. "I think our fans know, because they've watched Sori play all year, that he's been hustling from Opening Day on and given a great effort," first-year president of baseball operations Theo Epstein told ESPNChicago.com in defense of Soriano. "It was an unfortunate natural reaction."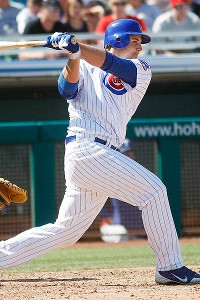 Rick Scuteri/US Presswire
First base prospect Anthony Rizzo should make his Cubs debut during the series.
• Randy Wells will make his second start for injured Ryan Dempster, whose 22-inning scoreless streak is frozen but intact because he landed on the disabled list last Monday with a tight right lat muscle. Dempster should return in plenty of time for the Cubs to trade him before the July 31 deadline. Wells allowed three runs on five hits and four walks and was pulled with his pitch count at 69 after 3 2/3 innings Wednesday against the White Sox.
• Travis Wood has now drawn Justin Verlander, Jake Peavy and Santana in his past three starts. Opposite the White Sox's Peavy in his most recent outing, Wood allowed one run on four hits in six innings to post his first victory since last Aug. 19, as a member of the Cincinnati Reds. Wood, 25, was acquired in a Dec. 23 trade for Sean Marshall. He has a 2.92 ERA over his past four starts. He opened the season by making seven starts with Triple-A Iowa.
• Hyped first-base prospect Anthony Rizzo is expected to be promoted this series. Rizzo was acquired from San Diego on Jan. 6 with Zach Cates for Andrew Cashner and Kyung-Min Na. Because he logged 68 days in the majors last season with the Padres, the 22-year-old Rizzo had to remain in the minors at least through Friday in order to delay his free agency for an extra year, until after the 2018 season. Rizzo had a rough time in the majors with San Diego last season, hitting .141 with one homer and nine RBIs in 128 at-bats.
• Rizzo's imminent promotion should push lefty-hitting Bryan LaHair back into relatively unfamiliar right field, from first base. LaHair (.286, 13 HR, 28 RBIs) was a nine-year minor leaguer who was prepared to play in Japan this season before opting for one final stab at a major league career.
• Jeff Samardzija moved into the rotation this year. Only five of his 128 major league appearances before this season had come in a starting role.
• In addition to Epstein, the Cubs' new braintrust includes former Padres GM Jed Hoyer now serving in that role in Chicago. First-year manager Dale Sveum spent 12 seasons as a major league infielder. Sveum also managed the final 12 games of the 2008 season with the Brewers after Ned Yost was jettisoned. He rode CC Sabathia to a wild-card berth as the Mets missed out on the playoffs on the final day for a second straight season.
• With few opportunities, closer Carlos Marmol has only four saves this season. His next save will be the 100th of his career. The only other Cubs to have reached that plateau: Lee Smith (180), Bruce Sutter (133) and Randy Myers (112).
• Catcher Geovany Soto (.174, 5 HR, 8 RBIs) returned June 18 from arthroscopic surgery on his left knee after missing a month.
• Shorstop Starlin Castro (.304, 6 HR, 38 RBIs), the Cubs' lone representative at last year's All-Star game, again has heated up. Castro drew Sveum's attention earlier this month for repeated in-game mental lapses. He nonetheless has started all 72 games. Atlanta's Dan Uggla is the only other major leaguer to start every game for his team this season.
• Third baseman Ian Stewart received another cortisone shot for a left wrist impingement, hoping to at least delay surgery until the offseason. He is not eligible to return from the disabled list until Thursday, after the series. Former Indian Luis Valbuena has manned third base in Stewart's absence.
• Center fielder Tony Campana leads the majors with 24 steals, one ahead of the Dodgers' Dee Gordon.
• The Cubs are 3-16 in games started by left-handed opposing pitcher.
Last series results
Chicago won, 2-1, at Citi Field, Sept. 9-11, 2011 (AP game recaps)
Mets 5, Cubs 4: Justin Turner doubled in the decisive run with two outs in the ninth inning. Manny Acosta had surrendered a tying single to Darwin Barney with two outs in the top half. Turner (three hits) also had a tiebreaking double in the fifth. Jason Bay doubled twice and threw out a runner at the plate. David Wright and Bay each had an RBI to help the Mets overcome an early 3-0 deficit. More
Cubs 5, Mets 4: Aramis Ramirez hit a two-run single in the top of the ninth, a half-inning after the Cubs blew a three-run lead. Jason Bay had given the Mets a 4-3 lead with a two-out, two-run single. More sloppy play by New York in the ninth on an overall rough day in the field, and another meltdown by Bobby Parnell (3-6), aided Chicago. The Cubs built an early 2-0 lead with help from two errors by Jose Reyes. David Wright made his second error and New York's fourth of the game when he couldn't handle Geovany Soto's grounder leading off the ninth. Pinch hitter Bryan LaHair doubled to put runners at second and third. Parnell then got two outs to bring up Ramirez. Terry Collins considered walking him, but opted not to put pressure on Parnell to pitch with the bases loaded. More
Cubs 10, Mets 6 (11 innings): Carlos Pena hit a go-ahead single in Chicago's six-run 11th, and the Cubs won a game that ended nearly five hours after the Mets held a touching ceremony to mark the 10th anniversary of the terrorist attacks of Sept. 11. Josh Stinson (0-1) walked Marlon Byrd to start the 11th and gave up a single to Bryan LaHair. Pena singled for the lead. Pinch hitter Alfonso Soriano and Darwin Barney each hit two-run doubles off Ryota Igarashi before the first out, and Geovany Soto added a sacrifice fly. New York trailed 4-1 after five innings but scored twice in the sixth off Matt Garza. The Mets tied it with an unearned run when reliever Jeff Samardzija made a bad throw. The Mets loaded the bases in the first, ninth and 10th innings but came up empty. More