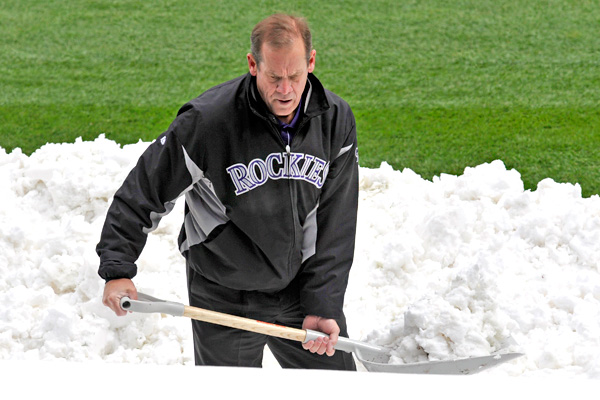 Jack Dempsey/Associated Press
Rockies owner Dick Monfort helps clear eight inches of snow from Coors Field before Tuesday's doubleheader. The twin bill was delayed two hours because of the removal efforts.
DENVER
FIRST PITCH: Ruben Tejada's throwing error in the eighth led to two unearned runs that tied the score and the Rockies overcame a six-run deficit to eventually beat the Mets 9-8 in 10 innings in the nightcap of Tuesday's doubleheader.
The Mets were swept in the twin bill, which was delayed for 122 minutes at the start because eight inches of snow needed to be removed from Coors Field. Even Rockies owner Dick Monfort grabbed a shovel, aware the club did not have enough manpower to remove the snow without enlisting office workers.
"I know our guys were freezing at the end of the game," Terry Collins said late Tuesday, after the sweep. "Freezing. But they had to play. And they did the best they could. We lost two games. We had a chance to win the second game. It would have been a little easier to take. But I'm not going to use weather as an excuse. They did a great job getting the field ready. We're going to leave here hopefully with all four games played. We've just got to regroup and hopefully play better tomorrow."
The Mets and Rockies will try to play Game 3 of the series at 8:40 p.m. ET today, but the forecast may make that a struggle.
One to three inches is predicted during the daytime for Denver, with a nighttime low of 21 degrees and a 70 percent chance of more snowfall in the evening.
Weather-permitting, Jeremy Hefner (0-2, 6.00 ERA) opposes right-hander Jon Garland (1-0, 3.75) tonight.
Wednesday's news reports:
• The once-sure-handed Tejada now has six errors in 13 games this season. He said the cold weather is not a valid excuse.
• Lucas Duda's back tightened and he was pulled from Tuesday's nightcap in the fifth inning. Duda minimized the issue and vowed to be back in the lineup today. Read more in the Post, Star-Ledger and MLB.com.
• Dillon Gee's short outing in Game 1 contributed to an 8-4 loss. The rotation trio of Gee, Hefner and Aaron Laffey clearly is a concern.
• Laffey, who allowed two runs in four innings in Game 2, will be back on short rest Saturday to face the Washington Nationals, Collins said. Laffey is expected to oppose Gio Gonzalez.
The marquee matchup remains Matt Harvey facing Stephen Strasburg on Friday night. Gee and Jordan Zimmermann line up for Sunday's series finale at Citi Field.
• Read recaps of the doubleheader sweep in the Post, Daily News, Newsday, Denver Post and Record.
• Columnist Ken Davidoff in the Post suggests the Mets will have a compelling second half no matter how they are performing. Davidoff cites curiosity about Collins' job status in the final year of a contract, looming promotions of Zack Wheeler and Travis d'Arnaud, the numbers Harvey will put up over his first full major league season and the Mets' shopping for an outfielder (whether or not they're in contention) as must-see topics.
• Travis Lawley's grand slam paced St. Lucie to a 13-3 win against Charlotte. Read the full minor league recap here.
• Read more on the snow-removal efforts in the Times, Denver Post, Journal, Star-Ledger, Daily News and Record.
• Mike Piazza has started practicing for a cameo in the Miami City Ballet. Read more in the Star-Ledger.
• SNY's Kevin Burkhardt handles play-by-play for Saturday's Mets-Nats game televised by Fox.
• From the bloggers … Faith and Fear in Flushing takes comfort in a sweet story regarding a longtime Mets fan and his incandescent encounter with the late Danny Frisella.
BIRTHDAYS: Catcher Gary Bennett, who was acquired for Todd Pratt and traded a month later for player-to-be-named Ender Chavez in 2001, turns 41.
TWEET OF THE DAY:
"@adamrubinespn: Random note: Jon Bon Jovi and the Mets are staying in the same hotel in Denver." I wanna be there!

— Florio (@Florio0o) April 17, 2013
YOU'RE UP: How excited are you about Friday's projected Matt Harvey-Stephen Strasburg matchup?