If you're going to take a detour, you might as well win.
Dillon Gee took a scoreless effort into the seventh inning and the Mets pounded out 10 hits and walked twice in 3 2/3 innings against Minnesota Twins rookie starter Kyle Gibson en route to a 6-1 victory at Target Field on Monday afternoon.
The Mets completed their four-city trip with a 5-6 record.
Gee pulled even with Matt Harvey for the team wins lead with No. 9. As with Harvey, the Mets are now 13-12 in Gee starts.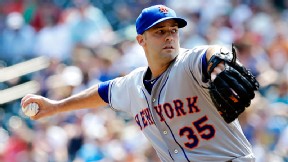 Jim Mone/Associated Press
Dillon Gee matched Matt Harvey for the team lead in wins with No. 9.
Gee has produced a 1.47 ERA in his past seven starts. Since May 30, he has the third-base ERA in the NL (2.27), trailing only Jose Fernandez (1.65) and Clayton Kershaw (1.88).
The lone scored against Gee by Minnesota was unearned. Daniel Murphy committed an error fielding a groundball after Trevor Plouffe had doubled with two outs in the seventh.
Gee's final line: 7.2 IP, 6 H, 1 R, 0 ER, 1 BB, 9 K. He threw 99 pitches (67 strikes).
The Mets improved to 10-4 in interleague play, the best record of any NL team.
The game was a makeup of one postponed from mid-April, when freezing rain fell in Minneapolis. The Mets had a game snowed out in Colorado on that same early season trip. They won that Denver makeup as well, on June 27, during a brief stopover that concluded a June four-city trip.
Monday's superlatives included a first-inning RBI single by designated hitter Andrew Brown, who went 7-for-12 with a walk and six RBIs on the trip.
Golden glove: Juan Lagares had another highlight-reel play -- tracking down Josh Willingham's would-be extra-base hit at the center-field wall to end the first inning. Lagares also gracefully retreated to snare Pedro Florimon's shot to end the seventh.
The only center fielder with more defensive runs saved than Lagares' 20 is Milwaukee's Carlos Gomez with 27, according to ESPN Stats & Information.
Walk in the park: With his three-day cameo now expired with John Buck set to return from paternity leave, Travis d'Arnaud is still searching for his first MLB hit. D'Arnaud went 0-for-3 with two strikeouts and a walk. He is now 0-for-7 with five walks as a big leaguer. Sometime before Tuesday's homestand opener, the Mets must declare whether d'Arnaud will remain at the major league level.
Byrd word: Marlon Byrd had a solo homer in the ninth, giving him 20 for the season. That matches his career high, which he originally achieved in 2009 with the Texas Rangers.
What's next: The Mets host the Atlanta Braves for two games at Citi Field. Zack Wheeler (5-2, 3.43 ERA) opposes right-hander Brandon Beachy (2-0, 4.50) Tuesday at 7:10 p.m.