MIAMI
FIRST PITCH: The Mets head home having failed to score in 23 straight innings … and with a new shortstop.
Wilmer Flores is expected to join the Mets on Friday for the series opener against the Philadelphia Phillies at Citi Field. Omar Quintanilla is due to be designated for assignment.
The Mets, off on Thursday, will play 16 of their next 19 games in New York City -- including two Subway Series games in the Bronx.
Jenrry Mejia (3-0, 5.23 ERA) opposes Phillies right-hander Roberto Hernandez (2-1, 4.50) on Friday at 7:10 p.m.
With the Mets at 16-17 and now under .500, the pressure is on Mejia to demonstrate he can navigate through the middle innings in order to maintain his rotation spot.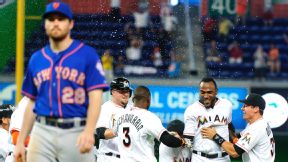 Steve Mitchell/USA TODAY Sports
The Marlins celebrated their seventh walk-off win against the Mets since 2012 on Wednesday.
Mejia enters the start off surrendering eight fifth-inning runs in Denver. Opponents are hitting .160 the first plate appearance against him this season, .239 the second plate appearance and .438 the third plate appearance.
Thursday's news reports:
• Miami handed the Mets their seventh walk-off loss at Marlins Park since the stadium opened for the 2012 season. This time, Giancarlo Stanton scored on a sacrifice fly ahead of an offline throw from usually steady Juan Lagares and the Marlins beat the Mets, 1-0, Wednesday afternoon.
Hitting coach Dave Hudgens suggested the combination of strong pitching, a spacious ballpark and Mets batters "not locked in" combined to up the Mets' scoreless streak to its longest stretch since going 24 straight innings from July 15-17, 2010.
Zack Wheeler tossed six scoreless innings, but had a no-decision to show for it. Mets pitchers are now 0-for-58 at the plate this season.
Read game recaps in the Post, Daily News, Newsday, Star-Ledger, Record, Times, Journal and at MLB.com.
• Flores apparently will be chipping away at Ruben Tejada's time at shortstop when he is expected to join the Mets on Friday. Can Flores actually handle the position in the majors? Stay tuned.
Adam Rubin
Wilmer Flores is expected to join the Mets on Friday.
"All the reports we're getting from there is he's making all the routine plays," assistant GM John Ricco told Marc Carig in Newsday. "He's not going to be a 'plus' defender by any stretch, but he's held his own defensively."
Read more on the shortstop shakeup in the Star-Ledger and at MLB.com.
• Like ESPNNewYork.com, Carig reports in Newsday that Mejia may soon be headed back to the bullpen. Writes Carig:
Back in spring training, the Mets right-hander asked his agents to relay his desire to remain a starting pitcher, which he believes is easier on his arm than working as a reliever. The Mets initially were on the same page, with general manager Sandy Alderson citing Mejia's injury history as the reason he'd be a starter.
But the Mets are preparing for an about-face. With the bullpen desperately in need of reinforcement, Mets insiders told Newsday that Mejia has emerged as a prime candidate to transition again into a relief role.
"[Even] if I don't like it, I'm going to do it," said Mejia, who is scheduled to start Friday night against the Phillies. "I have to do it. That's my team, and I want to be with my teammates."
In that scenario, Daisuke Matsuzaka could step into the rotation or Jacob deGrom or Rafael Montero could be promoted for a starting role. Read more in the Star-Ledger.
• David Wright said the Mets, losers of six of their last seven, must stop their skid now.
• The Mets have been hitting into some bad luck, ESPN Stats & Information's Mark Simon writes here.
• Ron Darling did not read the "True New Yorker" letter he and other '86 and '69 Mets digitally signed before the club blasted it via email to fans. Read more in the Daily News.
• Columnist Mike Vaccaro in the Post, in Miami for the Nets-Heat series, swung by Marlins Park on Wednesday and used the "True New Yorker" loyalty-oath request and the Mets getting swept as fuel for a scathing column. Writes Vaccaro:
Matt Harvey was with the Mets this week rehabbing before the public eye, so it was a good time to remember that the men who own the Mets vowed in the spring of 2013 that this was going to be the year they blew the dust off their wallets and jumped back into the game, act like they own a team based in New York City, not Oklahoma City.
And, you know: act like True New Yorkers.
Then Harvey got hurt last year and you could almost hear the audible sighs of relief coming from the suits in the corporate suites: "surely, nobody would hold us to that promise now" -- even if, when Fred Wilpon made that sacred pledge, Harvey was just a pitcher with a world of potential, not the Dark Knight of Gotham he became.
But that was OK, because the men who run the Mets have grown used to playing their fans for fools, because for years they have insisted that all is well in their corporate coffers, and to celebrate this they have a team that cost the princely sum of $86 million this year. That would be considered shameful, but then the men who run the Mets have proven time and again that they have no shame.
• Scott Rice, whom Terry Collins refrained from using the final two games of the Marlins series, insisted his back issue is a nonissue.
• Harvey is now due to throw on flat ground at 120 feet on Friday at Citi Field for the first time since undergoing Oct. 22 Tommy John surgery. That potentially puts Harvey within three weeks of throwing off a mound for the first time since the procedure.
• Wheeler expressed dissatisfaction with his slider during his postgame interview, Mike Puma notes in the Post.
• Read more on the Mets' hitless pitchers at MLB.com.
• DeGrom struggled for the first time this season, but Eric Campbell had a tiebreaking RBI double in the top of the 10th and Vic Black struck out the side in the bottom half. When it was over, Las Vegas had rallied from a two-run deficit with two outs in the ninth to beat Salt Lake, 7-5. Outfielder Cesar Puello, who served a 50-game suspension related to Biogenesis last season, was placed on the temporary inactive list with Vegas. Greg Peavey tossed a two-hit shutout as Binghamton beat New Hampshire, 6-0. Gavin Cecchini homered and had three RBIs as Savannah beat West Virginia, 9-3. Read the full minor-league recap here.
• From the bloggers … Faith and Fear immerses itself in a decade's worth of Mets-at-Marlins walk-off lore.
BIRTHDAYS: We ain't lying: John Maine turns 33.
TWEET OF THE DAY:
@AdamRubinESPN Still wish they'd try for Nick Franklin, buried by the Mariners at Tacoma and hitting .369. Or Gregorius, .288 at Reno.

— Bob Mac (@Ram8080Bob) May 8, 2014
YOU'RE UP: Can Wilmer Flores handle shortstop in the majors?