Get out the brooms. For the first time since the Subway Series began in 1997, the Mets have swept a season series from the Yankees.
Dillon Gee struck out a career-high 12 and earned his first win since May 1, and Marlon Byrd produced a two-run homer as the Mets beat the Yankees 3-1 Thursday night in the Bronx.
The Mets won all four games against the Yankees -- officially sweeping two series, since the borough changed midway through the four-game affair. Overall, the Mets (22-29) have won a season-high five straight.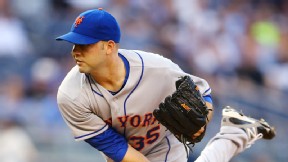 Al Bello/Getty Images
Dillon Gee struck out a career-high 12 in 7⅓ innings.
Gee, in danger of losing his rotation spot in mid-June when Zack Wheeler is expected to be promoted, limited the Yankees to Robinson Cano's third-inning solo homer. He retired the next 15 batters he faced before departing with one out in the eighth. He struck out the last five batters he faced.
Gee's final line: 7⅓ IP, 4 H, 1 R, 1 ER, 0 BB, 12 K, 1 HR. He was pulled at 88 pitches despite the success.
Gee completed six innings for only the third time in 11 starts this season and for the first time since April 26.
Through this last turn of the rotation, Mets starters limited the Atlanta Braves and Yankees to eight earned runs in 35⅓ innings over a five-game span -- good for a 2.04 ERA.
Left-hander Scott Rice, taking over for Gee with one out in the eighth, retired Ichiro Suzuki on a foul pop and struck out Brett Gardner. Bobby Parnell then earned his ninth save.


Byrd's homer against left-hander Vidal Nuno in the second inning gave the Mets a 2-0 lead. He has homered in consecutive games for the sixth time in his career and first since May 18-19, 2011, with the Chicago Cubs. John Buck had a run-scoring infield single in the eighth. The Mets won despite mustering only four hits.
Q E-6: Omar Quintanilla had a Ruben Tejada-like season debut with the Mets. Replacing Tejada, who landed on the disabled list with a right quadriceps strain, Quintanilla had the first grounder to him roll through his legs. That handed Gee a first-and-second, no-out jam in the second inning, from which the right-hander wriggled free.
At the plate, Quintanilla went 0-for-2 with a walk.
What's next: The Mets open a three-game series at Miami on Friday at 7:10 p.m. Shaun Marcum (0-5, 5.77 ERA), still in search of his first Mets win, is expected to oppose right-hander Jacob Turner, who will make his season debut after 10 starts at Triple-A New Orleans.