Bill Streicher/USA TODAY Sports
Zack Wheeler retired 14 straight batters at one point en route to a win against the Phillies on Thursday.PHILADELPHIA
FIRST PITCH: Don't look now but the Mets are on a three-game winning streak, coinciding with the ascension of Lamar Johnson to hitting coach.
Rafael Montero (0-2, 4.96 ERA) opposes Philadelphia Phillies right-hander A.J. Burnett (3-4, 3.51) on Friday at 7:05 p.m. at Citizens Bank Park.
Terry Collins indicated Bobby Abreu is expected to start in the outfield.
Friday's news reports:
• Zack Wheeler struck out nine and took a scoreless effort into the seventh as the Mets won the opener of a five-game series against the Phillies, 4-1, Thursday. Jenrry Mejia struck out the side in the ninth for his fifth save. Vic Black recorded four outs, three via strikeout, as the setup man as Collins finally seems to have some late-inning arms at his disposal. Wheeler had retired 14 straight until Marlon Byrd's solo homer in the seventh on pitch No. 108 chased him.
Chris Young had a two-run homer and finished 2-for-4 to lift his average to .205.
Young, who thought his limited playing time in Oakland last season after getting off to a slow start further hindered his production, was out of the starting lineup for three straight games earlier this week. He essentially said he deserved it, though.
"I've been dealing with it," Young said. "It gets to a point where, as a player, you have to hold yourself accountable. You have to understand what's going on around you. And you have to understand we've got to win ballgames. I trust that when I start feeling better, I start driving the ball more, it will be more consistent [playing time]. At some point you have to take the responsibility upon yourself and go out there and have quality at-bats."
Read game recaps in the Post, Daily News, Newsday, Times, Journal, Star-Ledger and at MLB.com.
• Frank Viola, who underwent open-heart surgery on April 2, plans to assume his originally intended role as Triple-A Las Vegas pitching coach next Friday. Read more in Newsday.
• The Mets continue to add vice presidents to newly created positions to bulk up their marketing and sales efforts. The club announced Thursday the hiring of Wes Engram from the Kansas City Royals as vice president of corporate partnerships sales and service. Since Dave Howard left to run MSG in March 2013, the team also has hired Lou DePaoli as chief revenue officer, Will Carafello as director of social media and Harold Kaufman as executive director of communications.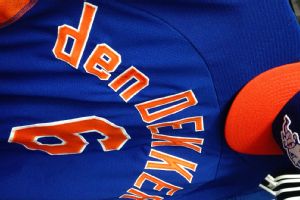 Adam Rubin
Matt den Dekker is one of three Mets with a lower-case "d" beginning his surname.
• With the Mets having set a major-league record for surnames beginning with a lower-case "d" -- with Travis d'Arnaud, Jacob deGrom and Matt den Dekker -- Paul Lukas at ESPN.com examines lettering on uniforms. Writes Lukas:
Three primary schools of thought have emerged from these discussions: one that believes player names on jerseys should always be all caps, period; one that loves the lowercase letters; and a compromise position that advocates for the use of small caps instead of lowercase letters.
• The Mets began a stretch on Thursday in which they play 25 of 33 games on the road. Jared Diamond in the Journal notes that no team has played more road games in a 33-game span since 1995 than the Mets will during this stretch. MLB senior VP Katy Feeney suggested the Yankees are partly responsible. Yankee Stadium needed to avoid baseball games for part of May because of NYU graduation ceremonies taking place there. That meant the Mets were home more than usual during that period, while the Yankees were away.
• D'Arnaud went 0-for-4 and grounded into a double play with the bases loaded in his first game since returning from a concussion. Collins said Mets catchers collectively need to pick up their production at the plate. Read more in the Post, Star-Ledger and at MLB.com.
• Hansel Robles allowed one run in 6 2/3 innings and Brian Burgamy had a two-run homer as Binghamton beat New Hampshire, 7-2. L.J. Mazzilli's RBI single in the 12th plated Patrick Biondi in Savannah's 3-2, walk-off win against Rome. Read the full minor-league recap here.
• Columnist Phil Mushnick in the Post is not a fan of 50 Cent performing at Citi Field.
• Justin Terranova in the Post asks former GM Steve Phillips about the Wilpons as owners.
"Fred and Jeff desperately want to win and that part was never a question for me," Phillips said. "There's always this perceived notion when George Steinbrenner was alive that he always wanted to win more, but the Mets run their team as a business and they want to win. They are kind of caught in between right now of still giving young guys opportunities, while adding those veteran pieces that are necessary, too. They don't blindly go after that without having a prudent business plan."
BIRTHDAYS: Wheeler has another reason to celebrate besides his performance in the series opener. He turns 24.
TWEETS OF THE DAY:
The #Mets won 3 in a row and are 3 games back! #ThereIsHope

— Allan Proskin (@Aproskin) May 30, 2014
YOU'RE UP: Will Zack Wheeler end up being an ace after all?