NEW YORK -- Steven Matz is averaging six innings a start this season, a full inning more than in 2013. And if there is one accomplishment that has pleased the 23-year-old left-hander beyond any other, it is the improvement in the length of his outings.
"If you're going deeper into games, you're more efficient with your pitches," said Matz, a native of Stony Brook, Long Island. "And a lot of stuff comes along with going deeper into games. It will get you more wins and you're keeping your team in the game longer."
Matz is a combined 9-8 with a 2.27 ERA in 22 starts between Class A St. Lucie and Double-A Binghamton. He has struck out 115 and walked 35 in 130 2/3 innings. Since joining the B-Mets, he has a 3.79-to-1 strikeout-to-walk ratio. That is the best of his career at any level.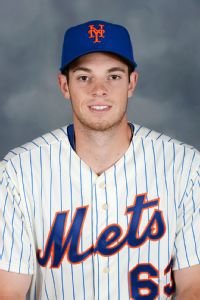 Courtesy of New York Mets
Steven Matz
"I'm throwing my two-seamer a lot more this year, and also my curveball has gotten a lot better," Matz said. "I'm able to throw it for some strikes and am able to locate it down when I'm ahead of hitters."
At first glance, it looks like Matz is a candidate for an early shutdown because of an innings cap. His regular-season innings total already exceeds last season by 24 1/3. However, Paul DePodesta offered a reminder that Matz started a pair of postseason games with low-A Savannah last season. Therefore, he should have enough innings left to participate through the B-Mets' playoff run.
Binghamton's magic number to clinch is down to two entering Wednesday's series finale at Erie.
"We are managing him, but we don't expect to shut him down," DePodesta said.
Said Matz: "I'm feeling good. I've got really no complaints."
Matz was the Mets' top pick (second round) in 2009 out of Ward Melville High School. He lost nearly two full years at the start of his career because of a lengthy recovery from Tommy John surgery. Not until 2012 did he pitch in his first official minor-league game.
So Matz can empathize with Jeremy Hefner's recent major setback in an attempted return from the procedure as well as Matt Harvey's eagerness to get into games.
"I had so many complications with mine, and I was actually told I needed a second Tommy John at one point. It turned out my elbow wasn't really matured yet and the new ligament wasn't really matured yet and it looked like maybe a tear or whatever. So I do understand what he's going through," Matz said about Hefner. "I feel for him."
One positive byproduct of the promotion to Double-A is Matz's family and friends on Long Island now can watch his games more frequently than when he pitched in the South. Matz has lived in past offseasons with his family in Stony Brook, although he is not sure about his living arrangements for this upcoming offseason.
In past offseasons, he has trained at a Garden City, Long Island, facility with a group that includes Jose Reyes, Pedro Beato, Adam Ottavino and Mets farmhand Cam Maron, who is from Hicksville.
"Usually that's my go-to place," Matz said.
Organization leaders
Average: Jairo Perez, GCL Mets, .358; Matt Reynolds, Vegas, .348; T.J. Rivera, Binghamton, .338; Matt den Dekker, Vegas, .334; John Mora, Brooklyn, .318; Jean Rodriguez, Kingsport, .317; Dilson Herrera, Binghamton, .316; Enmanuel Zabala, GCL Mets, .308; Kevin Plawecki, Vegas, .307; Jeff McNeil, St. Lucie, .300.
Homers: Brian Burgamy, Binghamton, 23; Dustin Lawley, Binghamton, 20; Andrew Brown, Vegas, 19; Allan Dykstra, Vegas, 16; Travis Taijeron, Binghamton, 15.
RBIs: Brian Burgamy, Binghamton, 75; L.J. Mazzilli, St. Lucie, 74; Allan Dykstra, Vegas, 73; T.J. Rivera, Binghamton, 69; Dilson Herrera, Binghamton, 64.
Steals: Champ Stuart, Savannah, 24; Patrick Biondi, Savannah, 23; Dilson Herrera, Binghamton, 22; Jeff McNeil, St. Lucie, 17; Darrell Ceciliani, Binghamton, 16.
ERA: Marcos Molina, Brooklyn, 1.58; Corey Oswalt, Brooklyn, 2.26; Steven Matz, Binghamton, 2.27; Robert Gsellman, Savannah, 2.34; John Gant, Savannah, 2.59; Matt Bowman, Binghamton, 2.87; Kevin McGowan, St. Lucie, 3.76; Tyler Pill, Binghamton, 4.00; Ricky Knapp, Savannah, 4.02; Andrew Church, Kingsport, 4.17.
Wins: Greg Peavey, Binghamton, 11; Dario Alvarez, Binghamton, 10; Gabriel Ynoa, Binghamton, 10; John Gant, Savannah, 10; Logan Verrett, Vegas, 10.
Saves: Chasen Bradford, Vegas, 15; Akeel Morris, Savannah, 15; Cody Satterwhite, Binghamton, 14; Shane Bay, Brooklyn, 13.
Strikeouts: Noah Syndergaard, Vegas, 127; Steven Matz, Binghamton, 115; John Gant, Savannah, 111; Tyler Pill, Binghamton, 110.
Short hops
• With Brooklyn in a playoff position if its season ended today, the Mets now plan to keep first-round pick Michael Conforto as well as shortstop prospect Amed Rosario with the Cyclones through the postseason. If Brooklyn fades, promotions to Savannah would appear likely. Conforto is hitting .311 with two homers, 14 RBIs and three steals and has a .405 on-base percentage in 29 New York-Penn League games. Rosario, 18, is hitting .286/.335/.377 and has seven steals in 60 games.
• Kevin Plawecki made his first appearance of the season at first base last weekend with Las Vegas. DePodesta said Plawecki will only see "very limited" time at the position this season, in order to get him at-bats when fellow catcher Taylor Teagarden also plays. Plawecki manned first base in 17 games last season with St. Lucie, but that mostly was designed to get him through his first full professional season without the rigors of catching every day down the stretch.
Plawecki has lifted his Pacific Coast League average 34 points in the past week -- to .271, thanks to five multi-hit games in his past seven games.
• Right-hander Michael Fulmer, he 44th overall pick in the 2011 draft out of high school in Oklahoma, was charged with six runs in 3 1/3 innings in his Double-A debut on Tuesday. Slowed by injuries early in his career, Fulmer had gone 6-10 with a 3.97 ERA and had a 1.50 WHIP in 19 starts with St. Lucie. Depending on the trickle-down from the major league club, beginning with Rafael Montero's potential demotion, Fulmer may or may not remain at Double-A for the rest of the season.
• A pair of June draft picks playing with Brooklyn are done for the season because of knee injuries. Ninth-round pick Michael Katz, a first baseman/outfielder out of William & Mary, is expected to require surgery. Versatile position player Will Fulmer, a 22nd-round pick out of the University of Montevallo, also is not expected to return in 2014.