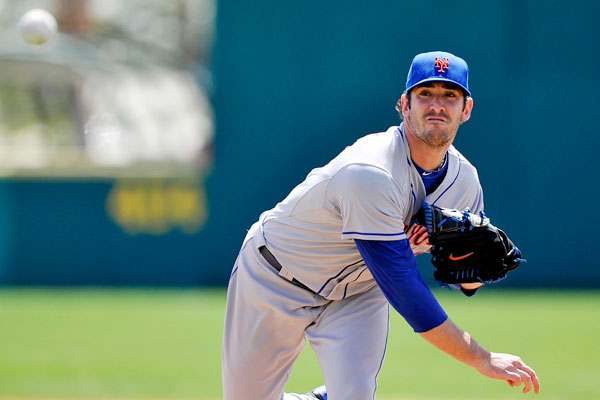 Brad Barr/USA TODAY Sports
Matt Harvey opposes a seemingly diminished Roy Halladay tonight at Citizens Bank Park.
FIRST PITCH: After winning two straight series at home to open the season, the Mets (4-2) hit the road for a three-city trip.
The first stop: Philadelphia, with Matt Harvey facing Roy Halladay in tonight's 7:05 p.m. opener.
Harvey, coming off seven scoreless innings in his season debut against the San Diego Padres, was flattered by recent unsolicited praise from Tampa Bay Rays ace David Price.
Halladay, although clearly diminished, is 7-0 with a 1.78 ERA against the Mets since 2010. He aims for career win No. 200 tonight.
Read the Mets-Phillies series preview here.
Monday's news reports:
• Marlon Byrd produced a two-run, walk-off single to cap a 4-3 comeback win against the Marlins on Sunday at Citi Field as the Mets completed their homestand on a positive note. The Mets have homered in each of their first six games, their longest streak to begin a season since going deep in eight straight to open the 1987 season. The ninth-inning comeback against Marlins closer Steve Cishek spoiled a stellar outing from Jose Fernandez in his major league debut. Scott Rice collected his first major league win. Read game recaps in the Post, Record, Star-Ledger, Daily News, Times, Newsday, Journal and MLB.com.
• Despite allowing 10 hits, a walk and hitting a batter in 4 1/3 innings in his Mets debut, Terry Collins pledged Aaron Laffey would get another start. The Mets may delay using Laffey again, though, until a fifth starter is absolutely required -- Tuesday in Colorado, after a series in Minnesota. Read more in the Post and Record.
• Anthony Rieber in Newsday asks: If Fernandez is pitching in the majors for the Marlins at 20, why can't top prospect Zack Wheeler be with the Mets with Shaun Marcum and Johan Santana out? But columnist Joel Sherman in the Post believes the Mets, not the Marlins, made the right call. If a team is not in contention, there's no sense starting free agency and arbitration clocks early. Writes Sherman:
I know the Citi fans want to see Wheeler. Heck, I would have loved to see Wheeler (Baseball America's No. 11 prospect) versus Fernandez (No. 5), but I am going to take Mets executives' word for it that Wheeler still has polishing to do in the minors. And also see the logic in not allowing Wheeler to accumulate service time toward arbitration and free agency prematurely when seventy-something wins again seems all but pre-determined.
Instead, the Mets are still playing for a future when they envision Wheeler (and, perhaps, Rafael Montero), joining Jon Niese and Matt Harvey in a rotation that is the backbone for sustained contention. Of course, this is not being done in a vacuum. The Marlins have Fernandez, the Braves have Julio Teheran and the Nationals have Stephen Strasburg, still just 24.
Columnist Bill Madden in the Daily News contrasts yesterday's pitchers, too. Read more in the Star-Ledger.
• Noah Syndergaard, the pitching prospect acquired from the Toronto Blue Jays for R.A. Dickey, tossed four scoreless innings in his debut with the organization and Cam Maron drove in the lone run and withstood a game-ending plate collision as St. Lucie completed a four-game, home-and-home sweep of Jupiter on Sunday. Read the full minor league recap here.
• Dickey surrendered eight runs against the Boston Red Sox on Sunday, including five runs in the first inning -- as many runs as he allowed in the first inning all of last season as a Met. Dickey has an 8.44 ERA through two starts with Toronto.
• Marc Narducci in the Philadelphia Inquirer catches up with Mets sidearmer Greg Burke, who hails from outside of Philly in Gloucester, N.J. "He was the first guy we tried to sign, because of the ground-ball factor in Coors Field," Colorado Rockies scout Will George told Narducci.
"He is a great kid who has persevered, and that tells you a lot about what is inside him."
• From the bloggers … Faith and Fear in Flushing gives gold stars to Ruben Tejada and Kirk Nieuwenhuis. … John Delcos at Mets Report reviews the team's opening homestand. … At Mets Police, a request to throw your support in the Honorary Bat Girl contest behind Lisa, who was diagnosed with breast cancer at age 36.
BIRTHDAYS: The late Gary Carter was born on this date in 1954. … Timo Perez, most recently a Long Island Duck, turns 38. … Former first-round pick Eddie Kunz, who was released by the San Diego Padres late in spring training, turns 27. .. Former Mets reliever Pete Walker is 44.
TWEET OF THE DAY:
Happy birthday in heaven to The Kid #GC #Mets #RIP

— Lauren W. (@LaurenTheRaptor) April 8, 2013
YOU'RE UP: Who made the right call: the Marlins using Jose Fernandez, or the Mets not using Zack Wheeler?