Matt Harvey tossed a career-high 7 2/3 innings and the Mets had enough cushion to withstand another Frank Francisco meltdown and salvage the series finale with an 8-4 win in Cincinnati on Thursday night. Ike Davis and Jason Bay homered against Homer Bailey.
Harvey, firing fastballs and working with newcomer Kelly Shoppach in the former Red Sox catcher's Mets debut, limited Cincinnati to one run on four hits and a walk while striking out eight in an 89-pitch effort. Harvey also contributed a two-run double. His 34 strikeouts through five career games are the second most in franchise history, trailing only Dwight Gooden's 36.
"Coming off five walks in one game," Harvey said, referring to last Friday's appearance against Atlanta, "that's the last thing you want to do -- and do that two times in a row. From the first inning, the get-go, I really wanted to come out and attack. Going 7 2/3, I'm happy with. There are still things I need to work on and strive to be perfect, but overall I'm pretty happy."
As for working with Shoppach, Harvey noted they were on the same page despite unfamiliarity.
"He really didn't know too, too much about me. And I didn't know too, too much about him," Harvey said. "So at that time we wanted to get things going on the right page. It was awesome. When I wanted to throw a pitch, he put [the signal] down. And if I shook once, the second pitch that he called, it was right there. I give him a lot of credit. I stuck with him the whole time."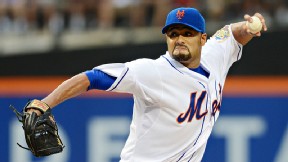 Henny Ray Abrams/Associated Press
Johan Santana tries to snap a string of subpar performances tonight against the Nats.
Now, Johan Santana (6-8, 4.58 ERA) opposes left-hander Ross Detwiler (6-5, 3.18) tonight as the Mets open a weekend series against National League East-leading Washington. Santana will be pitching on an extra day of rest as he tries to rebound from a start in which he was charged with eight runs while recording a career-low four outs against the Braves at Citi Field.
Santana has allowed six-plus runs in each of his past four starts, tying a franchise record. The only major league pitchers to surrender six or more runs in five straight starts in the past 10 years: Baltimore's Brian Matusz and Kansas City's Sean O'Sullivan, both last season.
A loss tonight would drop Santana three games under .500 in a season for only the second time in his career. He opened 2006 with Minnesota with three straight losing decisions (en route to a 19-6 record). Santana, who is due to earn $31 million next season with a 2014 buyout, already is ticketed for his worst ERA at least since posting a 4.74 ERA in 15 appearances (four starts) with the Twins in 2001.
Santana (.658) entered the season with the third-highest winning percentage among active major league pitchers with at least 125 starts -- trailing only Jon Lester (.691) and Roy Halladay (.671). With Santana's career winning percentage having slipped to .644, Jered Weaver, Tim Hudson, CC Sabathia and Justin Verlander now have overtaken him, too.
Friday's news reports:
• Sandy Alderson told Brian Costa in the Journal the past two seasons under the GM's direction have been beneficial in terms of information gathering. Writes Costa:
No one expected the Mets to be a legitimate contender this season. But nearly six years after their last playoff appearance, it is hard to say when such an expectation will be reasonable again. How close are the Mets to competing for a championship? "It's a very difficult question to answer," general manager Sandy Alderson said. Alderson views the benefit of this season largely in terms of collecting information. Some of it has been good. Some of it hasn't. Ruben Tejada, for example, has established himself as a solid everyday player at shortstop. Zack Wheeler has emerged as one of the best pitching prospects in baseball. But the struggles of Lucas Duda and Kirk Nieuwenhuis and the continued deterioration of Jason Bay leave the Mets devoid of everyday outfielders going into 2013. And Ike Davis hasn't come close to resembling the All-Star he likely would have been before an injury wrecked his 2011 season.
"I think we have a much better sense now of who our players are, who we think are going to develop into those championship-caliber players, who may not, and are in a position to act on that," Alderson said. "The last couple of years, we've done a lot of experimenting. Some things have worked out. Some haven't. But I feel a lot more confident about where we're going than I did a couple of years ago."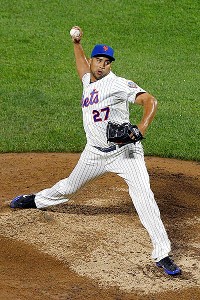 Jim McIsaac/Getty Images
Pedro Beato was traded to the Red Sox to complete the deal for Kelly Shoppach.
• The Mets completed the trade for Shoppach on Thursday, when right-hander Pedro Beato was sent to the Red Sox through the waiver process. Beato was not held in high regard, but dealing anyone who can contribute at the major league level for a pending free agent such as Shoppach would seem to verify the Mets' intent to attempt to re-sign the catcher this offseason. Read more in the Star-Ledger.
• For the second time this week, Francisco had to be pulled from an appearance and Jon Rauch bailed him out. Francisco, entering with a seven-run lead in the ninth after being idle since Sunday's meltdown at Citi Field, this time allowed a homer on the first pitch of his appearance, to Ryan Ludwick. The closer proceeded to allow three more hits and a walk before being pulled with two outs and two runners aboard. Rauch struck out ex-Met Wilson Valdez for his second save this week and third as a Met. Afterward, Terry Collins suggested it's "obvious" Francisco's fastball command is lacking because of erratic use.
Said Francisco: "I'm just getting beat with everything, you know? There's nothing you can do about it. I'm struggling right now."
Read game recaps in the Post, Times, Star-Ledger, Newsday, Record, Daily News and Journal.
• Regarding Wednesday's bracelet flap, the Daily News' Andy Martino tweeted: "Ump supervisor Randy Marsh approached Dickey in BP & said [he] regretted [the] way [it] was handled. Should've been more discreet." Collins said that four people texted him to note that Seattle's Felix Hernandez had a larger object on the wrist on his glove hand during his perfect game the same night as Dickey pitched in Cincinnati. Read more in Newsday and the Daily News.
• Zack Wheeler allowed five runs in five innings in his third Triple-A start as the Mets lost to Lehigh Valley, 5-2. "They really didn't hit me around too hard," Wheeler said. "I mean, I did let up the [solo] home run and I gave up a bunch of singles. I was just not locating very well." Said manager Wally Backman: "He didn't have good command today, and good command is a key. Those guys were swinging early, and they hurt him swinging early in the count." Read Thursday's full minor league recap here. Read more in the Post.
• While Collins has indicated Lucas Duda should return before rosters expand Sept. 1, the manager said Duda is not ready because he is still adjusting to a new, wider stance. Also on the outfield front: Collins expects Justin Turner will see some action in the outfield during spring training to increase his versatility. Because of a crowded infield, Turner's start Thursday was his first since July 31. Read more in Newsday.
TRIVIA: Name the four other starting pitchers the Mets have used this season beyond the current six in the rotation (Santana, Dickey, Harvey, Jon Niese, Chris Young and Jeremy Hefner).
Thursday's answer: Former Generation K member Paul Wilson started opposite Pedro Martinez in Cincinnati on April 4, 2005, when Willie Randolph, Carlos Beltran and "The New Mets" debuted on Opening Day in Cincinnati.