PITTSBURGH -- An orange No. 11 jersey of Dutch footballer Arjen Robben hung outside the locker of Kirk Nieuwenhuis in the visitors' clubhouse at PNC Park before the series opener between the Mets and Pittsburgh Pirates.
So what's the connection?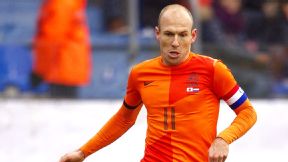 VI Images via Getty Images
The jersey of Dutch footballer Arjen Robben was on display outside Kirk Nieuwenhuis' locker Thursday.
Nieuwenhuis said he never has been to the Netherlands, and is "disappointed about that." Still, he added, he definitely has strong links to the country.
All four of his grandparents were born in the Netherlands. His parents met at Calvin College in Michigan, which had a large Dutch population.
As for the World Cup interest, Nieuwenhuis -- who grew up in Denver -- suggested he got hooked four years ago, when the Dutch team reached the finals.
Plus, Nieuwenhuis added about his PlayStation gaming habits: "Every spring training we play so much FIFA, so you get to know the players."
The outfielder never has competitively played soccer.
"It always coincided with football," he said.