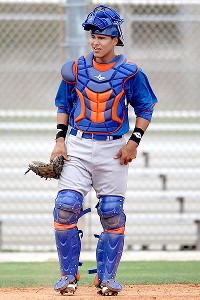 Mike Janes/Associated Press/Four Seam Images
The Mets released catcher Alex Machillanda, who got into legal trouble this summer.
The Mets have released the minor leaguer who was arrested in Port St. Lucie, Fla., in July and charged with felony shoplifting.
Alex Luciano Machillanda Romero of the Gulf Coast League Mets was accused of stealing clothes from a local department store, punching the store officer who confronted him, fleeing the scene and yelling at and pulling away from the police officers who eventually apprehended him.
St. Lucie County court records show he paid a $568 fine on Sept. 11 to satisfy the terms of a plea deal. Machillanda was sentenced to the 12 days of jail time he already had served.
Machillanda, a catcher who turned 22 earlier this month, did not appear again with the GCL club after his arrest.
The Mets also released minor league left-hander Zach Dotson and second baseman Richie Rodriguez, according to Baseball America.
Rodriguez was the Mets' ninth-round pick in 2012. He hit .191 with Kingsport this season. Dotson was a 13th-round pick in 2009.