Mikhail Prokhorov may be able to "crush" Mark Cuban in kickboxing, but when it comes to owning an NBA franchise, Cuban already has what Prokhorov covets: an NBA championship.
And this coming offseason, the Mavericks owner is likely going to try to convince Prokhorov's superstar player, Deron Williams, to leave New Jersey/soon-to-be Brooklyn in favor of the city he grew up near: Dallas.
Prokhorov can joke all he wants -- "let the best man win" and so forth -- but deep down, if Williams bolts and becomes a Maverick, it'll feel like Cuban kicked him in the face.
Yes, he has a $1 billion arena in the biggest market in the world. But how is he going to sell tickets if his team can't contend? Maybe the allure of the borough's first sports franchise since the Dodgers will work for a season or two, but what about a third season? How long can that really last?
While Prokhorov has been off trying -- and failing, despite his best efforts -- to become president of his native Russia, the Nets have been floundering in their final season in New Jersey. They've been decimated by injuries, derailed by slow starts and disappointed at home, and are on their way to missing the playoffs for a fifth straight season.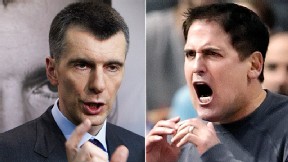 Getty Images/AP Photo
If Mark Cuban steals D-Will, "I will crush him in a kickboxing throwdown," warns Mikhail Prokhorov. Maybe the Nets owner should learn something from his Mavs counterpart first.After taking over as owner prior to the start of the 2010-11 campaign, Prokhorov promised a championship within five seasons. He didn't exactly back down from that on Tuesday. At the same time, he preached "patience," something that fans in the New York City area don't want to hear.
Williams certainly doesn't. He has been a winner throughout his playing career -- all the way from high school to the pros.
He doesn't do losing. Williams has put up with it because he was traded to a team in transition -- something that was beyond his control -- but he isn't going to put up with it anymore, not when he's entering his prime.
Williams wants to win, and for the first time his career, he gets to choose where he plays.
Prokhorov said he met with Williams on Monday and added that both of them are "on the same page."
Great. So what?
Does that mean Prokhorov is convinced he can get Williams to sign on the dotted line of a five-year, $109 million max extension this summer? Or is Cuban really going to be able to pull off a robbery and leave the Nets without a superstar going into Brooklyn?
Prokhorov can say he's committed to bringing a championship to Brooklyn. But how can he go all-in to fulfill that goal when he's pursuing other ventures and still has political aspirations?
Wouldn't it be nice if he were fully invested in the Nets, much the same way Cuban is fully invested in the Mavericks?
Prokhorov may be rich and powerful, and have a good sense of humor too, but it's time for him to figure out what he wants his basketball legacy to be.
All he has done so far is help pay for the construction of the Barclays Center. Now it's time to put a competitive team on the court to play in it.
GM Billy King acted swiftly in trading for Williams and has made some other nice moves, such as acquiring MarShon Brooks on draft day, plucking Gerald Green out of the D-League and risking losing a lottery pick in order to land Gerald Wallace, but the Nets remain -- just like their new Brooklyn arena -- a far-from-finished product.
They couldn't lure Dwight Howard out of Orlando -- not that the "Dwightmare" is over or anything -- and are going to turn their attention toward trying to round out their starting five by landing the likes of free-agent power forwards Kevin Garnett, Ryan Anderson or Ersan Ilyasova in the offseason. That's all contingent on keeping Williams, of course.
King, coach Avery Johnson & Co. can't make that happen alone. They need Prokhorov to be fully invested in his franchise.