Lots of news out there today regarding the New York Knicks' increasing chances and the New Jersey Nets' decreasing chances of trading for Carmelo Anthony, ranging from a report of a supportive text message sent from Amar'e Stoudemire to Anthony to a report saying the Knicks having a 50-50 chance of getting Anthony to a report saying Anthony's wife, LaLa Vazquez, will hold very little sway in the ultimate resolution of the Melodrama.
As I first reported on Dec. 12, Anthony has made it known to the Nuggets that if he is traded, he will not agree to sign the $65 million extension that is on the table unless he is traded to the New York Knicks. I have stood by that report ever since, not wavering in my subsequent reporting, nor in every chat I have done over the past 30 days, nor in my "Things that make you go Hmmmmmm' blog post from Monday, nor yesterday in my blog post about the Nicolas Batum factor. As ESPN colleague Chris Broussard is reporting in his news story today, nobody has been told by Anthony that he is agreeable to a trade that would send him to New Jersey.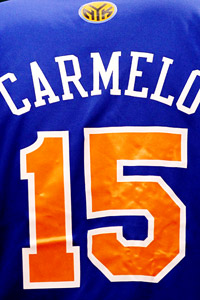 Stephen Dunn/Getty Images
What's it going to take to get Melo into a Knicks uniform? We break down the possible deals.This all means the Knicks could still be in the catbird seat here unless Anthony warms to the Nets, or if the Nuggets decide to trade him to a team, such as Houston, that would be happy to use him as a rental for the rest of this season and then use him in a sign-and-trade over the summer (if sign-and-trades actually existing in the new collective bargaining agreement) if Anthony indeed opts out of the final year of his contract and becomes an unrestricted free agent.
So now it's time to take a look at what the Knicks might be willing to give up in a deal to acquire Anthony, and we'll proceed forward with this cautionary disclaimer just so everybody is perfectly clear on one thing: The following is all speculative.
First things first: New York is never going to be able to match the bundle of assets (Derrick Favors, Devin Harris, at least two No. 1 picks) the Nets are willing to give up, but they do have the means to acquire a draft pick -- Donnie Walsh has said so himself, publicly -- that would give the Nuggets one of the things they want from any Anthony deal.
So let's assume the Knicks can trade Anthony Randolph for a No. 1 pick, and let's postulate they would be willing to throw in their own first-round pick in 2014 (NBA rules prohibit them from trading their 2011 or 2013 picks because they have already traded their 2012 pick to Houston) to give the Nuggets a face-saving pair of first-rounders.
What else would they need to put into a fair deal? Or an unfair deal?
You have to start with Wilson Chandler, for two reasons: He has established himself as a better trade chip than Danilo Gallinari, and he is due to become a restricted free agent next summer with a price tag that continues to rise with each strong game he plays. If the Nuggets held onto Anthony past the trade deadline and the Knicks then wanted to get far enough under the salary cap next summer to sign Anthony, they'd either have to renounce their rights to Chandler, or trade at least one other player (probably two) to create enough room to give Anthony a max deal and Chandler a fair-market deal.
The next player you have to factor in is Landry Fields, the rookie shooting guard who not only is the second-leading rebounder on the Knicks, but also leads all NBA guards (not just rookies, but all NBA guards) in rebounding. Would the Knicks consider him expendable if it got them Anthony?
The third factor is Eddy Curry, and he will be a factor in any Knicks-Nuggets deal because the teams need his expiring $11.3 million contract to make the salaries match within 125 percent of each other, thereby complying with NBA trade rules.
So here are three trade ideas, viewable through the ESPN Trade Machine, which take a look at what the Knicks might surrender in what would be (through the eyes of the Knicks) a bad trade, a fair trade, and a robbery trade.
BAD TRADE FOR KNICKS:
http://games.espn.com/nba/tradeMachine?tradeId=4z3k964
Again, this trade would also include two No. 1 picks, one through an A. Randolph trade, the other the Knicks' own pick in 2014, and would pretty much gut the Knicks' depth. (Walsh has been firm in insisting he will not gut the roster in any trade.)
The resulting lineup/depth chart:
C: Stoudemire, Ronny Turiaf, Timofey Mozgov.
PF: Anthony.
SF: Gallinari, Shawne Williams.
SG: Bill Walker, Kelenna Azubuike, Roger Mason Jr., Andy Rautins.
PG: Raymond Felton, Toney Douglas.
Analysis: This deal is too pricey, takes away too much rebounding and leaves very, very little coming off the bench -- even if coach Mike D'Antoni started Turiaf at center, Stoudemire at 4, Anthony at 3 and Gallinari at 2.
FAIR TRADE FOR KNICKS:
http://games.espn.com/nba/tradeMachine?tradeId=4n79fhl
This trade would also include the Knicks' 2014 1st-round pick, plus a second-round pick in 2011, plus some cash.
The resulting lineup/depth chart:
C: Turiaf, Mozgov.
PF: Stoudemire, Randolph.
SF: Anthony, Williams, Walker.
SG: Chandler, Azubuike, Mason Jr., Rautins.
PG: Felton, Douglas.
Analysis: The Knicks lose all of Fields' intangibles, plus his rebounding, but they get to keep Chandler (and his Larry Bird rights) and move him back to his natural position instead of using him at power forward as they've been doing for much of this season. Felton and Douglas could continue to play in tandem in the backcourt, making for an 8-man rotation in which Williams, Walker and Douglas would continue to be the main subs.
ROBBERY FOR KNICKS:
This deal also includes a first-round pick in 2014, a second-round pick and $3 million of Jim Dolan's money.
http://games.espn.com/nba/tradeMachine?tradeId=4vccrjn
The resulting lineup/depth chart:
C: Stoudemire, Turiaf, Mozgov.
PF: Anthony, Chandler, Randolph.
SF: Gallinari, Williams, Walker.
SG: Fields, Rautins.
PG: Felton, Douglas.
Analysis: A trade this lopsided could only happen if the Knicks lowballed the Nuggets and refused to budge, daring Denver to trade Anthony to a team that would use him as a rental.
Again, those three trades listed above are purely speculative, and if you want to go to the ESPN Trade Machine yourself and play around, you can have all sorts of fun killing time between now and the Feb. 24 trade deadline.
You can even come up with three-team deals like this one that you could argue make some sense for all three teams.