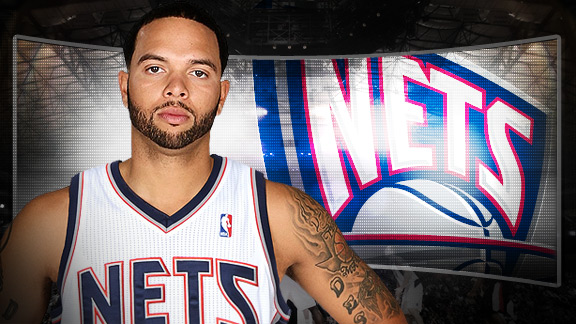 ESPN.com Illustration
EAST RUTHERFORD, N.J. -- Brook Lopez and Kris Humphries would be remiss if they said they weren't going to miss Devin Harris and Derrick Favors. But they know, just like everyone else does, the NBA is a business.
"It's tough to see them go. Devin and I are good friends," Lopez said after the New Jersey Nets pulled off a blockbuster deal, sending Harris, Favors and two first-round picks to the Utah Jazz in exchange for superstar point guard Deron Williams. "But the league's a business and it was a business decision. I know the team is definitely excited to play with Deron."
"I didn't get a chance to say bye or anything," Humphries said. "I came out on the court this morning and saw [Favors]. I figured he was with us. And then he got traded and they told me that. I think a few guys got say bye to him. It's part of the business. I think he'll handle it well. I've also been traded a few times. So you kind of get used to it and know it's something that comes along with being an NBA player."
Despite having mixed emotions about the deal, both Lopez and Humphries are elated that they're going to be able to play alongside Williams on a nightly basis. The 26-year-old All-Star is averaging career-high 21.3 points to go with his 9.7 assists per game.
"I think he's a little different player than Devin was," Lopez said. "He's definitely a great player and I think he's gonna help us. I'm not making predictions going forward, but it'll be nice to have him with us. He's had a lot of winning experience in Utah, and that goes a long ways. I'm excited to get to know him and I'm sure we'll match very well pick-and-roll wise and get to know each other on the court pretty quickly."
Said Humphries: "He gets mentioned as the first, second- or third-best point guard in the league every year. So I think that he's going to bring us a lot. He's shown that he's a winner. And hopefully, we finish the year up strong and he's our leader."
While the Nets made a splash in the short-term, the one caveat to making this trade successful in the long-run is if they are able to convince Williams to sign a multiyear extension. His contract expires at the end of the 2011-12 season, and at that point, if he doesn't opt out of the final year of the deal, he will become an unrestricted free agent.
New Jersey cannot attempt to extend him until July 9, 2011, under the current CBA. That accord expires on June 30, and general manager Billy King said a pact with Williams cannot be reached until a new CBA is in place.
Lopez says the only way the Nets can convince him to stay long-term is by playing winning basketball.
"I think we just gotta sell the team on the court. That's the bottom line," Lopez said. "I can say whatever I want, but whatever happens in the next 25 games or so, is really gonna have the most effect."