NEWARK, N.J. -- The New Jersey Nets have looked like a different team since their two-game London trip. They're making clutch plays, playing as a confident and cohesive unit, and winning basketball games. Close basketball games.
And lately, they've been doing it without their best player.
New Jersey rallied from a 20-point deficit topple the Los Angeles Clippers 102-98 in overtime on Friday night, in front of a sellout crowd at the Prudential Center. The Nets have won four in a row for the first time since Jan. 31-Feb. 7, 2009. And they won the last two without All-Star point guard Deron Williams, who is in Dallas with his wife after the birth of their fourth child.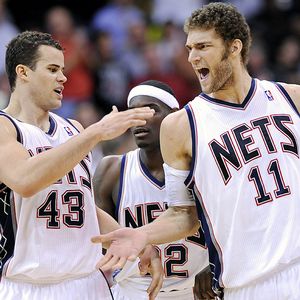 AP Photo/Bill Kostroun
Kris Humphries, Brook Lopez and the Nets are only three wins away from doubling last season's total.
"Our confidence is higher now," power forward Kris Humphries said. "I think we're getting more efficient offensively. We were able to bounce back from our awful first half. And potentially we're getting our best player, Deron, back into the mix. We're just trying to move forward and finish this year strong and see where we're at."
Right now, the Nets (21-43) find themselves just 5½ games back of the Indiana Pacers (27-38), who lost their sixth straight game Friday night, for the eighth and final playoff spot in the East with 18 games to play. And while it seems outlandish to believe the Nets will catapult past the three teams ahead of them to catch the Pacers, it's not out of the realm of possibility.
Granted, it seemed that way Feb. 28, following a 104-103 overtime loss to the Phoenix Suns, which dropped the Nets to 26 games below the .500 mark. That Nets team couldn't find a way to notch the W. In fact, that Nets team lost six in a row.
Then they went to London. And they haven't lost since.
"The London trip really brought us all together, getting us away from here for a while," point guard Jordan Farmar said. "It was us against the world out there and we spent a lot of time together and just got to know each other."
Behind Farmar and Travis Outlaw, the Nets rallied in the third quarter Friday, outscoring the Clippers 31-16. They ended up shooting 65 percent in the stanza, and followed that up by staying right with Los Angeles in the fourth quarter. In all the Nets shot 60 percent in the second half, while getting a fortuitous bounce when Blake Griffin missed a free throw with 1.2 seconds left in regulation that would've allowed the Clippers to win.
Instead, the two teams headed for overtime and an eventual Nets victory. Emerging center Brook Lopez (24 points, seven rebounds) scored the first four points on interior buckets for the Nets, while Farmar had the final four, including a key 3-pointer with 2:27 remaining that gave his team a 101-96 lead it wouldn't relinquish. Humphries, who finished with 19 points and a career-high 20 rebounds, ended up drawing two critical charges on Griffin in overtime, which helped push the outcome in the Nets' favor.
"We're a pretty gutsy team," Nets coach Avery Johnson said. "We've been in two triple-overtime games this year. And the guys just never really quit.
"I just told them I was really disappointed with in the first half. And I didn't have a smile on my face either. But they bounced back and rose to the challenge."
Farmar was scoreless in the first half, but finished with 24 points and seven assists.
"What a second-half performance from Jordan," Johnson said. "He had a really good performance against the Clippers and he really came through. Brook was really big for us down the stretch, demanding the ball and making strong moves, and what can you say about Kris Humphries? Nineteen and 20. Wow."
"Wow" is just about all you can say for the Nets since that Jan. 28 loss. They're 4-0 and scoring 112.3 points per game (inflated by two overtime contests, of course). And they've won their last three games by a combined nine points.
"It shows our growth as a team," Farmar said. "There's no way earlier in the year we win this game; it would've been too hard for us to get back. But we've grown a lot as a group. Just this momentum is carrying and it feels good."
Sellout crowds? Comebacks? Close victories?
Will it be enough for the playoffs? Who knows.
But right now, there's no question about it: The New Jersey Nets have looked like a different team ever since they went to London.