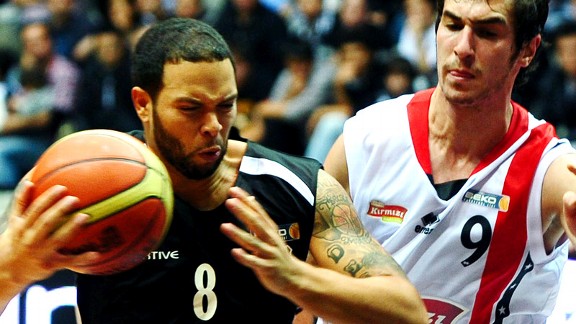 Associated Press
In his Turkish League debut on Oct. 16, Deron Williams scored 11 points and dished out five assists in Besiktas' 107-69 win over Bandirma Kirmizi.There's this little, unfriendly thing spreading like a contagion called the NBA lockout. And if you didn't already know, it has already canceled the first two weeks of the regular season and it's about to wreak more havoc. But until they can agree on a new CBA, New Jersey Nets point guard Deron Williams, who just launched a new website, will continue to play overseas hoops in Turkey. Every week, until D-Will returns home to the Garden State, ESPNNewYork.com will be talking to the All-Star about his experiences abroad. Here's his second diary entry, highlighting his adjustment to the overseas game. Who knew his backpack would hold so much importance? Read on to find out why.
HITTING MY STRIDE
I'm really happy with the way the team has played over the past few games. Besiktas underwent a whole roster turnover before this year, so we're a brand new team. I think there's maybe one guy who is back from last season. When we started the season we only had a short amount of time together and a few practices. We had a rough game a couple weeks back in Belgium where really nobody played well and we got knocked out of the Eurocup. But since then, we've come back and had some good practices.
We had a good tournament two weekends ago, going 3-0 against some tough teams, and then we got our first Turkish League win in the opener this past Sunday. We played a young team and beat them by about 40 points. We're on a winning streak and our chemistry is definitely a lot better. We're playing a lot better defensively and hopefully we can keep that going. We have three tough games coming up; two on the road.
Our Besiktas fans are great. Our club and a couple of the other clubs here are known as soccer organizations that also have basketball teams. These organizations, as a whole, have huge followings. So if you're a fan of the Besiktas soccer team, naturally you're going to be a fan of the basketball team. That's why we have a lot more fans than some of the other teams. I'd love to get out to a Besiktas soccer game at some point; I just haven't had the chance. I played soccer when I was younger and I love the game.
REGRETS? NONE YET
It's great to be able to play organized basketball that means something. I know it's something that a lot of players that are still in the United States miss a lot, and that's why there have been a lot of guys who have come over this way to Europe and Asia -- maybe not a lot of the top-tier guys, but a lot more NBA-level players than there would be if training camp was ready to start. It's a tough decision to make and I know that there are guys still thinking it over as the lockout goes on. I made the choice early and just went all-in.
My wife kind of sold me on it rather than me selling her on it. She loves to travel and she wants to go to as many places as we can. She thought it would be a great situation; a great thing for us to do. I thought this was a good situation because I had always wanted to go to Istanbul. I played with Mehmet Okur for five and a half years with the Utah Jazz and he's always told me how great the city is. I also know guys on Team USA who came over and a lot of them loved the city. I got mostly positive reviews before I came over.
ROLE REVERSAL
This is my first year playing international ball, so I'm still just trying to figure everything out with regard to my role. Obviously I've played in the Olympics with the same style of play, but that was still different because all of my teammates were American. They've actually been playing me at the two guard a lot here. Whatever I can do to help the team, I'm willing. I don't have any personal goals or stats I'm looking for over here; I just want to stay in shape, play basketball and have fun. As a team, we just want to win as many games as possible, win the Turkish League and now the Euro Challenge. I don't know how many of those games I'll have a chance to be a part of, but for every game I am here for, those are my goals.
I know that this situation is different for me than it is for everyone else here. When I leave to go back to the NBA, they're all still going to be here. So I'm not trying to come in here and prove anything. It's more about just trying to be part of a team over here, win some games and make my teammates better.
The locker room atmosphere has the same feel as the NBA. All of the guys get along and joke with each other. Pretty much every guy on the team speaks English. There are only one or two guys who don't speak great English, but even they know enough to get by. I'd say English is the "official" language on the team actually. Our coach Ergin Ataman speaks English most of the time, except for when he's yelling at one of the Turkish players. Then he tends to go into Turkish mode. I'm not really sure what he's saying, but if he's not yelling at me I guess it doesn't matter.
I like Coach a lot. He's a good guy. He knows his basketball. He's coached on a lot of different levels of the game. He's a fun guy to be around. It's a different dynamic with the coaches out here though. It's kind of like the contrasts between college and the NBA in that they're just different. It's the same with the NBA and European basketball. You don't have much contact with the coaching staff outside of the time you're in the gym practicing. With an NBA coach, I would talk to him on the phone or sit down with him after a game to talk about what happened. It's really not like that here.
COLOR WARS
Rivalries are big over here. If you know anything about European soccer, you know that fans take their rivalries very seriously. It's the same in basketball. I had no clue, and my backpack almost got me in trouble. I have this backpack that I made on Nike ID a while back and it's black, red and yellow. Black and red are my favorite colors, and yellow is in there for the black and gold to represent the Steelers. But apparently black, red and yellow are the colors of one of our biggest rivals, Galatasaray. I've been hearing about it since the day I got over here; as soon as I got to the airport. Right then, like five people told me I had on the wrong color.
I still wear the backpack because it's my backpack. I like it and I haven't had a chance to get a new one. Every day they tell me to take it off; that I have to get a new one. Our other big rival in the Turkish League is Fenerbahce and we play them coming up in a few weeks here. They're the two-time defending Turkish Cup champions and last year they beat Besiktas in the finals, so that's a big game. I'm told the fans always get amped up for those games. We don't play Galatasaray until December. If I'm still here, I might have to bring a new backpack that day.
Click here to read Part 1 of D-Will's diary. Click here to check out Deron's brand-new website.
You can follow Jared Zwerling on Twitter.