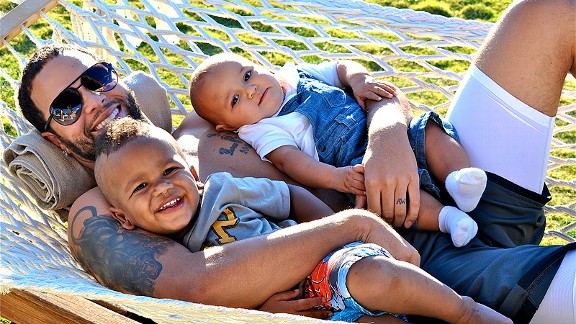 Courtesy of Deron Williams
Deron Williams' 2-year-old son, D.J. (left), and Desmond, who is eight months old, keep him company in Turkey. D-Will is also there with his wife, Amy, and two daughters, Danae, 8, and Daija, 5.
There's this little, unfriendly thing spreading like a contagion called the NBA lockout. And if you didn't already know, it has already canceled the first month of the regular season and it could wreak even more havoc. Until they can agree on a new CBA, New Jersey Nets point guard Deron Williams, who just launched a new website, will continue to play overseas hoops in Turkey. Every week, until D-Will returns home to the Garden State, ESPNNewYork.com will be talking to the All-Star about his experiences abroad.
Here's his third diary entry, highlighting his adjustment to the overseas game, his teammates, the fans, arena security and the food. Get ready to enjoy some kebap. Jack Daniel's Sauce? Not so much.
EARTHQUAKE EFFECT
So the big news here is about the destructive earthquake that hit southeast Turkey last week. We're far away from where it struck, so we didn't feel it and it hasn't affected our team's travel at all. Everybody around here is sad for what happened; it's definitely a tragedy. I don't know if they have a final death toll because they're still going through the wreckage, but it is all very devastating and my heart goes out to the victims and their families.
There's actually a lot going on in eastern Turkey. For example, last week for a game against Karsiyaka, we wore shirts and did a tribute for the Turkish soldiers who got killed. [On Oct. 19, Kurdish guerillas killed 26 Turkish soldiers in attacks on military posts in southeastern Turkey.] It was a really nice thing to be part of.
NO LOOKING BACK
I'm still really enjoying my time in Istanbul and playing for Besiktas. We checked out a lot of teams before I joined this one, but some teams didn't have the ability or desire to pick up somebody who had the option to leave. A lot of teams want players to stay for the whole year, and that wasn't an option for me because I want to come back to the NBA when the lockout is over. It wasn't just about playing basketball; it was also about the experience of going to a different country and living in a new city. I had heard so many great things about Istanbul, and it was a city I could see myself living in.
Now that I've been here for nearly two months, I am really learning quite a bit of basic Turkish. I've been picking up a lot of stuff. Ne haber is "What's up?" Merhaba Nasılsınız means "Hi, how are you?" I haven't tried writing yet. I'm trying to learn how to speak it first, and that's challenging enough.
TEAM ASSIST
On the basketball front, we are playing really well and it's a lot of fun. We've won six straight, and I have to give credit to my teammates. They've been playing really well through this run and making things easier for me. When I got over here, a lot of them expressed how excited they were to play with me, which means a lot coming from other professional players. They've seen me play and they respect my game, which is cool.
We have a great group of guys here and they have been really good in assisting with my transition. Over here, being a part of a team is different because when we are on the road, we are always together, especially during team meals. In the NBA, when you get to a city, you go off on your own and do your own thing. Here, we've got team dinners, team breakfasts, team lunches -- it's pretty much all done as a team. It's a good thing, though; it gives you a chance to sit there and bond with your teammates. I don't think that happens as naturally in the NBA.
We had a big game last week, beating Mehmet Okur's team, Turk Telekom. This week [on Nov. 6] we're playing our biggest rival, Fenerbahce Ulker, and the fans are already excited about that.
Mehmet and I have been texting and talking frequently. I played with him for six years [with the Utah Jazz], so he told me a lot about Istanbul before I came over. He always wanted me to come visit Istanbul, always saying how great the city was and how much he loved it. But he also made sure to tell me that it was going to be different at first, definitely a transition.
Speaking of transition, I wanted to play the two guard more because a lot of teams are focusing on me a lot. This allows me not to dribble as much. It gives me some different looks out there, and I'm enjoying it. We have another solid point guard that I play with, Can Akin, who can give me some open shots. While he runs the offense well, he's known for his defense and is one of our team's best defenders. He gets out, pressures the ball and comes up with a lot of steals. Can's also a good shooter and can hit some good spot-up shots, in addition to being able to get to the basket.
MORE EXCITEMENT, LESS ENTERTAINMENT
Compared to the NBA, there's a different game environment at our home court, which is called Besiktas Milangaz Arena. For starters, during pregame introductions they don't turn off the lights and they don't have all the pyrotechnics and stuff like in the NBA. Also when they announce the players, they do it in a specific order with the jersey numbers. They start with the lower numbers and go up to the high numbers. They announce everybody. It's not like they're doing the starting lineup and only introducing five players.
It's a lot different, too, during the game. The fans here are soccer fans, so they're pretty much loud from tip-off until the end of the game. They're chanting, they're singing songs, they're pretty much standing up the entire game. It's a lot different than in the NBA, where people are sitting and then when something good happens, they'll stand up and cheer. Also, there are no timeout shows, cheerleaders, halftime shows. It's just basketball.
It's an exciting atmosphere, but I wouldn't say there is any more popularity because of me. I wasn't here last year, so I don't know how big or small the change in attendance has been. We've had a lot of people come to our games, but we haven't had a sold-out arena yet. If I had to guess, our arena averages 2,500 fans. It can hold like 3,200. It's a small arena, but next week is our rivalry game against Fenerbahce Ulker, so it'll be sold out for sure.
ADDITIONAL FORCES
Security is a bigger issue for players here than it is in the states. In small arenas, where we mostly play, there aren't as many tunnels, and fans can interact with the players as opposed to in the NBA where we're always underground. We're going from the locker room right to the bus, and there's always a lot of police everywhere. I have a driver and personal security guards. For our team, we have a security escort when we're on the bus. We don't fly charter, though; coach all the way.
Actually, outside of the locker room last game against Pinar Karsiyaka, there were probably like 15 police shields just sitting there. Their arena is one of the toughest environments to play in, and we had a bubble over our bench like they do in soccer games. It wasn't bad, though, and I thought the fans were good.
DISHING IT OUT
One of the best parts about where we live is that we're right next to a mall, about two minutes walking distance from our apartment. They have Best Buy-type stores, they have furniture stores, grocery stores, markets -- pretty much everything that's in a mall. And there are designer stores, too, from Quiksilver to Levi's to Louis Vutton to Gucci. We go there a lot because they have everything you can think of.
People have been asking what I am eating over here. Even though I'm in a different country, my diet is the same as it is back home. I can find the same stuff here at the markets. Fish, chicken, some of the same vegetables. And I cook the same way here that I cook at home too. The only time I ate fast food here was after a game on the road.
My favorite Turkish food so far is probably the kebap, which is what we would call a kebab in the U.S. They also have this yogurt sauce that they put on a lot of stuff that's really good. It's kind of like their version of that cucumber sauce you put on gyros.
Most of the food I've had over here I've enjoyed. Turkish pizzas are also really good. But other than stuff I'm familiar with from other places, I don't really know the names to everything yet. A lot of the stuff is hard to say or pronounce, and even harder to spell. I'd never had Turkish food before I came over here, but it reminds me somewhat of Greek food, and I love Greek food, so that makes sense.
This gets me thinking about a funny thing that happened recently. Since we'd been going out for a lot of Turkish food, we decided recently to take the kids out for some real American-style food. I just thought it would be cool for them to look at a menu and know what they were getting, so we went to a T.G.I. Friday's that they have here. The menu was exactly the same, but the food tasted different. I ordered the Jack Daniel's Shrimp and it took them four times to bring out the Jack Daniel's Sauce. What I finally got didn't even taste like Jack Daniel's Sauce, so I was a little disappointed. It's just a reminder that we're in a different place.
IF AND ONLY IF
The lockout is still going, but if a new CBA is finalized and I'll need to come back to the NBA, I think it takes some time for them to get everything on paper -- maybe three or four weeks. If we make a deal, I'll try to come back as soon as possible. Also, as far as living, I don't have a place in New Jersey yet. I don't want to buy anywhere; I'm just planning to rent for now. I'm not sure yet what I'm going to do after the NBA season. We'll see …
Click here to read Part 2 of D-Will's diary. Click here to check out his brand-new website.
You can follow Jared Zwerling on Twitter.