Continuing through Dec. 23, ESPNNewYork.com will run a series called "Christmas Countdown" examining a hot topic each day that involves the New Jersey Nets.
Today's Hot Topic: Backcourt breakdown
Last season, only one player in the NBA averaged 20 points and 10 assists per game: Deron Williams.
Nets GM Billy King pulled off a blockbuster trade so that Williams could anchor his team's backcourt.
The superstar point guard can do it all, from finding an open teammate to finishing at the rim off dribble-drive penetration. He's also capable of playing tenacious defense when he wants to. And most importantly, he's healthy coming off offseason surgery on his right shooting wrist.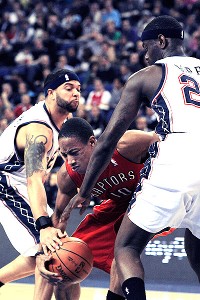 AP Photo/Tom Hevezi
Deron Williams (left) and Anthony Morrow will be the Nets' starting backcourt.
Joining Williams in the Nets' starting backcourt this season will be Anthony Morrow, the second most-accurate 3-point shooter in league history (.465). Only former Bull Steve Kerr has a better 3-point field goal percentage than Morrow, who briefly surpassed Kerr for the honor in 2010-11.
Morrow isn't a great defender by any means, but he has the uncanny ability to make shots in crunch time, and opposing defenses won't be able to key in on him late in games because the Nets will also have long-range threat Shawne Williams on the floor as well.
The Nets finished 28th in points per game last season, so they'll be looking to rookie MarShon Brooks to provide a scoring spark off the bench. Brooks was the second leading collegiate scorer in the nation at Providence last year, and coach Avery Johnson wants the 22-year-old to be aggressive -- even at the expense of hoisting up some bad shots.
Brooks loves to create off the dribble and has a potent fadeaway jumper from about 15 to 20 feet. Like Morrow, his defense still leaves much to be desired, but he's young and if there's anybody who can help him improve on the defensive end, it's Johnson.
Jordan Farmar and Sundiata Gaines will serve as the team's backup point guards behind Williams. Farmar or Gaines may also play with Williams on occasion, allowing the two-time All-Star to shift over to the two-guard spot and operate off screens without the ball in his hands. Farmar needs to improve his shot selection, while for Gaines, it's all about consistency.
Johnson was pleased that all three of his point guards played overseas during the lockout, and feels like they'll be ready to play from the start of the 2011-12 campaign.
Given the uncertainly at power forward, there's no question that the guard spot is the Nets' deepest position right now.