NEWARK, N.J. -- Wow.
That's the only word Nets coach Avery Johnson needed to describe the performance of his starting backcourt following Wednesday night's 107-100 victory over the Warriors at Prudential Center.
"What else is there to say?" Johnson said of Deron Williams and MarShon Brooks, who combined for 46 points, 16 rebounds and 16 assists while committing just five turnovers as the Nets (4-11) became the last team in the NBA to secure a win on their homecourt (1-4).
"I was finding him, he was finding me. I look forward to doing that," said Brooks, who finished with career-highs of 22 points and six assists to go along with eight rebounds.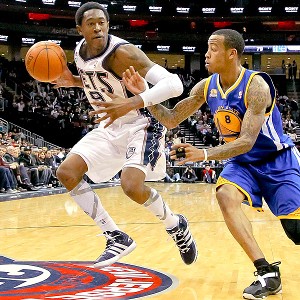 Jim O'Connor/US Presswire
MarShon Brooks scored 22 points on 8-for-15 shooting, to go with eight rebounds and six assists.
Williams scored 11 of his team-high 24 points in the fourth quarter and came up two rebounds shy of recording a triple-double.
"Probably," was Williams' reply when asked if this was the best he and Brooks have played together in a single game.
The major difference? They both started hot and stayed hot. The duo combined for 16 of the team's season-high 29 first-quarter points -- 10 more than the Nets' league-worst average -- and 14 of the team's 27 points in the decisive fourth quarter, a final stanza in which the Nets outscored the Warriors by 10.
"They wanted it more," said Warriors coach Mark Jackson, whose team fought to the end despite playing its fourth game in five nights.
The Nets have been in that miserable situation before. They tipped off the lockout-shortened 2011-12 campaign by playing six games and eight nights and 10 of their first 14 games on the road -- which included five sets of back-to-backs.
But after coming back from their four-game West Coast trip and getting Tuesday off, the Nets had fresher legs -- and it showed when D-Will and the 22-year-old kid better known as "The Rookie" took over in the fourth.
The Nets trailed 92-87 with 7:39 left, but Williams drained a 3-pointer and hit three free throws after being fouled behind the arc to give New Jersey a lead it would never relinquish. Brooks drained a 3 to give the Nets a 98-94 lead, and Williams scored five of the team's last seven points, capping off an 18-4 run with another 3 that put the Nets ahead 105-96 with 3:26 remaining.
"I just wanted to put in a better effort," said Williams, who had gone 8-for-29 from the field with eight turnovers in his previous two games -- both losses.
"We played with energy and got key stops," said Brooks, who ranks second among all rookies in scoring (15.1 ppg), assisted on three dunks by Kris Humphries (18 points, 15 rebounds) and grabbed a key offensive rebound with 19.4 seconds left to seal the deal.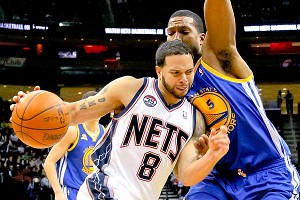 Jim O'Connor/US Presswire
Deron Williams, cold from the field all season, shot a healthy 6-for-13.
"We've been telling MarShon [to pass the ball]," Williams joked. "He's been drawing a lot of double-teams and he has to learn to get rid of the ball. [Wednesday night] was a step in the right direction."
Williams has been key in Brooks' development as a basketball player.
"A lot of confidence. That's his best attribute. He's borderline cocky. But that's a good thing," Williams said. "He feels like he can score on anybody, and he doesn't even know how to play the game yet. He's figuring things out slowly but surely."
Brooks took some good-natured heat from GM Billy King before the game started, regarding his defense.
"He'll be a good defender if he stays in front of somebody," King said.
"Oh, man, he needs to stop that," Brooks said, laughing.
All the injuries and all the losses have taken their toll on Williams and Brooks. They can't stand coming up short
So on Wednesday night they went out and did something about it.