Jason Kidd won't get the chance to say goodbye to the Garden State this season.
Kidd's Mavericks were supposed to play the Nets in New Jersey on Nov. 9, but the game was nixed because of the lockout.
"It's unfortunate we don't get to go there and close the place," said Kidd -- widely considered the greatest player in the New Jersey chapter of the Nets history -- after Dallas lost to the Knicks at the Garden on Sunday. "But I have a lot of great memories there. We had a lot of success. So I wish them luck in Brooklyn, and unfortunately New Jersey won't have a team.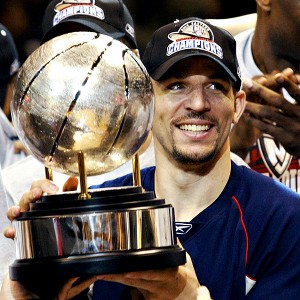 AP Photo/Rusty Kennedy
Jason Kidd led the Nets to their only Eastern Conference titles.
"It's business. That's what it is. That's what it comes down to. Brooklyn will be a great place for the Nets."
During Kidd's six-plus seasons in New Jersey, the Nets, one of the most downtrodden franchises in the NBA, became contenders. In his first season with the team after being acquired in a blockbuster trade from Phoenix in 2001, Kidd led the Nets to a 26-win improvement and their first trip to the Finals, where they lost to the Lakers.
They reached the Finals the following season too, losing to the Spurs.
"To get to the Finals twice and come up short against San Antonio [in 2003] when we thought we had a chance was tough," Kidd said. "We just never could get back there with the pieces they filled in [after Kenyon Martin was traded]. I was shipped to Dallas [in 2008] and finally achieved my goal to win a championship [last season]."
Kidd said the Nets moment that resonates with him was his first game in New Jersey -- opening night on Oct. 30, 2001, in East Rutherford -- against Indiana. The Nets trailed by 11 heading into the fourth quarter of that game but wound up winning, and it proved to be the start of something special.
"We only had maybe 3,000 or 4,000 people in the stands," Kidd said. "But they grew after that, and that didn't stop us from playing hard and winning."
Kidd said his favorite pass a Net was his bowling-ball delivery to Lucious Harris for a layup in February 2002 against the hated Knicks. Kidd saw Harris streaking to the basket in transition and rolled the ball downcourt with a little curvature for Harris to catch and convert.
"By far that's the best pass," said Kidd, who ranks second in league history with 11,709 assists. "The bowling-ball pass was just creativity, the idea of being able to do it and Lou being able to catch it."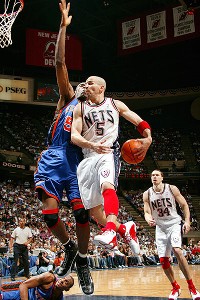 Jesse D. Garrabrant/NBAE via Getty Images
Kidd tormented the Knicks during his Nets career.
Kidd loved beating the Knicks more than anything.
"My record was pretty good against them," Kidd said.
To be exact, Kidd went 23-4 (including playoffs) against the Knicks as a Net, averaging 16.7 points, 9.4 assists and 6.1 rebounds, according to ESPN Stats & Information.
Kidd said the Nets were broken up too early. After their 2004 Eastern Conference finals loss to the eventual NBA champion Pistons, the Nets decided against giving Martin a max contract and dealt him to Denver in a sign-and-trade.
"Unfortunately, they sent K-Mart to Denver for nothing [but draft picks]," Kidd said, "and that's when it just went downhill for us.
"It was business, I guess. In basketball, sometimes the business gets in the way of breaking up a team too early, and the Nets never recovered."
Still, Kidd will always remember his time in New Jersey fondly.
"The fans," Kidd responded when asked what he'll miss the most. "I thought the fans were great, the ones that were loyal, the ones that came and supported us every night win or lose. They were out there, and they got to see some good basketball."
It hasn't been the same since he left.