Continuing through Dec. 23, ESPNNewYork.com is running a series called "Christmas Countdown" examining a hot topic each day that involves the New Jersey Nets.
Today's Hot Topic: Centers of attention
Nets center Brook Lopez has handled the "Dwightmare Before Christmas" like a true professional.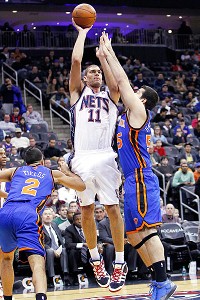 Nathaniel S. Butler/NBAE/Getty Images
The Nets expect big things from Brook Lopez this season -- if he remains in New Jersey.
Every day, the 23-year-old center is asked if all the rumors about him being traded for Orlando center Dwight Howard bother him. Every day, he replies with the same answer: "No, I don't read the papers or Internet reports. I just try to ignore it."
Now in his fourth NBA season, Lopez is already a borderline All-Star. A 7-footer who averaged just over 20 points per game in 2010-11. But Lopez isn't Howard. He doesn't change the game like D-12 does. A comic book lover, Lopez is no "Superman."
In spite of this, the Nets gushed about Lopez on Monday. Coach Avery Johnson believes Lopez can become a 20-and-10 center. Point guard Deron Williams believes Lopez should be a perennial All-Star. A top-5 NBA center.
Lopez obviously needs to improve as a rebounder. He said he was "lazy" on the glass last season. But that excuse isn't going to cut it in 2011-12. The Nets are tracking Lopez's "rebound attempts" and reviewing film with him after each and every game to make sure he gets better. As Johnson said, the Nets don't need Lopez to rip down 16 rebounds per game like Dennis Rodman did in his heyday, but grabbing six boards per contest -- as he did last season -- is unacceptable. And with no Kris Humphries (at least for now), it's up to Lopez to pick up the slack.
Lopez is also intent on becoming a better defender -- especially in high pick and roll scenarios. He says he feels more comfortable in the Nets' defensive system, so that is a very realistic goal.
The Nets don't have much behind Lopez. If Travis Outlaw wasn't on their roster, they likely would've waived backup center Johan Petro, who was also a bust in his first season in New Jersey. While he's known as one of the nicest players in the league off the court, Petro's play on the court left much to be desired.
The Frenchman's style is similar to Lopez's. They are both finesse centers with range that extends out to 18 to 20 feet. The only problem with that is, Petro isn't nearly as skilled as Lopez, so the fans aren't too happy when he's hoisting -- and missing -- jumpers from the top of the key.
Petro worked out a lot during the offseason. He wants to get better. But after picking up three fouls in just over three minutes in Saturday's preseason opener against the Knicks, it looks like "Same Old Johan" all over again. Petro still has two years remaining on his deal. Sigh.
Petro said the Nets' frontcourt earned a "soft" label that they'd like to shed. If Lopez takes the next step, that will be gone. Oh, and if they add Howard, you'll never hear the word "soft" used when referencing the Nets' 5 spot again.