Who is Devean George?
Well, he was a bench player who stuck around in the NBA for 11 seasons and won three rings with the Lakers.
He is also known for vetoing a blockbuster trade on Feb. 14, 2008, that would've sent Jason Kidd from New Jersey to Dallas.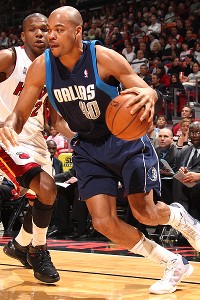 Victor Baldizon/NBAE/Getty Images
Devean George
Huh? How the heck? He never had a no-trade clause in his contract, did he?
No. But because he was on a one-year contract, George's "Bird Rights" were not transferable to another team. Bird Rights allow a team to go over the salary cap to sign a player and also -- in some cases -- allow that player to earn more money by re-signing with his current team. "Full Bird Rights" are earned after a player plays three-plus years with the same team, while "Early Bird Rights" are earned after two years.
George would've lost his Bird Rights by accepting the trade, so the league requires player consent on such transactions.
The Kidd trade eventually got done obviously, but George wasn't in it. He even stayed with the Mavericks for the 2008-09 season -- his penultimate year in the league.
So what does all of that have to do with the Nets? Well, Thursday, March 1, marks the first day that players signed in 2011 are eligible to be traded.
For the Nets, that means the expiring contracts of Kris Humphries, Mehmet Okur ($10.9 million), DeShawn Stevenson ($2.5 million) Shelden Williams ($1 million) can all be moved.
Humphries signed a one-year, $8 million contract with the Nets prior to the start of the season, and, as a result, has the same veto power that George had four years ago.
The 27-year-old has been playing the best basketball of his career, averaging career highs of 13.5 points and 10.7 rebounds per game. He's overcome boos and a failed celebrity marriage, and is one of the most underrated power forwards in the league.
But if the Nets are going to take on Dwight Howard's $17.9 million contract in a blockbuster prior to the March 15 deadline -- which is in exactly two weeks, by the way -- and other bad contracts, i.e. Chris Duhon and Hedo Turkoglu, Humphries' deal would serve as valuable cap filler in a trade.
Maybe none of this will matter. Maybe the Nets and Magic won't be able to agree on a trade. Maybe Howard will be dealt elsewhere. Maybe the Nets don't have to take on those bad contracts and can get it done without Humphries' inclusion. Maybe this is all meaningless when Howard signs with a team -- maybe the Nets -- in the offseason. But it's something to watch out and prepare for in case it happens.
And don't blame Humphries if the Nets ask for his consent and he says no. It's his right. It's in the rules. And he didn't write them.
Special thanks to Larry Coon, CBA guru from ESPN.com, for his help with this blog.