The Nets had just eight healthy players going into Wednesday night's game -- and they needed every one of them to eke out a 99-96 victory over the flailing Pistons at Prudential Center.
"We went out there before the game and went into our little huddle, and I was like, 'Where's everybody at?'" said Deron Williams, who had 18 of his game-high 26 points in the second half, shot 12-for-21 from the field and added nine assists in 43 minutes.
"And they're like, 'This is it.' It's kind of hard to do layups before the game. You get tired because you're just running around and around."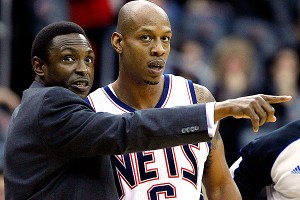 AP Photo/Julio Cortez
Avery Johnson had to put newly signed Keith Bogans to work immediately.
The Nets (8-15, 3-6 home) were supposed to have nine healthy players -- Johan Petro was already ruled out with flu-like symptoms -- but about an hour before tipoff, Anthony Morrow was scratched with a sore left ankle.
Just like that, they were down to eight. And if you count Keith Bogans -- who hadn't played a game all season prior to being signed by the injury-depleted Nets on Wednesday after working out for the team on Tuesday -- it was more like 7¼.
"I told them they were the Great Eight," coach Avery Johnson said. "We normally give a set of nets to the guy that's most valuable player of the game, but we kind of cut it up in eight pieces tonight, because each one of them deserved it. Everybody contributed."
Johnson wasn't kidding.
• The Nets needed D-Will's first and only 3-pointer of the game with 4:47 left that put them up 93-88, along with his tenacious defense on Detroit's final possession, which ended with Brandon Knight missing a jumper from downtown that would've tied the game.
• They needed all 14 points Kris Humphries scored in the second half -- including the pair of free throws he knocked down with 5:22 remaining that put them ahead to stay.
• They needed all 11 points Shawne Williams scored in the second quarter.
• They needed all seven rebounds Shelden Williams grabbed in the first quarter.
• They needed all eight points Jordan Farmar scored in the fourth quarter.
• They needed all eight points Sundiata Gaines scored in the third quarter.
• They needed each and every one of Jordan Williams' career-high nine points and eight rebounds in a career-high 21 minutes.
• And perhaps most importantly of all, they needed Bogans' layup with 1:17 left -- his first two points as a Net and his only two points of the night -- that gave the team a 98-92 lead.
Bogans wasn't even close to being in game-shape. He didn't even know what town he was staying in after the game ended. After all, he'd been chilling in Orlando for the first third of the NBA season, waiting for a call.
But when the Nets had to have a basket, Bogans cut to the rim, and D-Will found him for a deuce.
"We hadn't had a cut like that to the basket all year," Johnson said.
"I just saw guys standing around, saw Deron with his back to the basket. He's been telling guys to cut all game, so I did, and he hit me," said Bogans, who ended up playing 17 minutes -- five more minutes than Johnson wanted to play him.
Ultimately, the Nets barely beat a 4-20 Pistons squad that has lost seven straight and became the first team in the NBA this season to lose all three games of a back-to-back-to-back stretch.
But the Nets were playing with just eight healthy players, so they'll take it.
Brook Lopez remains out with a broken right foot. Damion James won't be back for the rest of the season after undergoing right foot surgery. Rookie MarShon Brooks is out indefinitely with a broken toe and was seen wearing a walking boot out of the team's locker room. DeShawn Stevenson will miss at least the next two weeks with a right knee injury. And Mehmet Okur won't return until late this week or perhaps early next week due to a sore lower back.
The Nets have obviously had plenty of reason to make excuses this season, from an assortment of injuries to a lack of continuity to a lack of talent. On Wednesday night, they went with their 12th different starting lineup in their first 23 games.
They nearly blew a 12-point lead, but managed to win the rebounding battle 44-31 while holding the Pistons to 5-for-18 from 3-point range. And when the final buzzer sounded, they walked off the court with a win, something that had eluded them in their previous two games.
"If you wanna be a good team, you gotta win the ones you're supposed to," said D-Will, who had his midrange fadeaway jumper going all night long and is now averaging 29 points and 8.6 assists in his last five games.
"They had a couple of key guys out as well. It was an important game for us at home, where we've been struggling so much, and this is a team that's been struggling, so we had to take advantage of that."
They did. And now they'll get some rest.
After playing 14 of their first 22 games on the road, the Pistons game started a stretch of six of eight at home -- a place where the Nets have struggled.
They took care of business there on Wednesday night, though, and they're going to have to continue to do so if they want to stay in the playoff hunt.