The Nets made Kenyon Martin the No. 1 overall pick in the 2000 NBA draft -- and the high-flying power forward out of Cincinnati didn't disappoint.
In four seasons with New Jersey, Martin quickly became a fan favorite, wowing the crowds at Continental Airlines Arena with his acrobatics above the rim. And when he wasn't finishing off emphatic dunks, he was swatting shots on the defensive end.
"My time in New Jersey holds a special place in my heart," Martin said before playing his final game in the Garden State on Wednesday night, as a member of the Los Angeles Clippers.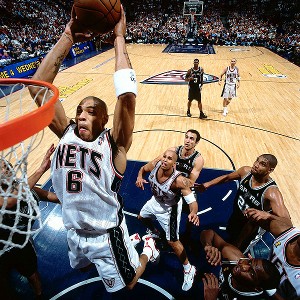 Nathaniel S. Butler/NBAE/Getty Images
Kenyon Martin played above the rim, and the fans loved him for it.
Asked what his favorite memories were when he played there, K-Mart responded, "Being around [GM] Rod Thorn, working with [coach] Byron [Scott], and being the No. 1 pick, first and foremost. Two [NBA] Finals runs. Being able to play with a point guard like Jason Kidd, arguably one of the greatest point guards of all-time."
Like some of his former teammates, Martin called the Nets' imminent move to Brooklyn, "an unfortunate situation."
"But it's a business," he continued. "Just like it was a business of me leaving, and everything that's transpired here over the years. It's very unfortunate."
Martin never wanted to leave New Jersey. He had just enjoyed the best season of his career in 2003-04, averaging 16.7 points, 9.5 rebounds and 1.3 blocks per game and being named an All-Star. The Nets failed to reach the Finals for the first time in three years, coming up short against Detroit, but Martin figured they'd be back.
The Nets had other plans. They didn't want to commit max money to Martin, and dealt him to Denver in a sign-and-trade.
"Guys like [former owner] Bruce Ratner came in and basically destroyed the team," Martin said. "It was a sad day for me, [and] sad day for the Nets of course, but we had to move on unfortunately. We didn't get a chance to revisit going to the Finals again. We had a pretty good team at the time, and we were a couple pieces away I think from really making noise and being crowned champion."
Martin said his most memorable game as a Net was against the Bucks on March 5, 2001, when he recorded his first-career triple-double: 18 points, 15 rebounds and 11 assists.
His favorite dunk is an off-the-backboard, two-handed hammer flush from J-Kidd against the Knicks at CAA. And he loved when the Nets used to take over the Madison Square Garden.
"There was nothing like playing in that city and hearing the crowd cheer for us," he said.
Martin was especially touched by Nets fans when he made his return to New Jersey with the Nuggets on Feb. 13, 2005.
"They showed me love, nothing but love," Martin said. "Everybody had the 'Kenyon Crew' signs up."
Martin said he wouldn't rule out the possibility of returning to the Nets next season.
"I wouldn't mind that if it was a possibility," K-Mart said. "We can always visit it. I can't predict the future, but I wouldn't mind it."