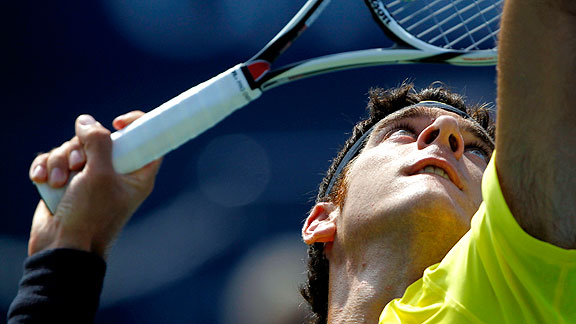 AP Photo/Mike Groll
Former U.S. Open champ Juan Martin del Potro topped Italian Filippo Volandri on Wednesday.NEW YORK -- Juan Martin del Potro is a different player this year, two years removed from his U.S. Open title and one year after wrist surgery. But after a decisive first-round win, he isn't overestimating his chances to grab his second crown.
"Today, many players are playing better than me," he said.
Del Potro didn't look like he missed a step as he easily won his first match of the 2011 U.S. Open on Wednesday afternoon. And he is constantly encouraged by his fans -- who may believe in him more than he believes in himself right now.
"I feel like the final was yesterday, because when I was walking around the street or when I talk with the fans, they say, 'I remember your final. You can repeat,'" del Potro said. "'You can win again.'"
Under the midday sun at Louis Armstrong Stadium, the No. 18 del Potro overpowered Italian Filippo Volandri, 6-3, 6-1, 6-1. The match took 1 hour, 28 minutes. The 6-foot-6 Argentinian had 18 aces in the match, his fastest serve clocking in at 130 mph.
Volandri had a chance to challenge del Potro in the first set, yet down 5-3, Volandri double-faulted twice as he was broken to cede the first set. The Italian came into the Open with a 10-match losing streak.
Del Potro's serve is still not as strong as he would like, his consistency is not as good, and he can feel the change of the weather in his wrist on a humid day.
Last season, del Potro missed the chance to defend his title when he needed surgery on his right wrist. He was off the tour until September 2010, and has won two ATP Tour titles -- Delray Beach and Estoril -- since his return.
With the win over Volandri, he has won eight straight matches here dating back to his title run.
When he stepped into the USTA Billie Jean King National Tennis Center, del Potro said he felt very heavy with emotion. He can remember watching the U.S. Open on television and hoping to win it someday. He recalled the Argentinians in the crowd, the people who rooted for him as he faltered against Roger Federer in the 2009 final.
"And so [to] be playing here after [my] win here, it's special," del Potro said. "It's my favorite tournament, so I'm really happy to take the opportunity to play here again."
Over and out: Robin Soderling, the No. 6 seed on the men's side, pulled out of the tournament Wednesday morning with a viral illness. He has only played one tournament since Wimbledon due to a wrist injury. Soderling had reached the quarterfinals of the U.S. Open twice in nine appearances. Rogerio Dutra da Silva of Brazil will replace Soderling in the draw and will face No. 618 qualifier Louk Sorensen.