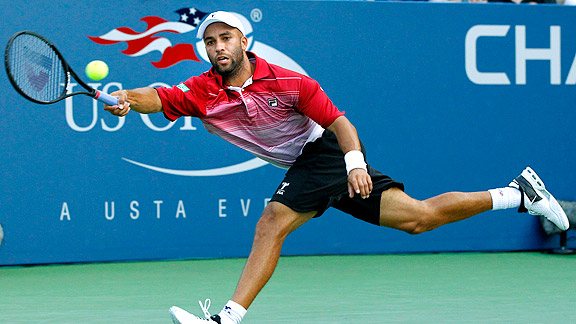 AP Photo/Elise Amendola
Fan favorite James Blake couldn't capitalize on a big Friday for American men.Donald Young kept looking up at the clock as his match stretched from two hours, to three, to four and beyond.
He wondered, "Oh, man, am I going to make it the whole time?"
The 22-year-old American then proved to himself and the tennis world he had the physical and mental stamina to win a five-set match at a Grand Slam, upsetting 14th-seeded Stanislas Wawrinka in the second round at the U.S. Open.
Young rallied for a 7-6 (7), 3-6, 2-6, 6-3, 7-6 (1) victory in 4 hours, 20 minutes Friday.
"In tennis terms Donald Young became a man today," tweeted Patrick McEnroe, the U.S. Tennis Association's head of player development.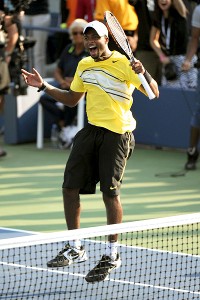 Timothy A. Clary/Getty Images
Donald Young won a marathon five-set match to advance.
It was McEnroe who made some pointed comments in April that Young needed to apologize after the player posted an obscenity-laced message on Twitter, criticizing the USTA for not automatically giving him its wild card into the French Open.
Young made amends, and he says his relationship with the USTA is good.
His game is suddenly looking a whole lot better, too.
In 2005, Young became the youngest boy to finish a year as the world's top-ranked junior player, but he has struggled to find the same success on tour.
He reached his first semifinal at Washington last month and at No. 84 has his highest ranking since May 2008.
"I would like to think I'm a pretty tough person deep down," he said. "Just had to grow up a little bit."
In the third round of a major tournament for the second time, Young next faces 24th-seeded Juan Ignacio Chela.
Fellows Americans Alex Bogomolov Jr. and John Isner will meet in the third round. The 28th-seeded Isner beat another U.S. player, Robby Ginepri, 6-4, 6-3, 6-4. Bogomolov won 6-4, 6-3, 7-5 against "lucky loser" Rogerio Dutra da Silva, who got in when sixth-seeded Robin Soderling withdrew because of illness.
It was American vs. American it the night session as Andy Roddick got the better of Jack Sock 6-3, 6-3, 6-4.
James Blake lost to fifth-seeded David Ferrer 6-4, 6-3, 6-4. At 31, Blake is talking like a 21-year-old -- at least in terms of looking toward a future of playing tennis with retirement not even in the conversation.
Blake, who played two years of college tennis at Harvard, called it "ridiculous" that many observers had already written off Young at the age of 22.
"He can have a pretty darn good career from 23 to 30," Blake said.