NEW YORK -- Although exhausted after his first-round exit in the Home Run Derby, David Wright nonetheless had a wide grin on his face, the type of glow that he has not displayed much in recent years.
Wright could not get over the atmosphere at Citi Field, which he likened to the playoff atmosphere at Shea Stadium when the Mets last made the playoffs in 2006.
"It was awesome," Wright, the de facto host of the All-Star Game, said after mustering only five homers in 15 swings. "It really, really was awesome. It's what I remember the playoff atmosphere being like in 2006. It really was pretty cool.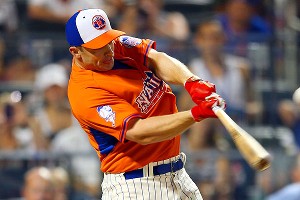 Mike Ehrmann/Getty Images
David Wright was eliminated in the first round of the Home Run Derby.
"They announced the Home Run Derby team, and, obviously, you're hoping for cheers. To hear how loud it was, I didn't even know when to step forward and kind of wave because I couldn't hear [emcee] Chris Berman talking over the crowd. It was really, really special. Really special."
Wright was pleased with his Derby selections. Bryce Harper lost to the AL's Yoenis Cespedes in the finals.
"My guys were fine," Wright said. "I ran out of gas. The thing I'll take away from this is just the atmosphere, the crowd, the ovation I got. That was really, really, really cool. That just gets me even more excited about tomorrow. It even gets me more excited about when we become that playoff contender. ... It's exceeded my expectations so far. It's been a lot of fun."
Wright said the biggest winner Monday with his first-round exit might have been his Mets teammates.
"Because I would have come in bragging on Friday," Wright said.
Wright, who last competed in the Derby in 2006 and reached the finals, said this was probably his last time competing in the event.
"The question is: Will I ever be asked to do it again? And the answer to that is probably no," Wright said. "I might go out on my own terms and officially retire."
After a grueling first half, he readily acknowledged he is drained.
"Yeah, I'm tired," Wright said. "These couple of days are nice, and, obviously, I wouldn't trade it for the couple of days off, but those two days afterward are going to be pretty good for me."