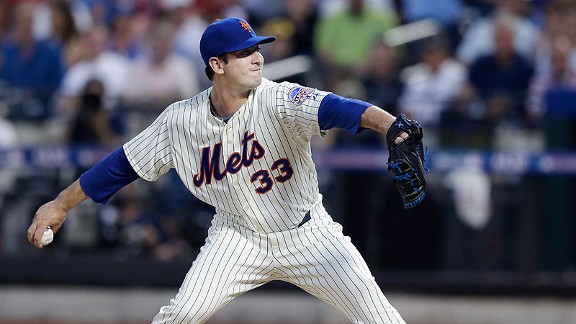 Kathy Willens/Associated Press
Matt Harvey posted two scoreless innings in his first All-Star Game.NEW YORK -- Matt Harvey topped out at 99 mph. He pitched two scoreless innings. Oh, and Harvey also knocked out Yankees second baseman Robinson Cano with the third pitch in the ace's first-ever All-Star Game.
Harvey allowed a first-pitch double to Mike Trout down the first-base line, then drilled Cano in the right knee. But with two runners on base and none out, Harvey proceeded to strike out Miguel Cabrera on a slider, coax a flyout to center from home-run leader Chris Davis, then strike out Jose Bautista.
Cano, who initially took first base, limped off the field after the Cabrera strikeout. X-rays were negative.
"I obviously feel terrible about hitting him," Harvey told ESPN Radio. "That's the last thing you want to do in a game like this."
In the second inning, David Ortiz flied out to center field, Adam Jones struck out on a 98 mph fastball and Joe Mauer lined out to left field.
Harvey, who had not pitched since last Monday at San Francisco, threw 32 pitches (22 strikes).
He became the first pitcher to strike out three in an All-Star Game since Jose Valverde in 2010, according to ESPN Stats & Information. The only other Mets pitchers to toss two scoreless innings in an All-Star Game with three or more strikeouts: Dwight Gooden (1984) and Tug McGraw (1972).
He next will face the Philadelphia Phillies on Sunday at Citi Field.