It may well be that we won't appreciate the true worth of Bernard Hopkins until he leaves the stage. The boxing community and the entire sports world might not properly respect the foreign concept that a man in his mid-40s is not only competing at a world-class level, but is kicking tail and taking names of youthful challengers as he earns the fattest paychecks of his 23-year career.
Hopkins has battled the respect issue over the years, heard pundits dismiss him as a less-than-potent draw, heard some fans complain about a style that sometimes is long on counterpunching prowess rather than the more fan-friendly rock 'em sock 'em method of operation. Lately, after taking out Kelly Pavlik, age 26, in October 2008, and schooling 28-year-old Jean Pascal in December 2010 (when he was saddled with a draw) and again this May (when he won a UD12, and became the oldest man, at 46, to win a crown), most of the chatter on the subject of Hopkins is of a complimentary nature.
At a Tuesday press conference in Manhattan to hype his Oct. 15 bout in L.A. against another young gun, "Bad" Chad Dawson, Hopkins talked about his ability to maintain a stellar physique and athletic ability at age 46. "You have to take care of yourself, take care of your life, get proper rest," he told us. "You do all the mechanical things you do to a car.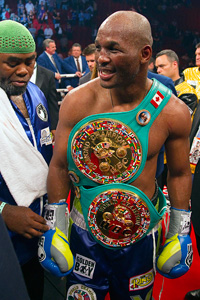 AP Photo/The Canadian Press/Ryan Remiorz
Hopkins belted Pascal to win the title in May.
"Everything is about maintenance. If you want longevity," said the fighter who turned pro in 1988, the same year he was released from prison after serving five years for nine felonies. "The goal is to give yourself a fighting chance. You can't want longevity and live recklessly."
Dawson is on the short list of the most technically skilled American pugilists, a 29-year-old boxer who held the WBC light heavyweight title from 2007-2010, when the strap was wrested from him by Pascal. He's been chasing Hopkins for about three years now, and only a fool, or an age-ist, wouldn't consider the possibility that this one one of those "be careful what you wish for, you just might get it" scenarios.
Because Hopkins is the rarest of the rare breeds; at an age when most American men have conceded to the middle age spread, and allowed themselves the luxury of choosing the next size up when buying a new pair of bluejeans, Hopkins has conceded nothing. He is one of the most stubborn athletes in all of the sports world, and that is meant in a respectful way. The Philadelphia native refuses to allow himself to indulge in poor food choices, or bloat up a bit while he waits for the next megafight to materialize.
Hopkins is also one of the most compelling and intense orators the sport has known; imagine the impact that talent could have outside the sport, if he chose to try and motivate underserved and scorned populations. Hopkins was asked, if the opportunity was presented to him to work for President Obama and the first lady, as a health and fitness spokesman for the government, would he sign on?
"Absolutely," he answered. "I commend Michelle Obama for her campaign on the food, the high-fat stuff that all the young kids eat especially in the inner city that [causes them] to be [obese] before they hit thirty. I would accept that invitation if it ever happens."
Hopkins has said he can see himself fighting till age 50, and while he's super stubborn, he's not blind to the fact that he could hit a wall at any time. So he knows there will come a time -- be it this year, next, or maybe not until 2111 -- when he won't be the oldster who the young 'uns want to beat to burnish their cred.
"I've realized over the years I have something to give, other than the breaking records in the ring, other than winning titles, in a sport no man wins in the end."
Pavlik and Pascal were supposed to hasten that end; it didn't happen.
Come October 15, nobody who has followed Hopkins' arc would be surprised if the night ends with, once again, Hopkins winning, and refusing to indulge in a few glasses of Champagne, or a few weeks of cheesesteaks. Such is the price of longevity.
Michael Woods is the editor of TheSweetScience.com.