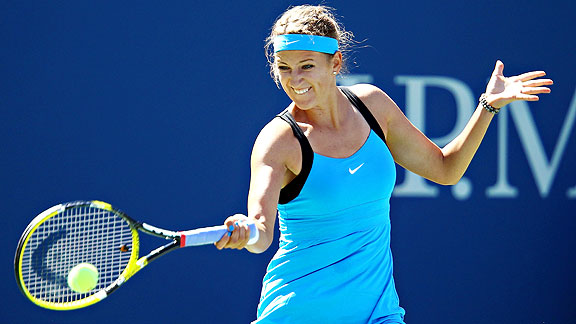 Julian Finney/Getty Images
Victoria Azarenka raced through her first-round match.NEW YORK -- Victoria Azarenka knows security is tight at the U.S. Open, but she made a slight faux pas on Tuesday, before her first match of the tournament. After hitting with Julia Goerges, Azarenka grabbed Goerges' ID tag and walked off court with it.
Oops.
The No. 4 Azarenka made few mistakes on Arthur Ashe Stadium in a 6-1, 6-3 win over Johanna Larsson on Tuesday morning. Azarenka, who has reached at least the fourth round of all three majors this year, won 12 of the first 14 points. The first set was over in 25 minutes.
"I think this court really suits my game," said Azarenka, who is from Belarus. "I like to be aggressive. I like to dominate and be in control of the points. The surface is a little bit faster than probably clay, but I don't know. I like hard courts."
The court on Ashe has been assessed as a little slower and softer than some of the other courts at the Billie Jean King USTA National Tennis Center. Mardy Fish and a few other players weren't happy with that, but Azarenka had no complaints. About that or anything else considering how decisively she won.
Larsson, of Sweden, lengthened the points in the second set, but the 5-foot-11 Azarenka simply overpowered her unseeded opponent. Larsson had trouble with her second serve as well, only winning 20 percent and committing five double faults. By comparison, Azarenka won 77 percent of second-serve points and didn't double-fault at all.
"I think my serve was the biggest key today, to be in control of the match," Azarenka said. "I'm pretty pleased with that."
Azarenka, 22, pulled out of a tournament in Cincinnati leading up to the U.S. Open due to an injured right wrist. She said she didn't feel any pain during the match.
One thing Azarenka did not want to address was the fact that No. 28 Serena Williams is so nearby in the draw that the two are on track to meet in the third round.
"We'll talk about that later maybe," Azarenka said.
Time to convert: The No. 1 seed in the women's draw, Denmark's Caroline Wozniacki, breezed through her first-round match here, 6-3, 6-1 over Nuria Llagostera Vives. Commentators have Wozniacki pegged as consistent enough to rake up top seeds in tournaments, but too soft to ever win one.
"They can say what they want," Wozniacki said. "I'm the type of player I am. I've won a lot of tournaments. I'm the No. 1 in the world. Of course I can still improve, but everyone can."
She also revealed that she has talked to Martina Navratilova about being her coach, but scheduling concerns have made tough. "Maybe in the future," Wozniacki said.
Lucky Duck: Donald Young, an American who has endured years of next-big-thingness at the U.S. Open, pulled off a three-set win with a 6-4, 6-2, 6-4 win over lucky loser Lukas Lacko.
"Today was the first really complete match I played well and played confident," Young said. "Yeah, I played well the whole time."
Lacko, ranked No. 156, wasn't the lowest-ranked player in the men's draw, but he wasn't far from it. Young was put on Court 17, which has been refurbished as a small stadium-style outer court. He is the first American man to win there.
"It's awesome," Young said. "I didn't know that. I'm just happy to win the first match and happy to be on that court, which is great."
A little something: Two things you can generally count on at the U.S. Open cafe -- the food will be good, and you will overpay for it. If it's a difference of $15 or $18, you might as well get something you like. At the Fulton Fish Market counter you can pick up a credible cold Maine lobster roll for $17.50 on a grilled bun. Fries are $4.75 extra.
Falconi crest: Irina Falconi, a New Yorker now living in Atlanta, won her first-round match on Monday and on Tuesday found out that the win raises her ranking enough to qualify for the main draw of the Australian Open. It's a big jump for Falconi, ranked No. 78 coming into the U.S. Open. Her win over No. 44 Klara Zakopalova was her first in a Grand Slam event.
On Wednesday she is slated to be the third match on Court 11 against Dominika Cibulkova. Now if only the kid from the Bronx could get a good slice of pizza in Georgia.
This and that: Andy Roddick turned 29 on Tuesday. His birthday generally falls on the first week of the Open. ... No. 11 Jo-Wilfried Tsonga took his first-round match 6-4, 6-4, 6-4 over Yen-Hsun Lu. ... American wild-card Sloane Stephens pulled out a tough one over Reka-Luca Jani 6-3, 3-6, 7-6 (3).