Voce gosta de futebol?
Ian Begley's live blog from Little Brazil for Brazil-North Korea.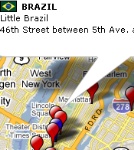 5:00 p.m.: Brazil's win was overshadowed at Emporium by an appearance by Ana Maria Braga -- the Martha Stewart of Brazil -- who stopped by to watch the game and stayed after to sign autographs and take pictures with the crowd. "Beautiful game and a beautfiul restaurant," said Braga, who hosts a popular daytime show on the Brazilian network Globo. I asked her for a recipe, but she told me I had to watch the show.
4:50 p.m.: Some fans hanging out on 46th St. weren't very satisfied with Brazil's play today. "Kaka, Robhino, they didn't show their talent," a fan in a Kaka jersey said outside of Via Brasil. "North Korea is not a good team. The big boys would have beaten them today."
4:20 p.m. Andre o Belem and his parents are in town from Sao Paolo and it looks like they felt right at home in Emporium, waving the Brazilian flag and cheering before they file out of the restaurant after Brazil's decisive 2-1 win.
4:15 p.m.: And North Korea strikes back on Ji's goal in the 89th minute, which was met with a stunned silence from the partisan Emporium crowd.
4:10 p.m.: I guess it took a few Palma Louca's (Brazilian beer that is pretty popular here) to get this crowd going. But they're alive and well in the 86th minute, screaming with every Brazilian rush.
4:00 p.m.: And the party's on after Elano's goal gives Brazil a 2-0 lead. Dunga's "conservative" approach is certainly entertaining this crowd.
3:55 p.m.: With apologies to North Korean leader Kim Jong Il, coach Kim Jong-Hun looks like he wants to go nuclear on the sideline right now.
3:50 p.m.: I just saw a Brazil fan blow his nose into the flag. Twice.
3:40 p.m.: Maicon's goal in the 56th minute brought this crowd to life. Flags were flown and air horns blown after the goal gave Brazil a 1-0 lead.
3:40 p.m.: I'm standing next to the kitchen door and the sight and smell of fish stew, Okra pasta and sauteed beef is making my stomach growl.
3:35 p.m.: The scoreless tie between Brazil and N. Korea hasn't stemmed the blaring of the corneta, a yeelow plastic horn the wait staff takes turns blowing like playing they're dueling banjos.
3:20 p.m.: Barbara, a red-headed Irish woman, has a Brazilian flag tatooed on her shoulder, a flag in her hair and Brazilian flag earrings. She saw her first Brazil game at Maracana Stadium in 2008 and "became hooked." She took off work today to watch at Emporium. "If you can't be in Brazil, this is the next best place."
3:15 p.m.: From streamers hanging from the ceiling, to Brazilian flags on the wall, Emporium is awash in yellow and green. North Korea, making its first World Cup appearance, has no support here.
2:45 p.m.: A rousing applause here in the ninth minute. Nothing to do with soocer, though. They just turned the sound on and switched to the Spanish broadcast.
2:30 p.m.: We're live from Emporium Brasil Restaurant in the Little Brazil section of Manhattan for the Brazil-North Korea game. No empty seats in this place -- the manager locked the door ten minutes before the game. It's certainly lively in here. One staffer's been blowing an air horn to get the crowd going. Plenty of patrons have noisemakers as well. It's pretty loud, but anything's better than the vuvuzela.