USA 1, England 1 » Where to watch in New York »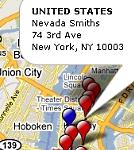 World Cup updates filed from Nevada Smiths in Manhattan -- and you gotta get up real early to get in the door for the World Cup:
4:30 p.m.: Outstanding job by Tim Howard in the 1-1 draw. Strange ending at the bar. Fans of both sides are high-fiving and hugging after the final whistle. Benedict Arnold would be turning in his grave. Either way, great job by the U.S. today. A tie seemed like a win to the crowd Nevada Smiths.
4:15 p.m.: Some hearty "USA!" chants here as we enter extra time. These fans are making a final push along with the boys in blue.
4:10 p.m.: Plenty of tension in the air as we enter the 80th minute. Tim Howard is everyone's hero right now. But that can change quickly if he allows a bad goal.
4:05 p.m.: Big cheers for the entry of New Rochelle's Edson Buddle.
3:55 p.m.: Ohhh, Jozy!! Have to wonder about the health of Altidore's ankle after that missed opportunity.
3:50 p.m.: Quick reminder before crunch time: Soccer may have been invented by Great Britian, but the U.S. holds a 1-0 edge over England in the World Cup thanks to a huge upset in 1950.
3:45 p.m.: You can hear the "Tim-my How-ard!" chants from here to his hometown of North Brunswick, N.J., after that huge stop.
3:40 p.m.: I think three more England fans just walked in. Anyone know a good dentist?
3:18 p.m.: "USA!" chants and "God Bless America" are the only things you can hear at the bar right now. Unreal atmosphere.
3:15 p.m.: The doors almost blew off this place after Clint Dempsey's equalizer. Take that, Margaret Thatcher!
3:10 p.m.: The Tim Howard injury caused a stir, but it was tame compared to the venom heard after the David Beckham spotting.
2:46 p.m.: Boisterous British fans telling us to "shove that Dunkin' Donuts up your ..." Why can't it just be about soccer with these people?
2:45 p.m.: Paul Revere was right: The British are coming, the British are coming! It's 1-0 England on Steven Gerrard's goal.
2:25 p.m.: A friend just texted me and said, "Regardless of the outcome, we'll always have 1776. Tell that to those blokes cheering for the enemy."
2:15 p.m.: There's a line stretching down the block on 3rd Avenue to get into Nevada Smiths. And it looks like they'll be waiting awhile. We're shoulder to shoulder in the main bar with an unofficial head count of at least 350 upstairs. Who knows how many people are downstairs. If you planned on coming, stay home. I do, however, have good news for the next person in line. We've had our first ejection. I think it was an England fan, so there's room for one more.
1:45 p.m.: I'm perched on a credit card-thin wooden ledge, trying to get decent lighting for video in this bat cave. If I take a spill into the garbage can below, please note that it was for the most patriotic of causes.
1:40 p.m.: People on both sides of the pond have been talking about this matchup since last December. We're now less than an hour away from the game and this bar is full of flag-waving, anthem-singing soccer fiends waiting for their fix. Can't think of anywhere else outside of South Africa I'd rather be.
1:15 p.m.: The majority of U.S. jerseys I've seen today are Landon Donovan replicas. There are plenty of Lionel Messis and more than a few Wayne "Looney" Rooneys. What, no love for my man Edson Buddle?
12:55 p.m.: I'd love to tell you about all of the jerseys hanging on the walls, but it's tough to move around to get a closer look. I'm pinned against a red North Korea jersey on the back wall, trying my best not to bump into the guy two inches in front of me. He's already upset that I knocked into him while blogging. One more bump and I think he's going to pull a Zidane on me.
12:40 p.m.: Not sure if it's emanating from me or the rest of these hooligans, but it's starting to smell worse than three-day-old fish and chips in here.
12:25 p.m.: If felt like things had calmed down for a moment --then a spontaneous "[Bleep] BP" chant broke out. Good stuff from the Yanks. All the Brits could come back with was another lame version of "God Save the Queen." Zzzzzzz ...
12:15 p.m.: I've talked to more than a few Nevada Smiths regulars and they say the American turnout today is much stronger than it was for the 2006 World Cup. John from England, who declined to give his last name (bright lad) said Brits routinely outnumbered Yanks here in years past. Clearly, it's a new era at Nevada Smiths.
11:55 a.m.: Huge "USA! USA!" chant after the final whistle of Argentina's win over Nigeria. This place is teeming for a War of 1812 rematch.
11:45 a.m.: Stars and Stripes supporters broke out into an impromptu rendition of the Star Spangled Banner a few minutes ago. Some beautiful voices among this crowd. They put Roseanne Barr's and Carl Lewis' versions to shame.
11:15 a.m.: Just checked in with the bartender. By his count, Bud Lights and Sam Adams have been the hottest sellers this morning. Ford and GM may be struggling, but this crowd clearly supports domestic products.
10:45 a.m.: Plenty of love in this packed house for Lionel Messi. They're moaning after Messi's misses; this place will explode if he puts one on the board.
10:15 a.m.: This place is packed like a rush-hour 4 train. Bouncers shut the door 20 minutes ago with about 20 people waiting outside.
9:50 a.m.: Mixed reaction from the crowd for Argentina coach and legend Diego Maradona. The Argentina fans cheered him like a deity; others shouted references to his past drug use.
9 a.m.: Small but vocal South Korean contingent here has plenty to cheer about with its team up 2-0 on Greece in the 76th minute.
7:25 a.m.: The main floor is near capacity with Sout Korea and Greece just under way. It's not even 8 a.m. and this place already has the feel of a frat party.
6:45 a.m.: A bar staffer unfurls a huge England flag on the back wall. Severe booing ensues. One USA fan is inspired to sing this chant: "England, England, whatever you'll be, don't leave your wife with John Ter-ry." Ouch.
6:25 a.m.: And we're in the door. Close to 100 fans in here and live soccer is still an hour away. "Wait until about 7:30 and this place will be absolutely slammed," owner Jack Keane says from behind the bar. A few brave souls are sipping beer, but the majority seem to be drinking coffee. Something tells me that will change as the day progresses.
5:50 a.m.: And our first Greece fan shows up. He's draped in a Greek flag and "Greece Lightning" shirt. He pulls out a cigarette and lights up as the line cheers him on. It's a Parlaiment -- the breakfast of champions.
5:30 a.m.: Bolling and Stewart are draped in American flags and the line has grown to 15. Only 90 minutes before the doors open, 600 minutes until kickoff for USA-England. "I can't believe I'm outnumbered 14-1," says Nick Green, the first English fan to show up.
4:10 a.m.: Michael Bolling, Ashley Stewart and Adam Mizrachi set up shop outside of Nevada Smiths at 4:10 a.m., wearing Team USA jerseys and red, white and blue face paint. They're the first first fans in line at the famous soccer bar for Saturday's USA-England showdown. Owner Jack Keane told patrons to show up at 4 a.m. -- 2½ hours before the bar opens -- to ensure that they'd get in for the game. Keane said he'd only be allowed to let in the first 500 fans before shutting his doors for the day. So Mizrachi & Co. showed up early and plotted out where to sit at the bar. "We wanted to be here at the mecca of soccer," Mizrachi said.