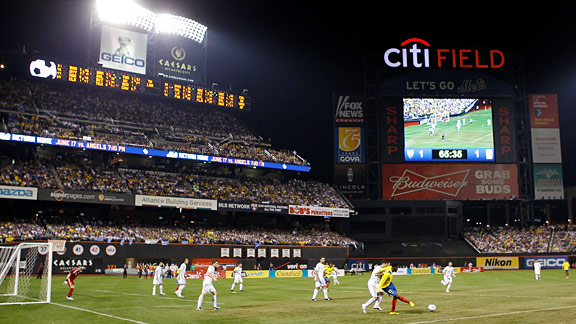 Mike Stobe/Getty Images
They built this Citi for ... Greece vs. Ecuador?
Ecuador and Greece supporters left with a measure of respect on Tuesday night as their national teams finished with a 1-1 draw in the first-ever soccer match held at Citi Field. Ecuador answered an early strike by Greece forward Alexandros Tziolis with a strong finish from the right side of the penalty area in the 58' minute by Ecuadorian center back Fricson Erazo.
A near-sellout crowd remained largely cordial and in their seats from kick off to the final whistle for an exhibition littered with yellow cards by the Galanolefki side being ready for a summer break and an Ecuadorian club in preparation mode for the upcoming Copa America tournament.
Play of the Game: Tziolis's Goal. While Tuesday's international friendly lacked the polish of a tournament match, it did not lack for sparks of brilliance throughout the evening.
Alexandros Tzolis provided the flash early. The Racing Santander forward headed a pinpoint cross deep in the penalty area past Ecuadorian 'keeper Maximo Banguera for a 1-0 Greece lead in the 16' minute. The goal answered early pressure by the Ecuador attack and aroused the Greek supporters looking for a reason to join the fracas.
Covering All the Bases. To allow a full playing surface for Tuesday's friendly, the grounds crew at Citi Field needed to cover all of the infield dirt from halfway between second and third base to halfway between third and home as well as removing and covering up the pitcher's mound. The playing surface largely held firm, with only a few sprinting Ecuadorian playmakers losing their footing in a loose patch of replacement grass.
While the Mets will not return home until June 17, Citi Field will host a graduation ceremony three days earlier. It should give the grounds crew ample time to bring the field back up to baseball speed, but it will be worth noting how the infield plays during the Mets' initial homestand against the Los Angeles Angels of Anaheim.
Ready for More? Make no mistake -- a sea of yellow Ecuadorian jerseys may have swarmed over Citi Field on Tuesday, but both the Greek and Ecuadorian supporters cheered on their sides until the final whistle blew. Concourses and concessions stands remained empty while the respective clubs maintained the run of play and swamped the Citi Field amenities during half time.
The Mets will need to work out a few kinks on presenting another match on their home turf -- but this effort will be judged a success barring any infield restoration issues. Another rumored match in the summer is doubly likely following Tuesday's efforts, while Fred Wilpon's undying interest in bringing soccer to New York took a giant leap forward.