South Africa 1, Mexico 1 » Where to watch in New York »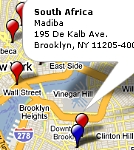 World Cup updates filed from Madiba, a South African restaurant in Fort Greene, Brooklyn:
12:07 p.m.: Optimism still reigns at Madiba; they are dancing on the sidewalk in Fort Greene, Brooklyn. Imagine if and when RSA wins a game? Michael Woods, signing off from Madiba. Bafana Bafana!
11:56: All in all, fans here are happy with the 1-1 tie.
11:55 a.m.: Added time now.
11:53 a.m.: Katlego Mphela hits the post in the 89th minute.
11:49 a.m.: No OT, so someone's gotta score.
11:44 a.m.: Fans grousing that Mexico was offsides, but not as much as announcers are.
11:41 a.m.: Deflation. Mexico goal.
11:38 a.m.: Standing next to South Africa fan Mathata Mpela, age 39, from Bed-Stuy. "Do or die," he says. "The first goal was for Mandela, what he gets for choosing love and peace. The next goal is for the rest of the nation." Mathata left South Africa in 1982. He goes back to see family every two or three years. "I just want us to be good hosts and play our best. Winning comes from how we treat people. There is bigger winning than goals. World has to see Africa."
11:21 a.m.: World's 83rd-ranked nation ahead of the 17th-ranked. Glee in the air at Madiba.
11:17 a.m.: Goaaalllllllll ... for South Africa! Great finish by Siphiwe Tshabalala. "Tshaba-la-la-la" they sing.
11:16 a.m.: Some people's deoderant is wearing off.
11:15 a.m.: Christine might be wrecking her voice for the show later with her "Bafana Bafana" chants. Her pal Michelle doesn't have to worry about coddling her vocal chords. Michelle is a little bummed there isn't more rampant raucousness.
11:08 a.m.: Second half starts.
11:03 a.m.: More horns have been brought up from basement. Good for fans, bad for Woods' eardrums.
10:56 a.m.: Holy smokes, what kind of reporter am I? (Don't answer that.) There is a connected room, three times as large!
10:54 a.m.: Scoreless at halftime. South Africa could be down 2-0.
10:53 a.m.: Co-owner Mark Henegan is next to me. He opened Madiba 11 years ago. He is blowing his horn now as he watches the door.
10:44 a.m.: Goal for mexico. No! Offsides! We swing from sadness to glee.
10:42 a.m.: New York Times lady has left.
10:40 a.m.: Standing next to Christine Vaindirlis, a singer. She's performing a jazz-funk-South African set at Madiba tonight, 7:30. Michelle is the liveliest person in da house.
10:28 a.m.: Fans are outside the entrance door, peering in. I might go for the sofa myself, but people seem to dig the communal vibe.
10:23 a.m.: Standing next Michelle Ackermann, resident of Jersey, age 26, a mad Red Bull fan. She has Red Bulls blog, porelamordeljuego.blogspot.com. Check it out. She left Praetoria in 2005. She is blowing vuvuzela now. Her boss gave her the day off. She is a nanny and interns for Sen. Robert Menendez of New Jersey.
10:19 a.m.: They chant "Bafana Bafana," which means "The Boys," here at Madiba. Atmosphere is muted here as Mexico controls the tempo.
10:15 a.m.: I believe the international GDP will plummet during the World Cup. How many folks are skipping work? Don't ask, don't tell ... LOL.
10:04 a.m.: Optimism reigns in here with tinge of sadness present with word that Nelson Mandela's great-granddaughter died. ... Little Savannah Frizzell, 10½ months, is watching with her mom, who pauses to sing the anthem. Mom is crying. Mom is Chantel; she lives in East Williamsburg, is a stay-at-home mom, age 22. Why cry? Hasn't heard anthem since she left South Africa four years ago
9:58 a.m.: There is a middle-aged lady sitting on a chair, reading the New York Times. Does not look to be a soccer fan. Not looking at the big screen. What is she doing here?
9:56 a.m.: At Madiba, a restaurant in Fort Greene, Brooklyn. It is jammed! Don't send the fire marshal! This is a South African restaurant so guess who's in the house? Vuvuzelas, horns, are assaulting my eardrums!