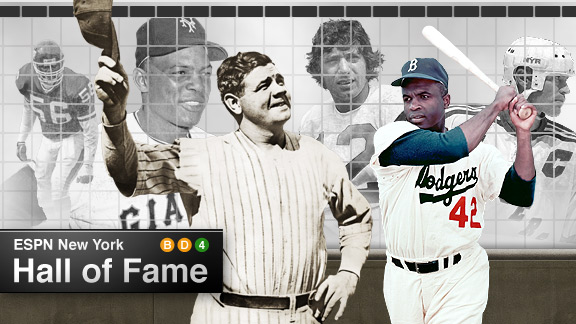 ESPN.com illustration
Vote: Pick the ESPN New York Hall of Fame class | Meet the candidates

In honor of ESPN New York's inaugural Hall of Fame ballot, here is my all-time roster for the New York Liberty.
We actually have to begin with this disclaimer: It's a complex time to pick an 11-player all-Liberty team. (Eleven is the size of a WNBA roster.)
For one thing, 2011 is the first season since the WNBA's and Liberty's inception in 1997 that Carol Blazejowski is not the team's general manager. So it's the start of a new era in that regard under current head coach/GM John Whisenant.
For another thing, the team is out of its magical, mystical home -- Madison Square Garden is undergoing renovation work this summer and the next two, as well -- and is playing in Newark, N.J.
Lastly, the most talented player ever to don a Liberty jersey, guard Cappie Pondexter, almost certainly will one day head the list of "best ever" for the franchise. But as this is just her second season with the team, we took a bit more of a historical look at the Liberty for the purposes of picking this particular all-time squad.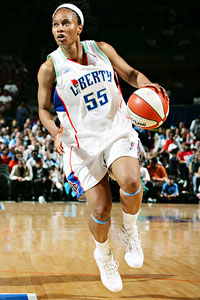 Jesse D. Garrabrant/NBAE/Getty Images
Vickie Johnson is the Liberty's career leader in several categories, including points, rebounds and games played.
This is not meant as any slight to Pondexter, who was recently picked as one of the top 15 players in WNBA history as the league celebrates its 15th season. Also on that list were two players who make our all-time Liberty team: guards Teresa Weatherspoon and Becky Hammon.
Now, you might look at the starting five suggested here and immediately say, "Not big enough!" as 6-foot-2 Tari Phillips is the only player over 6 feet tall. But versatile wing-types Vickie Johnson and Crystal Robinson were solid rebounders, and this squad would have substituted early and often with lots of size and board prowess coming off the bench.
In fact, this is the type of team where starting really wouldn't matter much. The heavily guard-oriented lineup we suggest would get things going, then the Liberty would mix up many different looks.
To that end, the all-time Liberty coach would be consummate strategist Richie Adubato -- he of the enormous playbook -- who led the franchise to three appearances in the WNBA Finals.
Starters
G Teresa Weatherspoon (1997-2003): She made what's still the most epic shot in league history: the halfcourt heave to win Game 2 of the 1999 WNBA Finals with Houston. Weatherspoon's distribution and defense were essential in the Liberty's most successful seasons. She's now head coach at her alma mater, Louisiana Tech, and remains an all-time Liberty fan favorite.
G Becky Hammon (1999-2006): She was undrafted out of Colorado State but so impressed the Lib veterans in tryouts that it helped her earn a roster spot. Battled back from a knee injury suffered in 2003 and led the Liberty in scoring the next three seasons before being traded to San Antonio in 2007. It's proved to be one the league's most lop-sided deals ever, much to the Silver Stars' delight and the Liberty's chagrin. Hammon continues as an All-Star in San Antonio.
G/F Vickie Johnson (1997-2005): At 5-9, she rebounded well and was a versatile-enough defender to be able to play "bigger" than she really was. A Liberty starter for nine seasons during which she averaged 30 minutes or more all but one year (29.3 in 2001), Johnson went to San Antonio in 2006 and finished out her career there. Now she's an assistant coach for the Silver Stars.
F Crystal Robinson (1999-2005): Came off the bench more her first two seasons, then started the rest of her Liberty career. A clutch perimeter threat, she made 400 3-pointers for the Liberty and shot 38.3 percent from behind the arc during her time in New York. She was a little undersized but did the dirty work.
C Tari Phillips (2000-04): Although injury impacted her final season with the Liberty, Phillips' first four years in New York were quite strong. She averaged 13.6 points and 7.9 rebounds during those four seasons. Her best was in 2001, when she averaged 15.3 points and 8.0 rebounds
Bench
G Sophia Witherspoon (1997-99): An effective scorer to complement Weatherspoon in the Liberty's backcourt for their first three seasons.
G Loree Moore (2005-09): After a quiet rookie year, started the next four seasons for the Liberty. She took on a bigger play-making role after Hammon was traded in 2007.
C Kym Hampton (1997-99): She was 34 in the league's inaugural season, so her prime years were before the WNBA launched. Nonetheless, she anchored the Liberty on the low block for the franchise's first three seasons.
F Sue Wicks (1997-2002): A scoring/rebounding star at Rutgers in the 1980s, she redefined herself as an inspirational, mega-tough, defense-minded grinder when the WNBA debuted nearly a decade after her college career ended.
F Shameka Christon (2004-09): One of franchise's most athletic forwards, she was particularly good in 2008-09. In those two seasons, she averaged 15.9 ppg and 3.9 rpg.
F Tamika Whitmore (1999-2003): A powerful interior player who at times struggled with fitness, her best season in New York was 2002 when she averaged 12.7 ppg and 4.4 rpg for the last Liberty team to make it to the WNBA Finals.