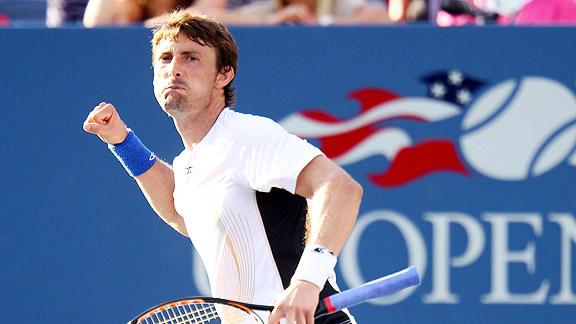 Julian Finney/Getty Images
Juan Carlos Ferrero showed plenty of fight in his second-round win.NEW YORK -- Through the first week of the U.S. Open, some moments can prove to be as thrilling as a Novak Djokovic between-the-legs winner. We have pared our highly subjective list of top moments in the men's draw to five.
1. From 0 to 60: He may have been ranked No. 105 coming into the tournament, but Juan Carlos Ferrero was no stranger to the U.S. Open stage when he upset No. 7 Gael Monfils in a marathon second-round match, 7-6 (5), 5-7, 6-7 (5), 6-4, 6-4. Ferrero, 31, lost in the 2003 U.S. Open final to Andy Roddick. Monfils, a favorite of tennis crowds, reached the quarterfinals last year. After the match, he said he's never acting when he dives for the ball, and made a comic book analogy: "I know all the people think I'm like elastic. You know, I'm diving. If I stay a little bit longer on the floor, they're like, He's acting. I'm not like X-Man, you know."
2. Raggedy Andy: British fans can safely tune in to the U.S. Open for a little longer after Andy Murray's comeback win over Robin Haase. The No. 4 seed won 6-7 (5), 2-6, 6-2, 6-0, 6-4 but not before causing his countrymen more consternation. Guardian writer Kevin Mitchell said it was a match that could have served as a snapshot of Murray's entire career, which wasn't exactly high praise. Tennis watchers are looking to see if Murray can raise his game.
3. Forever Young: Donald Young gave the fans something to cheer with his five-set comeback win over No. 14 seed Stanislas Wawrinka in the second round, 7-6 (7), 3-6, 2-6, 6-3, 7-6 (1). The wild card was one of several young Americans to surprise, and he was engaging afterward. "[The fans] were everything," Young said. "I was kind of tired like midway through the third, fourth set. They were chanting my name, which is great, kind of like baseball chants. Yeah, you know, just reminded me and made me feel great that all these people really wanted me to win here."
4. Berdych retires: Although this wasn't necessarily a highlight, when No. 9 Tomas Berdych retired Saturday he was the 10th man to do so and the 14th singles player, a Grand Slam record. In the 2008 Wimbledon tournament, 12 singles players retired from their matches. Berdych was one of three men who retired with a right shoulder injury.
5. Luke, I am your father: There is a moment in every sport when an older athlete must tutor his possible replacement, and that moment may have played out at this U.S. Open when Roddick dispatched young Jack Sock in straight sets. Two big-servers from Nebraska, Roddick invited the 18-year-old to train with him in the offseason. It was the same thing Andre Agassi once did for a young Roddick. Sock isn't ready to take over yet, but a little mentoring from Roddick could set him on that path. "You know, it was just cool," Roddick said. "I could draw so many parallels to what he was going through."