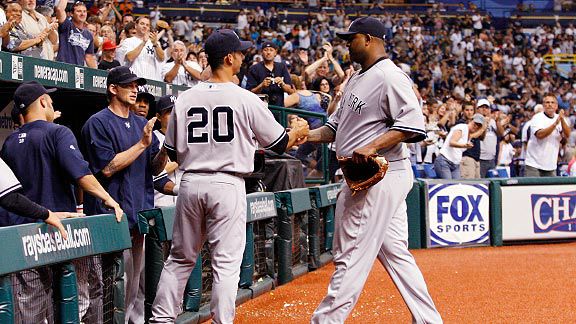 US Presswire
CC Sabathia's near-no-hitter against the Rays on April 10 was the lone stress-free meeting between the teams, at least from a Yankees perspective.
What did 18 regular-season meetings between the Rays and Yankees reveal?
Statistically speaking, the last four games shared some trends with the previous 14. They included these three ...
Rays vs. Yankees
at Yankee Stadium in 2010:
The Rays don't go away ... ever
Of the eight games the Yankees won, they basically had one game that was worry-free -- it took place April 10, and CC Sabathia's 10-0 near-no-hitter now seems like a distant memory. There were only three games in which the Yankees never trailed, and in one of those the Rays rallied from 4-0 down to tie. The comeback against Sabathia on Wednesday was indicative of how things went when these teams matched up throughout 2010.
There was also no intimidation factor for the Yankees in being at home. Tampa Bay won five of the nine meetings in Yankee Stadium, scoring 63 runs in those nine games, the most by any team at Yankee Stadium since the 1959 Red Sox (63 in 11 games).
The last team to average more runs per game over at least six games in the Bronx was the 2000 White Sox. They, like these Rays, found that ballpark to be a very comfortable place to hit in.
The Tex message didn't always get through
Mark Teixeira's problems with Rays pitching in the regular season will be a storyline if the teams happen to meet again in the ALCS. He was 4-for-27 in the last two series between the two teams, including 1-for-15 these last four days. We documented his issues with the changeup last week and that's part of the problem. But the Rays seem to have him figured out beyond that.
The bullpen needs Robertson 'back'
One of the most trustworthy weapons the Yankees have against the Rays is right-hander David Robertson, who had back problems that caused some issues in this series. Joe Girardi entrusted Robertson with some high-leverage situations and, but for one blemish, Robertson rewarded his manager's faith, much as he did when he escaped a bases-loaded no-outs jam against the Twins in the 11th inning of the 2009 ALDS.
File this away: The combination of B.J. Upton, Evan Longoria, Willy Aybar, Reid Brignac and Jason Bartlett were a combined 1-for-17 against Robertson this season (also remember that Boone Logan has retired Carl Crawford in each of their last five meetings).