Brett Gardner had this accomplishment in Game 3: He was the lone Yankee to reach scoring position against Cliff Lee.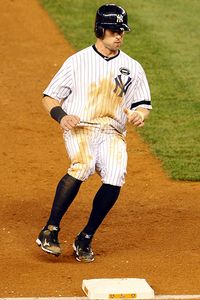 Anthony Gruppuso/US Presswire
Brett Gardner advances to third base in the sixth inning, but never crosses the plate.
An inning after Jorge Posada broke up Lee's no-hit bid, Gardner opened the bottom of the sixth with a single. He stole second with Derek Jeter at the plate, but ended up stranded 90 feet from home. Jeter ultimately struck out. Gardner then advanced to third on Nick Swisher's groundout, but Mark Teixeira also grounded out to preserve Texas' 2-0 lead en route to the 8-0 ALCS win.
"It didn't happen. He did made good pitches," Jeter said about the stalled rally. "You hope that you can get something going, but that wasn't the case."
"He's difficult to run against," Gardner said, referring to the left-handed Lee's pickoff move. "I just tried to pick a pitch and get in scoring position and try to get things going."
Gardner nearly reached base in his first at-bat, too. The No. 9 hitter grounded to first baseman Mitch Moreland, who shoveled the ball to Lee covering the base. Gardner made a headfirst dive but was ruled out by ump Angel Hernandez. Replays appeared to suggest Gardner's hand missed the base and the call was correct.
Gardner had been stepped on by C.J. Wilson during the Yankees' five-run eighth inning in Game 1. He acknowledged being conscious of that during Monday's Game 3 headfirst slide.
"Maybe a little bit," Gardner said. "The last thing you want to do is jam your fingers into the edge of the base. The other day my hand was in the middle of the base and that's why he stepped on it. And today I tried to touch the very outside of the base and I'm not even sure if I touched it. … It was really, really close. I looked at the replay, and you couldn't even tell on the replay. It wasn't worth arguing over."