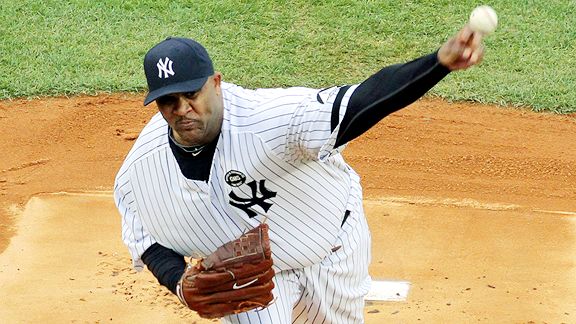 Chris Faytok/The Star-Ledger, US Presswire
CC Sabathia gave the Yankees everything he could in 2010.
I think one of the things that has gotten lost in the debate over whether Felix Hernandez or CC Sabathia should win the AL Cy Young Award is this:
Sabathia had a darn good season, and we'll even ignore the 21 wins when we make that claim.
No, he didn't put up numbers in the same realm as Hernandez (we'd support Hernandez's candidacy over Sabathia's if we had a vote), but ...
Sabathia led AL starters in Win Probabability Added (according to Fangraphs.com). What does that mean?
Win Probability Added (WPA) measures individual contribution to winning, based on historical data. We've referenced this stat previously, but a brief refresher here in terms of what it means to pitchers.
Let's say the Yankees are at home, up a run entering the top of the seventh inning with Sabathia pitching. History says that the home team wins about 68.3 percent of the time in those circumstances. Let's say Sabathia retires the side 1-2-3. Now the Yankees chance of winning is 78.3 percent. So Sabathia gets a 10 percent credit added to his WPA score.
Add up all the credits and debits over a season and you get a number that tells you who contributed most to winning. Sabathia edged out Hernandez here, 3.88 to 3.80. We're not saying that would justify a Cy vote for Sabathia, but it shows the value of Sabathia's durability and the quality of his pitching.
On that note, there's something to be said for a pitcher who throws 237 2/3 innings and manages a 3.18 ERA with nearly half his work coming in the ballpark that statistically is the most run-friendly in the American League.
The stat Adjusted ERA+ rates Sabathia at 134 (meaning his ERA was 34 percent better than league average). A good number of AL pitchers beat that mark (Hernandez was a 174; Clay Buchholz a 187) but when you put Sabathia's marks into Yankee perspective, the value becomes more evident.
Only three Yankees in the last 30 years have pitched that many innings with that good an ERA+: Melido Perez in 1992 (yes, that Melido Perez), Andy Pettitte in 1997, and Sabathia.
Go back to 1970 and you can put Sabathia in the company of Catfish Hunter (1975), Ron Guidry (1978, the best season ever by a Yankees pitcher), and Tommy John (1979).
2010 Yankees
Primary Starting Pitchers
Lastly, let's get back to the point that Sabathia is logging these numbers while pitching a lot in Yankee Stadium. In 111 innings in 2010 he posted a 3.00 ERA there, allowing only eight home runs, striking out 97 and walked 34.
In two seasons in this hitter-happy ballpark, Sabathia's value significantly supersedes everyone else they've used as a starting pitcher. In 2010, the next-best Yankee starter ERA at home was Pettitte's 3.98 -- nearly a full point difference.
The Cy Young Award is supposed to go to the best pitcher in the league and in this case, it should go to Hernandez. Yankees fans should tip their cap to that, but relish that which they saw this season from their guy. He may not have been the best. but there's no shame in his being a part of the discussion.