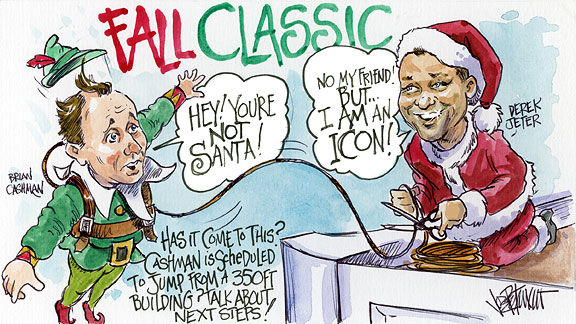 Joe Petruccio illustration
With Brian Cashman scheduled to rappel off a 22-story building dressed as an elf, we have put together our top five items the Yankees GM needs to consider:
1. Make sure Derek Jeter is tucked away in Tampa and nowhere near Cashman's rappelling in Stamford, Conn.
Cashman is rehearsing on Friday, but he'll don his elf costume on Sunday. If he sees any No. 2 jerseys, Cashman may want to watch his back.
2. Cashman volunteered to leap from a 350-foot building, but when he did so he didn't know he would be in a heated negotiation with The Captain and that the rehearsal would be televised on "Fox & Friends."
Get this: Jeter's agent is Casey Close. Close is married to Gretchen Carlson. Carlson is one of the hosts on "Fox & Friends." Will Carlson be "baffled" by Cashman's repelling?
3. Avoid the "reality potion."
Even though it takes guts to volunteer to jump off a building -- harness or no harness -- without a net, it would be a little embarrassing to back out at the last minute. So Cashman would be ill-advised to have any "reality potion" with his bacon and eggs Friday morning.
4. Bring Mo Rivera along.
We all know that nobody closes better than Rivera. Plus, Rivera's agent, Fern Cuza, and Cashman have been on the same page throughout their negotiations. A Rivera pep talk about how to handle pressure couldn't hurt. Maybe Rivera could even let Cashman borrow his song.
5. Make sure the Texas Rangers don't sneak in and sign Cliff Lee.
Even though in reality, Cashman's jumping off a building will have no impact on the offseason and is kind of cool, if not weird, he will hear about it forever if the offseason doesn't go right.