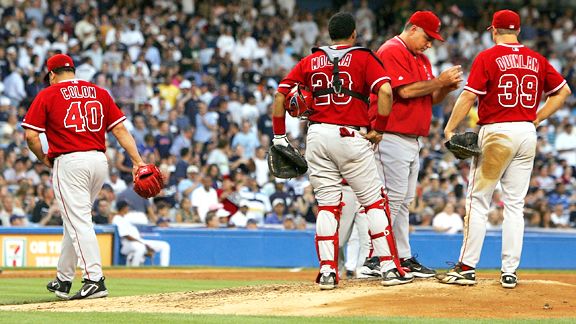 Getty Images
The last time the Yankees saw Bartolo Colon was this start in 2007, a 10-1 drubbing. It was a far cry from the Colon the Yankees had previously seen.
Is there a pitcher out there with a more unusual history against the Yankees than the newest Yankee, Bartolo Colon?
If you can find one, please let us know.
In the meantime, let's refresh your memories on the two versions with which we're familiar.
Bartolo Colon
Regular Season vs Yankees
The good version is the one that takes awhile to remember, the pudgy youngster who threw 98 miles-per-hour, who pitched a complete game against the Yankees for the pesky Indians in the 1998 ALCS.
That's the guy who, during that regular season, shut them out over eight innings, then came back two years later to throw a one-hit shutout with 13 strikeouts against them at Yankee Stadium in September, 2000. It's a game often forgotten because of Pedro Martinez's 17-strikeout one-hitter in the Bronx the year before this one.
You could argue that Colon was just as good if not better. Martinez allowed one run on his day. Colon, who had a no-hitter into the eighth inning, yielded none in beating the pitcher who the newspapers said was the one Colon aspired to be like -- Roger Clemens.
At that point in his career, Colon had pitched 26 innings against the Yankees, allowing two earned runs.
It's hard to be any better than that against a team in the midst of a dominant run.
And it's hard to be any worse than Colon was against the Yankees since that one-hitter.
In his next 43 2/3 regular season innings against them, Colon allowed 51 runs.
That included April 26, 2005, when he allowed 10 runs against the Yankees, a day in which Alex Rodriguez hit three home runs. Rodriguez, by the way, has a .461 batting average, with eight home runs in 47 at-bats against Colon, so that's one less batter he now has to worry about.
The pitching lines from his most recent two starts against the Yankees are almost identical twins.
April 9, 2006- 2 innings, 8 runs, 7 hits
July 6, 2007- 2 innings, 7 runs, 7 hits
Remember too that we're leaving out Game 5 of the 2005 ALDS, in which Colon was forced to leave the deciding game in the second inning due to injury. He hasn't been anything close to the pitcher who actually won the Cy Young that season (some say undeservedly) since then.
Over his last four seasons (he didn't pitch in 2010), Colon is 14-21 with a 5.18 ERA. The fastball that was once 98-miles-per-hour was 89 in his last stop, with the 2009 White Sox.
But there's something there that warrants a second chance, a memory that has faded but not yet completely disappeared. That and the realization of what else remains pitching-wise in the current baseball marketplace.