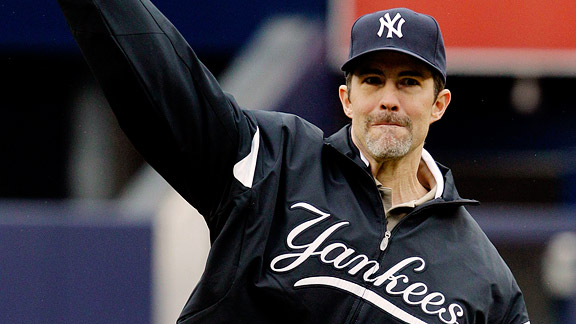 AP Photo/Kathy Willens
Mussina is now on a prestigious list of ex-Yanks to throw out the Opening Day first pitch in the Bronx.
Mike Mussina felt the pressure.
In his 18 years in the major leagues, the retired pitcher saw his fair share of Opening Day first pitches. And he saw those pitches take many different paths and trajectories toward home plate, some not even reaching their destination.
Being a former player, never mind a pitcher, Mussina didn't want his first pitch before the Yankees' home opener on Thursday to be memorable for all the wrong reasons.
The 50 Greatest Yankees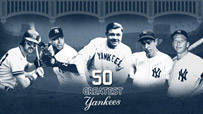 Mike Mussina is one of ESPNNewYork's 50 Greatest Yankees. See who else made the list: Top 50

Rank 'Em
"I haven't thrown a lot [recently]. I've thrown a little, but not a lot," Mussina said before throwing out the first pitch. "I just want to get it somewhere in the ballpark someplace, and kind of be on target."
After heading out to the mound to a chorus of "Moose" chants, wearing a Yankees hat and jacket, Mussina put his worries to rest as he delivered a high pitch, close enough to the strike zone. Crisis averted.
Mussina, 42, became just the 10th former Yankee to throw out an Opening Day pitch for the Bronx Bombers, joining Bernie Williams, Yogi Berra, Reggie Jackson and others.
"It's really cool," Mussina said. "To have them think of me as part of this organization still and part of this family of the New York Yankees and have me out here, it's really something special, and I think it's great."
Mussina played the final eight seasons of his career with the Yankees, amassing a 123-72 record in that span. He previously pitched for 10 seasons with the Orioles.
Mussina called it quits in 2008, following the only 20-win season of his career.
With Thursday's game marking the start of his third season of retirement, Mussina says he has no regrets about leaving. He said winning 20 games in his last season was a "good way to finish it."
He said the non-playing factors like time away from his family, the constant traveling and the hectic lifestyle were what wore him down and led to his retirement at the age of 39.
"To not have to live out of my suitcase for half of the six months, to just slow the pace down, it was just really a welcome change," Mussina said. "Eventually you just tell yourself it's time to do something different, and I was really enjoying something different. And everybody says this -- and you don't know how it's possible, how you can be busier when you retire -- [but] I'm busier than when I played."
Mussina now devotes his time to coaching his two sons, ages 8 and 12; he coaches baseball, football and basketball. He doesn't see himself moving up the coaching ranks at the higher levels of the sport.
"I probably would stick with high school and younger," Mussina said. "I don't think recruiting college would really be in my future. I just don't see it. Professionally, I don't think that's there either. I like being asked my opinions or stuff or philosophies and I love talking about it, but I don't know if I could do it every day for the same amount of time these guys have to go play in a year."
With regards to former teammate Andy Pettitte, who recently retired, Mussina admits he was surprised to see him leave the game.
"I think everybody has their circumstances and he felt it was his time," Mussina said. "I know what it feels like when your mind and your body tells you it's just time, and there were a lot of other issues that can go along with playing baseball and living this lifestyle and being away and the pressure and the expectations and the demands and the preparations. It's a lot of things.
"Eventually you just say, 'I've had enough and I'm good with what I've done.' And you move to the next thing."